By
Michael Valera

posted Nov 04th 2011
KitGuru, Vengeance™ 1500 Dolby 7.1 USB Gaming Headset Review — "As hoped, the performance of the headset was very strong throughout all of our gaming, movie and music tests.  Both Dolby Headphone and the 7.1 virtual surround sound technology give the gaming and movie experience an extra dimension and improve the overall audio quality.  We are also able to optimise the sound balance of the headset for different types of playback, using the presets within the control panel."
Overclock3D, Carbide Series™ 500R Mid-Tower Case Review — "The long and short of it is the 500R is a great case for the money out of the box and 90% of you will be perfectly happy with what gets delivered. The other 10% of you can get your tools out and make yours unique with minimal effort and claim those all important e-peen inches over the stock case boys! Its been a long time coming but thank you Corsair, for your efforts we can Award the 500R the first Gold award since we reviewed the white 600T!"
Vortez, Carbide Series 500R Mid-Tower Case Review — "I've been impressed by the 500R and actually quite excited about sharing this review with you. 500R looks spectacular in white – Corsair have done a great job in almost every aspect of this case but the visual appearance is fundamental to all the hype surrounding it, it just oozes style and charisma."
Benchmark Reviews, Carbide Series 500R Mid-Tower Case Review — "Yes, the Carbide 500R performed exquisitely. With four stock fans it rivals the best in cooling performance. Under extended stress in a cramped environment it kept CPU and GPU temperatures stable in a safe zone below 80 °F using the lowest setting on the fan controller. It also builds quickly and effortlessly. If you had all your parts ready it could be built in under ten minutes, including pretty cable routing. This is probably true for almost any build since the 500R is ready to receive a variety of components."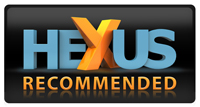 Hexus, Carbide Series 500R Mid-Tower Case Review — "By taking the foundations laid by the 400R and adding a sprinkling of useful upgrades - including a bundled side intake and removable hard-disk cages - Corsair has created a £90 solution that offers excellent cooling performance in a tidy, well-rounded package."
Legit Reviews, Carbide Series 500R Mid-Tower Case Review — "We really liked working with the Corsair Carbide 500R as the design was very well thought out. The fit and finish were excellent with great paint work and the black and white theme is very attractive. Airflow is a non-issue in this case with more options than the majority of users would even consider or require. The cable routing was easy and the rubber grommets really add a polished look when you are done building in this case. The bonus integrated fan controller and LED on/off switch was a nice touch on the I/O panel but we really appreciated the inclusion of USB 3.0 ports on the front. Corsair was even thoughtful enough to include the conversion cable to USB 2.0 to extend the compatibility. Removable hard drive cages allow for super long video cards to make sure this case can last for several builds. Finally all the little sound dampening touches with rubber mounts a means this case will run quiet especially with the fans set to low. "
Benchmark Reviews, Carbide Series 400R Mid-Tower Case Review — "The Corsair Carbide 400R mid-tower case is an all-around overachiever, covering all the fundamentals of a gaming case while at the same time making small but extremely effective design innovations. The mainstream market for gaming cases is quite crowded and there are plenty of various offerings available. Very few, however, provide as much interior room and demonstrate remarkable engineering acumen as the Carbide 400R."
VR Zone, Enthusiast Series™ Modular TX550M 550 Watt Modular Power Supply Review — 9/10 score — "Corsair is a company committed to quality and the TX550M is no exception. The power supply is very well made, with no manufacturing flaws and with very good components, although some hardcore enthusiasts may miss the all-Japanese design of the more powerful TX750M unit. Corsair covers their product with a 5 year long warranty, testament to their faith on this unit's long term reliability."


Bright Side of News, Flash Voyager® GT USB 3.0 32GB USB Flash Drive Review — "The Corsair Flash Voyager GT USB 3.0 32GB USB Flash Driveis an incredibly fast drive, with maximum speeds rivaling that of most conventional SATA hard drives. At a high capacity, the drive serves perfectly as a device for saving media, copying large swaths of data from one computer to another, or even for running an operating system off of via USB 3.0 (such as a utility version of Linux)."
Nov 04th 2011
Schlagworte: