Blog
Corsair attends Gamescom 2012 with a Vengeance!
By Gareth Ogden, on August 15th, 2012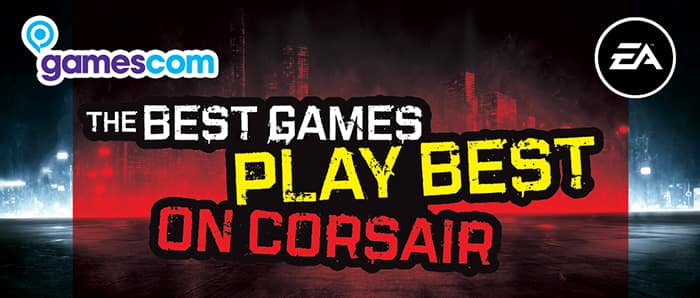 The spectacle of the London Olympic Games may be over, but in Germany at least, the games are set to continue... And there isn't a javelin or a pair of tight Lycra running shorts in sight. That's because this week Germany's fourth largest city, Cologne, plays host to gamescom 2012, Europe's biggest trade fair for interactive games and entertainment. And Corsair will be there in force!
Continue Reading
SWVA LAN April 2012: Well Played!
By Mike Clements, on July 9th, 2012
In late 2011 I received an email from Caleb Tote, one of the primary organizers of the SWVA (Southwest Virginia) LAN event. According to their Facebook page, "SWVA is A 100% non-profit organization, offering gaming events to local programmers, gamers, and all types of computer enthusiasts." Caleb told me who he was, explained the history and scope of their LAN event, and asked about how to apply for a LAN sponsorship package from Corsair for their April 12-13, 2012 LAN event.
Continue Reading
Corsair Special Coverage Round-Up — Vengeance Gaming
By Michael Valera, on September 21st, 2011
Last Wednesday we showed our new Vengeance Gaming lineup to the North American press in San Francisco. The next day we did the same thing in the UK with the European press. The feedback and coverage we got on our new Vengeance gaming mice and keyboards, as well as our new Vengeance gaming headsets was so incredible we decided to share the highlights with you in this special coverage round-up:
AnandTech — Corsair Enters the Gaming Keyboard & Mouse Market with Vengeance, "I had some brief hands on time with all of the newly announced Vengeance peripherals, they all felt good but it'll take much longer than a short play session to really evaluate these things. I'm mostly curious to see how well these things do in the hands of hardcore gamers. Does Corsair have what it takes to pull customers away from the likes of Logitech, Microsoft and Razer?"
Continue Reading