By
Andrew Kim

posted Jan 24th 2012
The Vengeance® M90 MMO laser gaming mouse was designed to complement the K90 MMO mechanical gaming keyboard. I won't lie, the M90 seems intimidating to use, even to a tech-savvy nerd like myself. At first, I thought — 9 buttons on the side?! Then I realized the profile mechanism and wondered "SIX profiles?! FIFTY-FOUR programmable side-keys?!" Too often, premium mice and keyboards pester the user with a conundrum of buttons and design bits with relatively little to no usability, given the cost and looks. My own past experience with similarly endowed products told me to be wary, but after an hour of usage, I forgot that those mice I used in the past ever existed.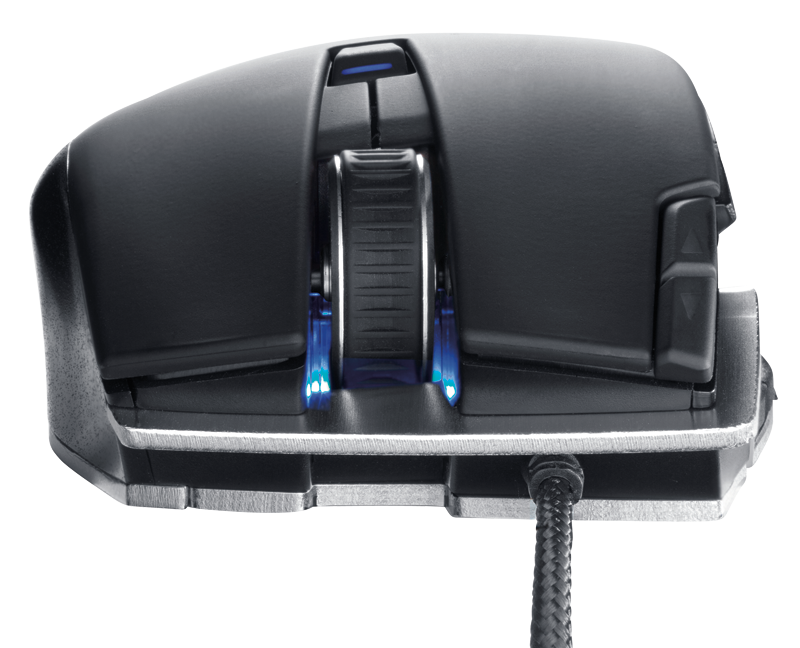 Vengeance® M90 Performance MMO and RTS Laser Gaming Mouse


Vengeance® K90 Performance MMO Mechanical Gaming Keyboard
Five fundamentals of gaming mouse design should be noted: ergonomics of the chassis and button placement, heft and weight, button depression force, DPI sensitivity, and of course, build quality & aesthetic design. That having been said, let's make it clear that this is an MMO and RTS gaming mouse designed for serious players. If you're an FPS gamer and you complain that you don't use all the other thumb-buttons, that's why we have the K60 and M60 FPS gaming keyboard and mouse.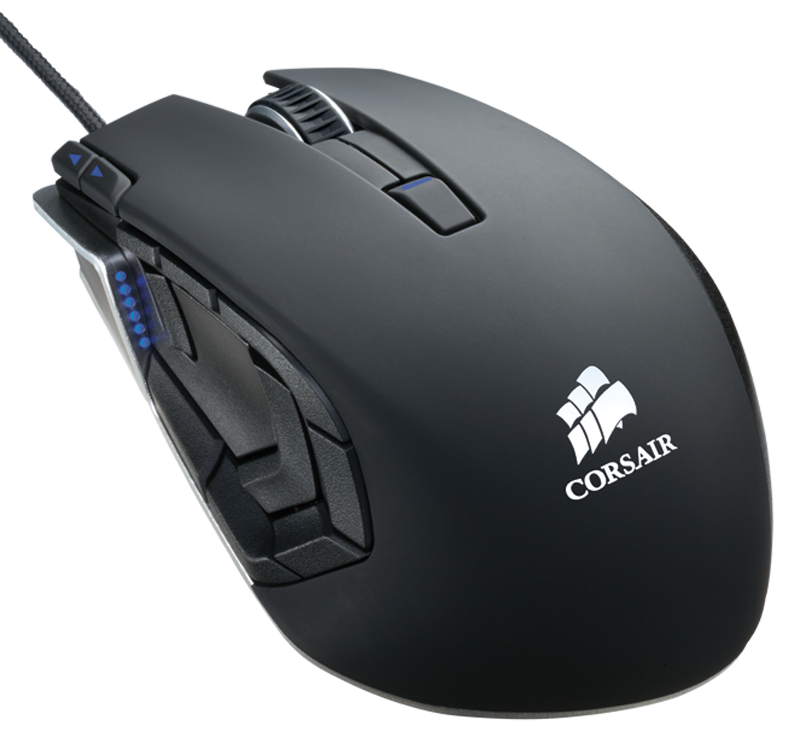 Professional Gaming Enthusiast's Mouse
For starters, the build construction, design and utilized hardware are second to none. Aluminum chassis, 5700DPI ultra-high-sensitivity blue laser, and the perfect weight to gauge your hand's movements. Where the real details and M90-specific attributes come into play, however, lay within the ergonomics and button design.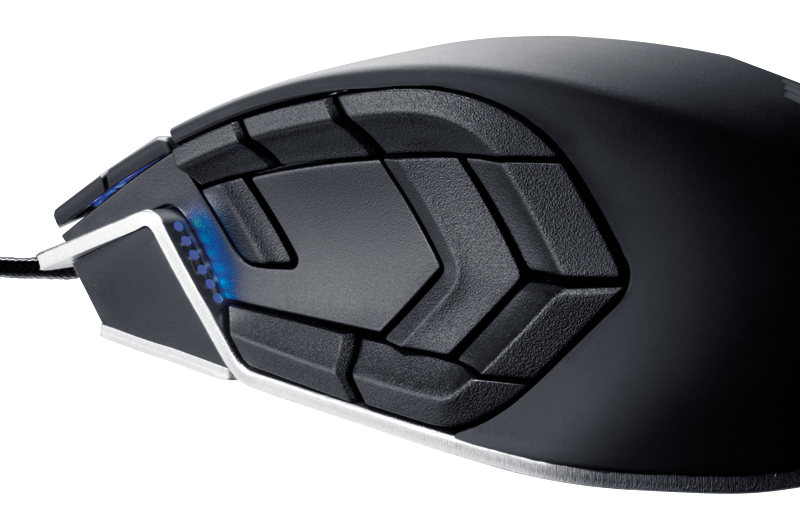 M90 Programmable buttons with 6 LED profile indicator
You'll notice that the M90's macro buttons have a specifically designed, angular nature to their layout. While new trends are scary, everything new requires some getting used to in the beginning.
Try the following: close your eyes and lay your hand on the M90 — you can feel it. The tip of your thumb naturally rests on the front-most button, the right-side of your thumb is rested and ready to toggle front/back, the left-side of your thumb mirrors the right-side, and the middle joint of your thumb sits naturally on the large V-shaped key. Reach over just slightly left with your pointer finger, and the DPI adjustment toggle arrows come into perfect reach. Retract your thumb back and feel the V-shaped key separate into two individual keys. We designed these keys to not just work, but to be used and to improve, not hinder, your gaming experience.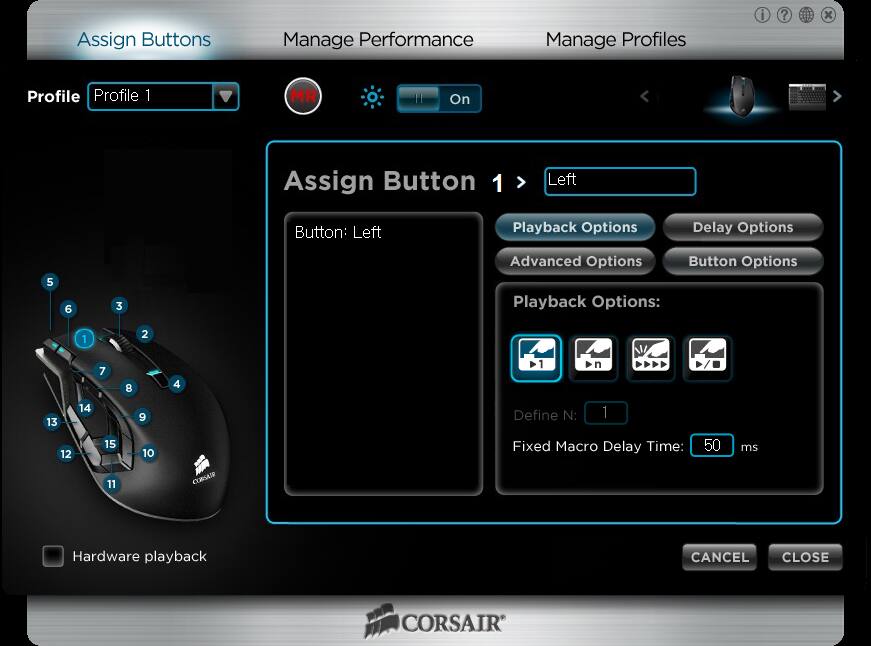 Corsair Vengeance Gaming HID Software
Out-of-the-box, the M90 comes pre-programmed with the following settings:
Left button
Right button
Middle button
No Function
DPI Up
DPI Down
Forward (MS Mouse Button #5)
Back (MS Mouse Button #4)
No Function
Profile Up
Profile Down
No Function
No Function
Sniper
No Function
Scroll Up
Scroll Down
Any of these keys may be reconfigured to the user's desired key or key combination(s).
The thumb-macro buttons on the M90 may also be configured to perform keystrokes from the K90 (or any other keyboard) as well as open any programs you may wish to open on-demand.
NOTE: This also means that you can reprogram the left click button. If you wish to do this make sure you reprogram "Left-Click" to a different mouse button first, or else you will need another mouse to manipulate the software.
In the first paragraph, I mentioned that the M90 has fifty-four programmable buttons. Located just below the scroll wheel, the M90 has a profile-toggle button, lit by a horizontal blue LED. With each press, the user can toggle between six different profiles, the number profile indicated by a progressive six-LED column on the M90's left side. The math is simple: 9x6 = 54. While it may be difficult to imagine using all fifty-four buttons in a single game, many gamers play more than one game or have more than one character. This is what the profile capability was designed for, and it saves a lot of time in the long run.
While function follows form in most premium keyboards and mice, the Vengeance M90 MMO Laser Gaming Mouse and K90 MMO Mechanical Gaming Keyboard promise form following function. What you see is what you get, and what you get is excellent.