Par.
Mike Clements

Posté Mar 21st 2012
Back in November of 2011, we brought you a build log focused on AMD's Llano APU. The log was based around the then, top of the Llano line AMD 3850K APU. The build log was very well received and highlighted the benefits of building a very power and cost efficient system. We've revisited the original testing with an APU upgrade, AMD's Dual Graphics, and a Corsair Accelerator Series SSD Cache Drive. And, the pricing is even better after a visit to Tiger Direct!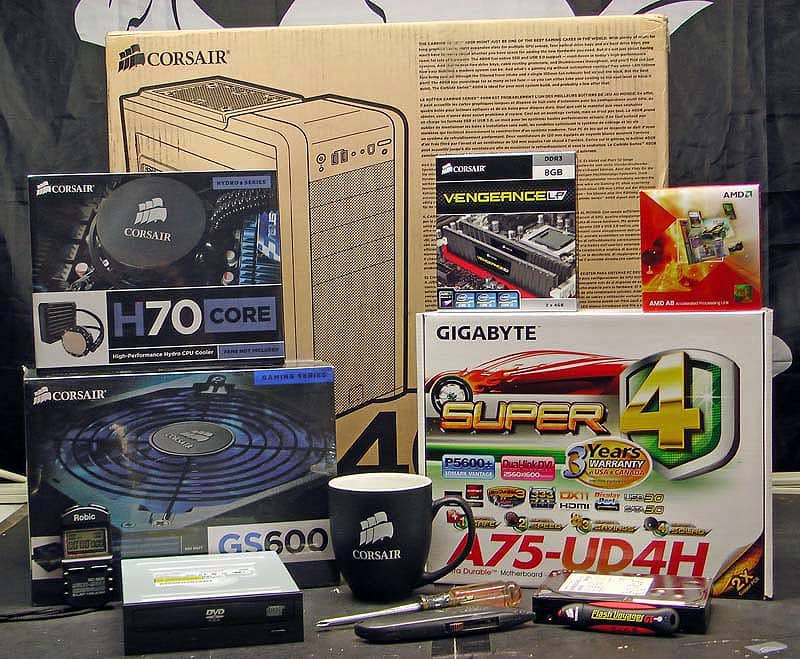 On a recent trip to Miami to work with our friends at Tiger Direct, the conversation turned our build logs and we discussed this specific Llano build log. One of the Tiger Direct reps stated that our build log sounded a lot like how they structure their bundle deals. So, it's definitely not a coincidence that we published this build log on the same day that Tiger Direct introduced a bundle based on the same Corsair hardware. In fact, they have managed to beat our original price listed below so be sure to take a look at this link.
Since the original build log, AMD has discontinued the 3850K APU and has introduced the 3870K APU. We decided to update to the 3870K and our sample was purchased from Tiger Direct for the same retail price ($139.99) as the 3850K used in the original log.
The AMD 3870K APU has a very solid graphics processor onboard. It is also very flexible as it offers AMDs Dual Graphics capability. Users can combine an AMD APU with a qualified AMD GPU and run them in what has been unofficially referred to as hybrid CrossfireX for improved 3D and gaming performance.
So, the next logical step in our examination was to try this dual graphics out for ourselves. In a recent search of the Tiger Direct website, I found that you can buy different implementations of the HD6670 GPU for prices ranging from $65.99 to $104.99. Our testing used the XFX R6670 Core Edition card.
Since the Llano build log went live back in November, we have also released the Accelerator Series SSD cache drives. This system, with its rotating hard disk drive was just begging for some drive performance improvement so we added an Accelerator Series drive to the mix. We added a 60GB Accelerator Series SSD to this build and it did wonders for the HDD and overall performance.
No build log would be complete without the CPU-Z information. Even though we changed the APU in this build, we stuck with the Gigabyte A75-UD4H motherboard. We also kept all of the other components from the original build.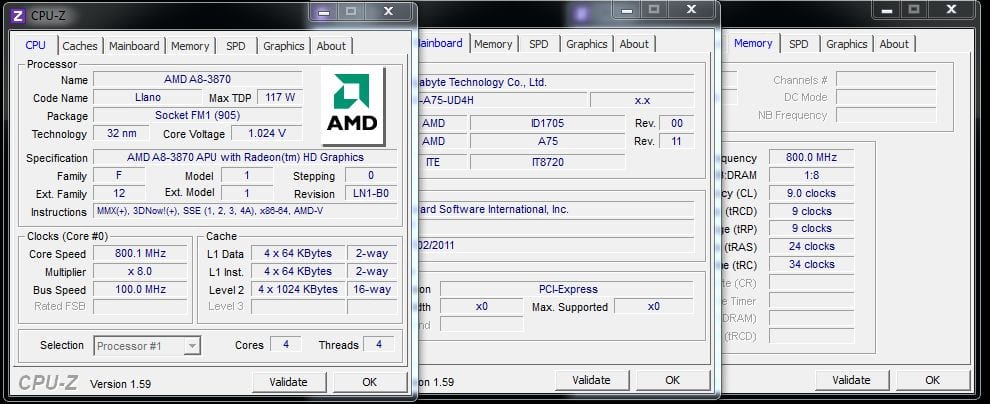 In the original testing, we used the 3DMark 11 benchmark from Futuremark. For those of you not familiar with 3DMark 11, here is a great description from Futuremark:
"Test DirectX® 11 on Windows 7 and Windows Vista. 3DMark 11 is the latest version of the world's most popular benchmark for measuring the graphics performance of gaming PCs. The benchmark includes six all new benchmark tests that make extensive use of all the new features in DirectX 11 including tessellation, compute shaders and multi-threading."
The 3850K and 3870K posted nearly identical scores in 3DMark 11 which is no surprise as each has the same GPU capabilities.
3DMark 11 + 3850K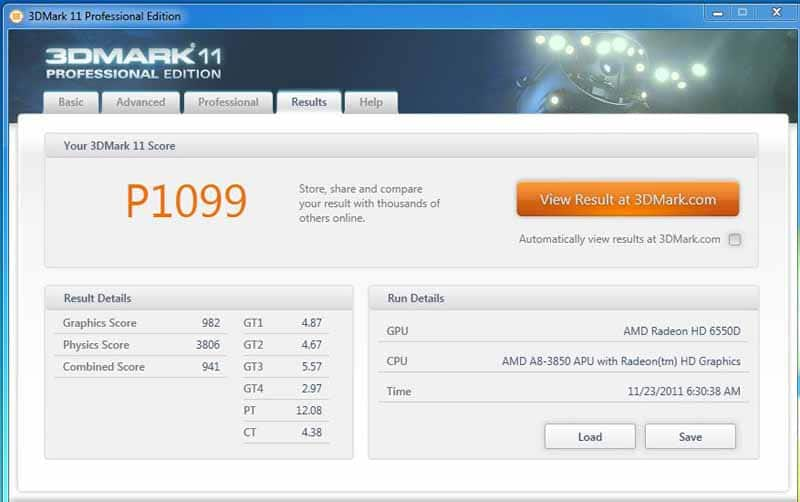 3DMark 11 + 3870K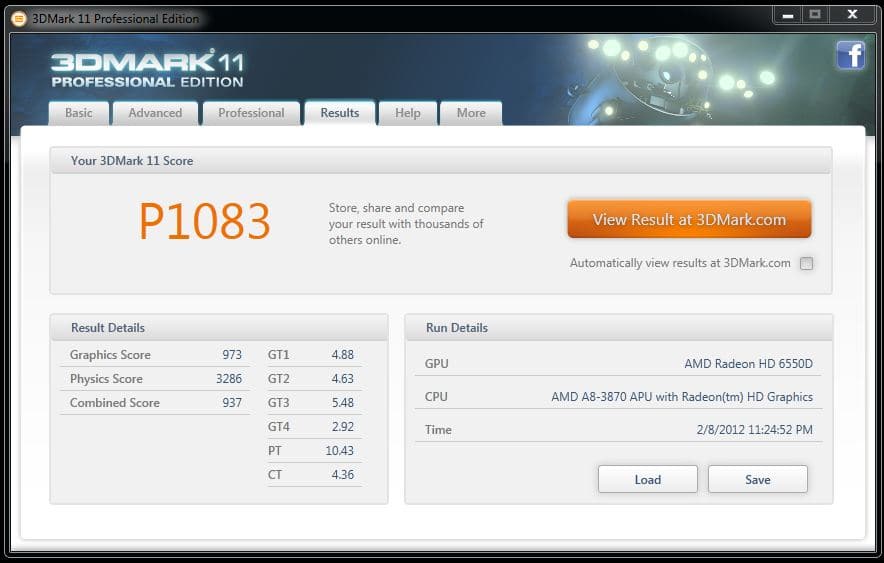 We then ran the 3DMark 11 benchmark on the HD6670 and it posted a very respectable score for a card in this class and price range.
3DMark 11 + HD6670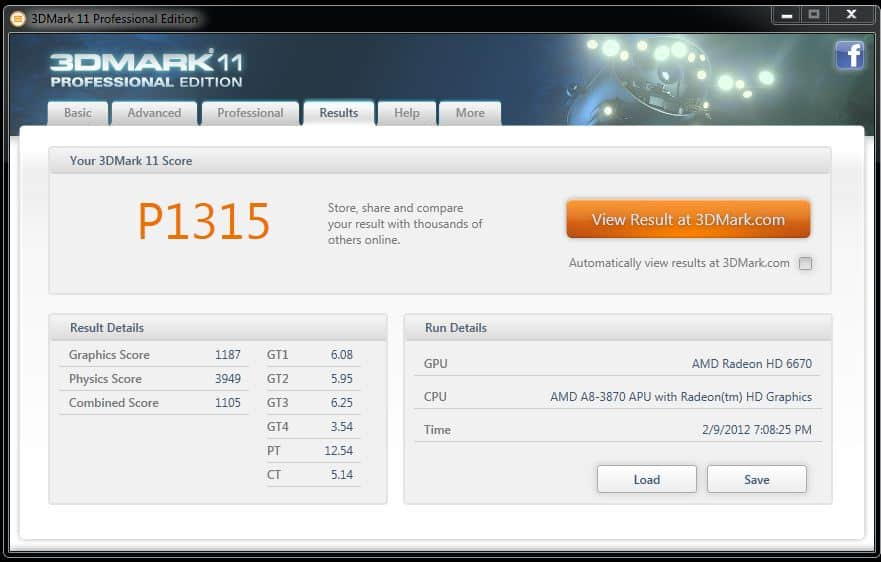 Here is a simple bar graph to compare the performance of our three tested graphics configurations.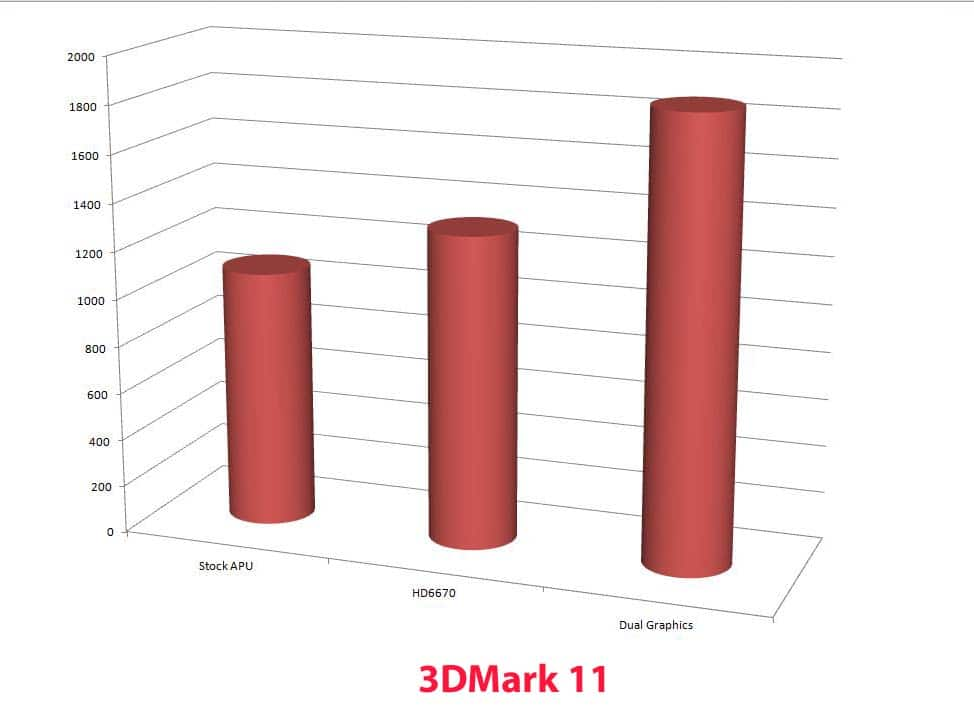 When we tested the 3870K APU and the HD6670 combined, we got a very good result. When using GPUs in a CrossfireX configuration, you never get a full 2x increase in performance. The GPUs simply don't scale that efficiently. But, this is still a very respectable score all factors considered.
3DMark 11 + AMD Dual Graphics
The combination of the improved APU, Dual Graphics, and Accelerator proved to be a great combination for improving the performance of this machine in our next benchmark, Futuremark's PC Mark Vantage. From Futuremark:
"A PCMark score is a measure of your computer's performance across a variety of common tasks such as viewing and editing photos, video, music and other media, gaming, communications, productivity and security."
This union made a great improvement in the overall PC Mark Vantage score. It especially improved the scores in the Gaming and HDD suites.
PCMark Vantage + APU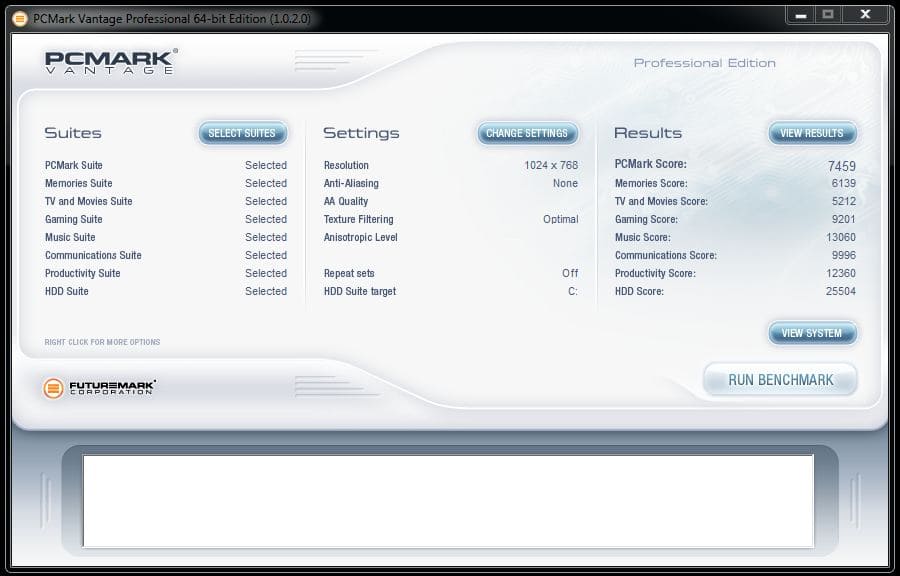 PCMark Vantage + HD6670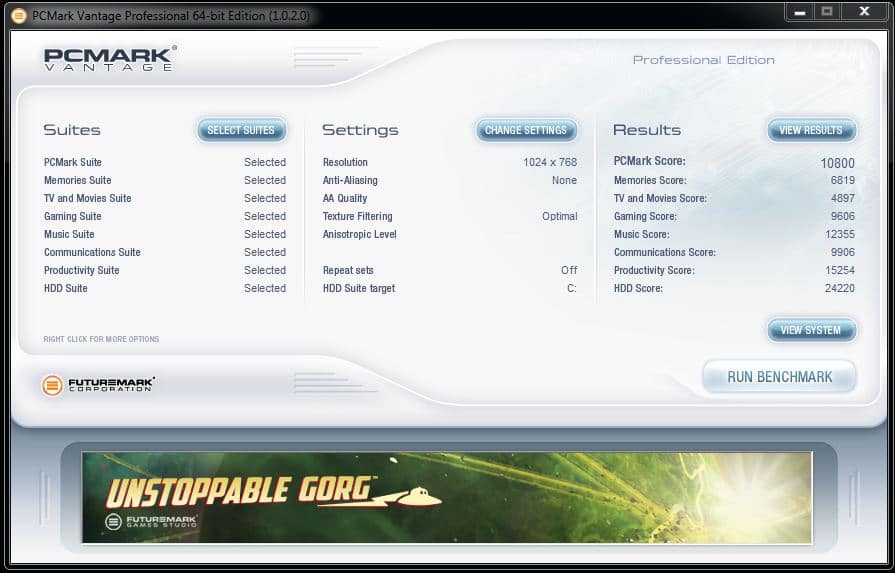 PCMark Vantage + Dual Graphics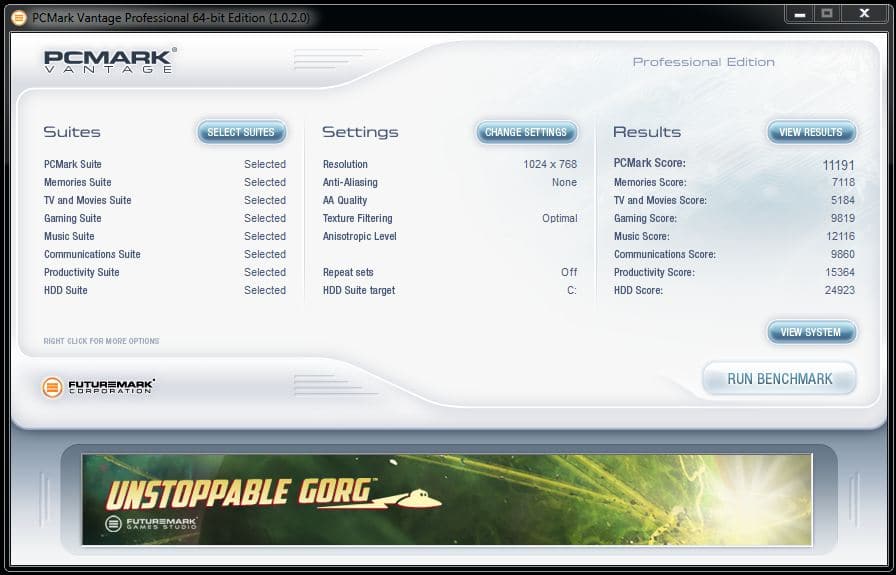 Not only has Tiger Direct assembled the bundle with the new A8-3870K APU, they have managed to soundly beat our original price from the initial build log. The list price for their bundle is $644.99 with an additional $15 reduction via mail in rebate. This bundle can be had for $629.99.
Tiger Direct assembled their bundle without the Corsair Accelerator SSD and a discrete 6*** AMD GPU. Their bundle includes the following items:
GIGABYTE GA-A75-UD4H AMD A Series Motherboard — ATX, Socket FM1, AMD A75 Chipset, 1866MHz DDR3, SATA 6.0 Gb/s, RAID, 7.1-CH Audio, Gigabit LAN, SuperSpeed USB 3.0, AMD Dual Graphics Ready
AMD A8-Series AD3870WNGXBOX Quad-Core A8-3870K Black Edition APU — 4MB L2 Cache, 3.0GHz, Socket FM1, Radeon HD 6550D (400 Cores), Dual Graphics Ready, DirectX 11, Fan, Unlocked, Retail
Corsair Hydro Series H70 CORE High Performance Liquid CPU Cooler — Socket LGA 1155, LGA 1366, LGA 2011,AM2, AM3, FM1
Corsair Vengeance LP Desktop Memory Kit (CML8GX3M2A1600C9) — 8GB (2x 4GB), PC3-12800, DDR3-1600MHz, 9-9-9-24 CAS Latency, 240-pin DIMM, 1.5V, Unbuffered, Intel XMP Ready
Corsair Carbide Series 400R Mid Tower Gaming Case — ATX, mATX, 4x Ext 5.25" Bays, 6x Int 3.5" Bays, 2x 120mm White LED Fans, 1x 120mm Fan, 2x USB 3.0 and 1x IEEE 1394 Front Ports
Corsair Gaming Series GS600 Power Supply — ATX, 600W, 80 Plus, Blue LED, 140mm Fan
Lite-On IHAS124-04 Internal DVD Writer — DVD+R 24X, DVD-R 24X, DVD+RW 8X, DVD-RW 6X, DVD+R DL 8X, SATA (OEM)
Seagate ST2000DL003 Barracuda Green 2TB Hard Drive — 2TB, 5900 RPM, 64MB, SATA-6Gb/s
If you wish to add a discrete HD6670 series AMD GPU as we did in our testing in this log, be sure to select a GPU that is AMD A8 APU AND AMD dual graphics capable. My most recent search on Tiger Direct showed these units to range from $65.99 to $105.99.
If you wish to add a Corsair Accelerator Series™ Solid-State Cache Drive these drives are now available at Tiger Direct.
Another very attractive feature is the OCing ability of the Llano systems. Both the CPU cores and the GPU can be overclocked. As noted in Dino's Llano OCing guide, you can get substantial improvements by OCing and you can also add OCing the HD6670 to the mix if you like.
We concluded the first build log by stating that this Llano rig is a great example of building a very capable and expandable system with a small budget these days. The system has certainly proven itself to be both capable and expandable as we've shown here. The discrete GPU and caching drive options can be implemented without breaking the bank.
This is a great bundle for the budget and power conscious user so be sure to visit www.tigerdirect.com and take a look at this and other great bundles featuring Corsair components. Oh, and of course, Miami is wonderful this time of year.