By
Michael Valera

posted Aug 12th 2011
ProClockers, Force Series™ 3 SSD Review — "With the performance number we saw here today we feel that there is no better time than the present to upgrade from the typical mechanical drive to an ultra-fast SSD like the Force 3."
TweakTown, Hydro Series™ H80 CPU Cooler Review — "What the H80 has for me to see value in is simply three things. Number one is performance; I mean it rocked our TECC and showed us that these coolers can keep up and run with the big dogs. The adjustable at a touch cooling, with the option for the additional Link later on makes the new Hydro series coolers even more adaptable. To round out the trio, there is the mounting."
Overclockers Club, Special Edition White Graphite Series™ 600T Mid-Tower Case Review — "Overall, the features of the Corsair Graphite Series 600T work well, and the Special White Edition offers some extra benefits over the original version — for only a tiny bit of a price-hike."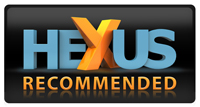 Hexus, Carbide Series™ 400R Mid-Tower Case Review — "The Carbide Series 400R doesn't have the visual lure of Corsair's previous solutions, but it manages to retain a lot of what's good about the Graphite and Obsidian Series enclosures and offer it in a package costing less than £90."
Guru3D, Carbide Series™ 400R Mid-Tower Case Review — "However for 99 bucks you do get a serious chassis that does not forfeit a lot, in fact labeling it mid-range or mainstream doesn't even do it justice. The work space inside is great with easy access to pretty much anything and with 8 expansions lots there is plenty room for multiple graphics cards that are lengthy. Everything can be installed tool free and the new retention 3.5" HDD clips work a lot better then the previous models have shown."
Hardware Canucks video review of the Carbide Series™ 400R Mid-Tower Case: