By
Michael Valera

posted Aug 19th 2011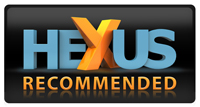 Hexus, Vengeance™ Low Profile White — 1.35V 8GB Dual Channel DDR3 Memory Upgrade Kit Review — "Our advice to most consumers would be to choose a reputable brand and pick up an 8GB, CL9 kit that'll do 1,600MHz at low voltage. It's a future-proof configuration that hits a sweet spot of price and performance, and it's perfectly realised by Corsair's Special Edition Arctic White Vengeance LP."
TechRadar, Force Series™ 3 120GB SSD Review — Four out of Five Stars — "One hundred and seventy English pounds for a 120GB SSD powered by the latest SandForce SF-2200 controller and 25nm NAND flash memory? Looks like a bit of a bargain, particularly compared to 120GB-ish drives with the Marvell 9174 controller, such as the Intel 510 and Plextor M2S."

Neoseeker, Hydro Series™ H100 Extreme Performance Liquid CPU Cooler Review — "Looking beyond the size and price, the H100 is simply amazing. It offers best-in-class performance and just looks epic when installed. On top of this, it has options to increase or decrease the fans' RPM levels in real-time, supports Corsair's upcoming Link platform, and can accommodate up to four 120mm fans."
Overclock3D, Hydro Series H100 Review — "The fact you can still turn the H100 down easily is in my eyes its trump card, because its roughly a 4-6c increase but with a massive reduction in noise. So you can set your system up with some hefty over-volts and overclocks for 24/7 and still be able to keep things cool and quiet but with a flick of a switch you can unleash the full cooling power for those silly bench runs and even higher over volts that you would not want to be running 24/7."
Overclock3D, Carbide Series™ 400R Mid-Tower Case Review: