CORSAIR ONE i145s Compact Gaming PC
3.199,99 €

EUR

2.729,90 €

EUR
Add to cart
SKU
CS-9020008-EU
CORSAIR ONE i145s Compact Gaming PC
3.199,99 €

EUR

2.729,90 €

EUR
CORSAIR ONE i145s redefines what you can expect from a high-performance gaming PC. Incredibly fast, amazingly compact, quiet and stunningly designed.



Compatible with CORSAIR iCUE
LIKE NOTHING ELSE
Clad in a 2mm thick bead-blasted aluminum shell, CORSAIR ONE's minimalist ultra-small form factor is crafted to sit on top of your desk, not under it.
STATE OF THE ART PERFORMANCE
CORSAIR ONE i145s boasts the latest in performance PC technology, with an INTEL® Core™ i7-9700K eight-core processor, NVIDIA® GeFORCE RTX™ 2080 SUPER graphics and award-winning CORSAIR DDR4 memory.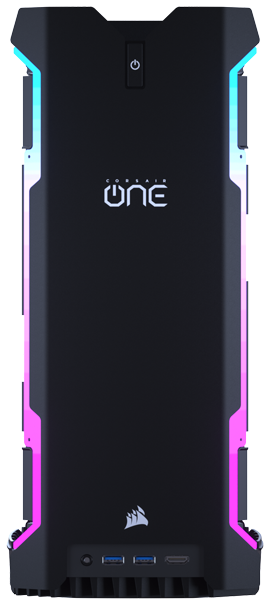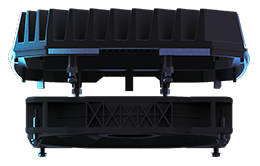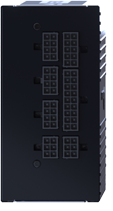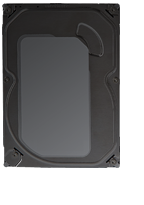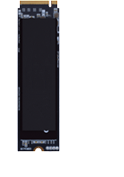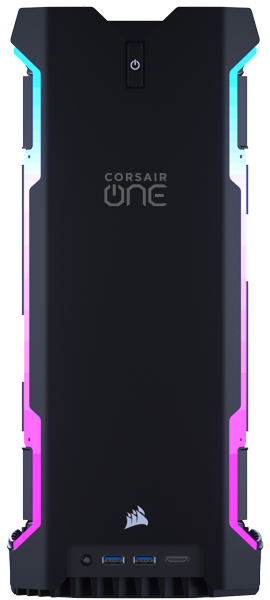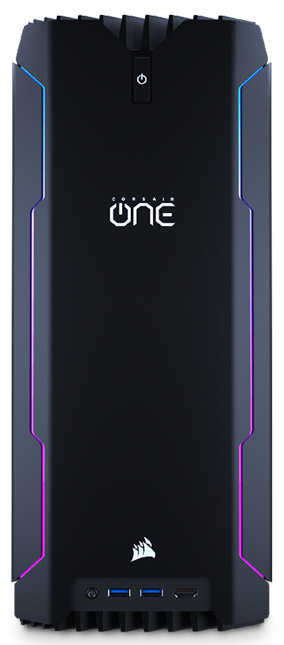 Go Beyond 4K
Experience stunning multi-display immersion with support for up to three 4K displays with NVIDIA® G-SYNC, VR and HDR. CORSAIR ONE fits seamless at your desk, or in your living room.
HOW BIG IS THE
CORSAIR ONE

? SUPERIOR RGB LIGHTING AND PERSONALIZATION
Built-in RGB light pipes and powerful CORSAIR iCUE software allow you to personalize your system's look and instantly sync lighting profiles across all your CORSAIR iCUE compatible products.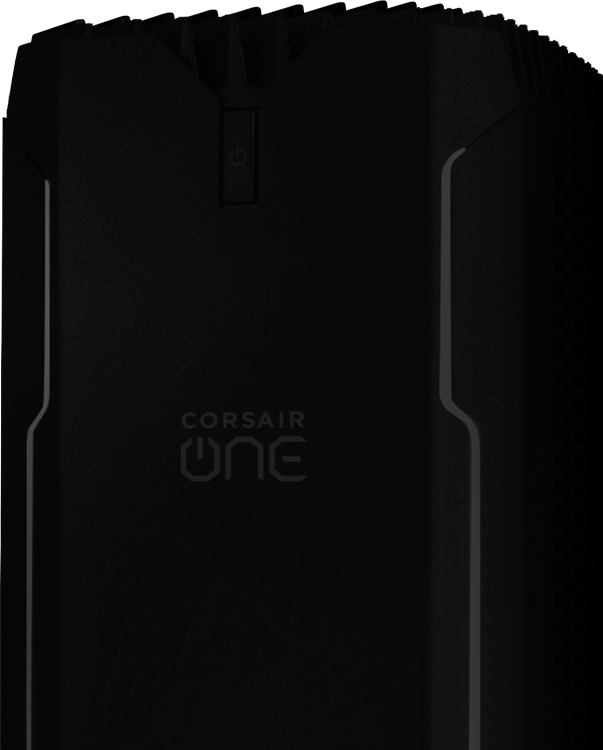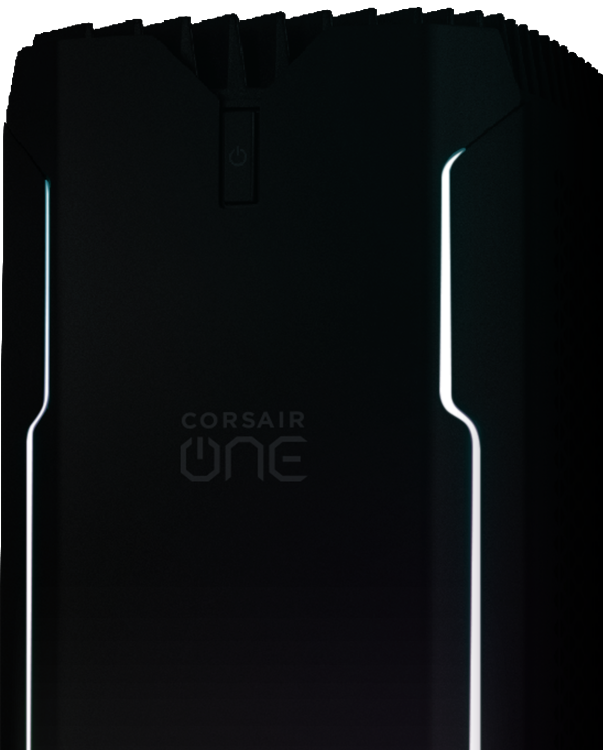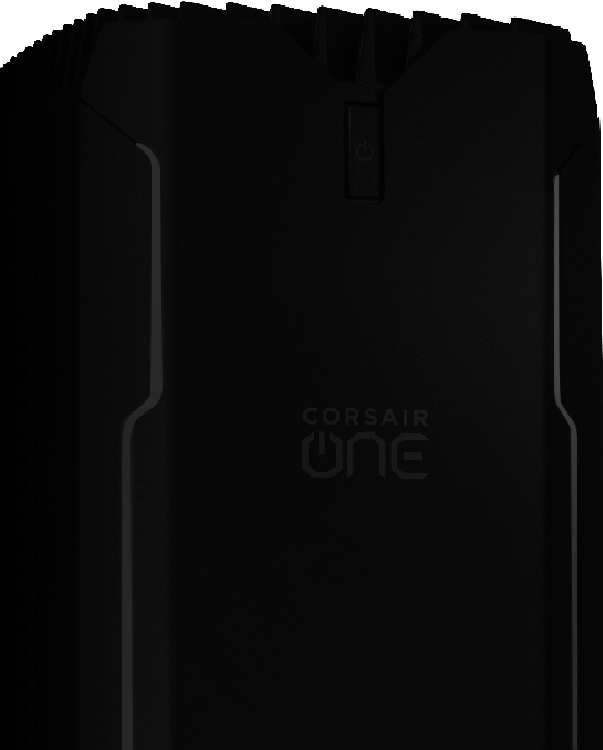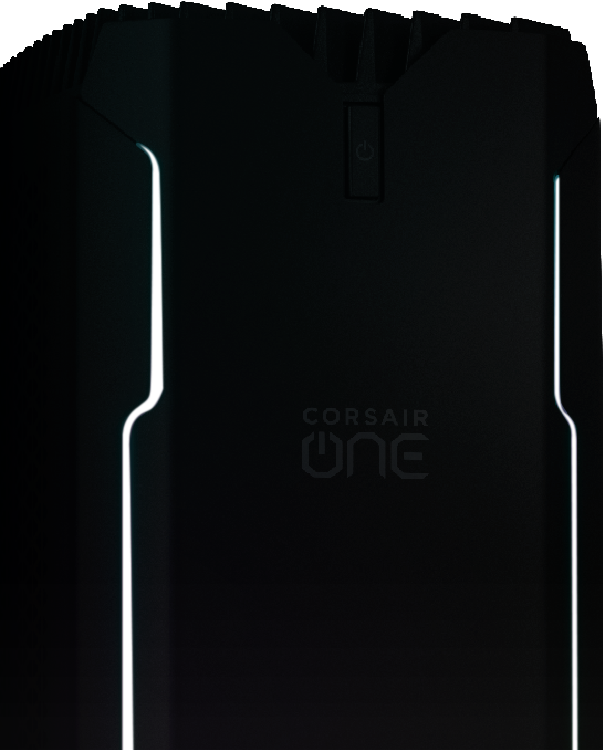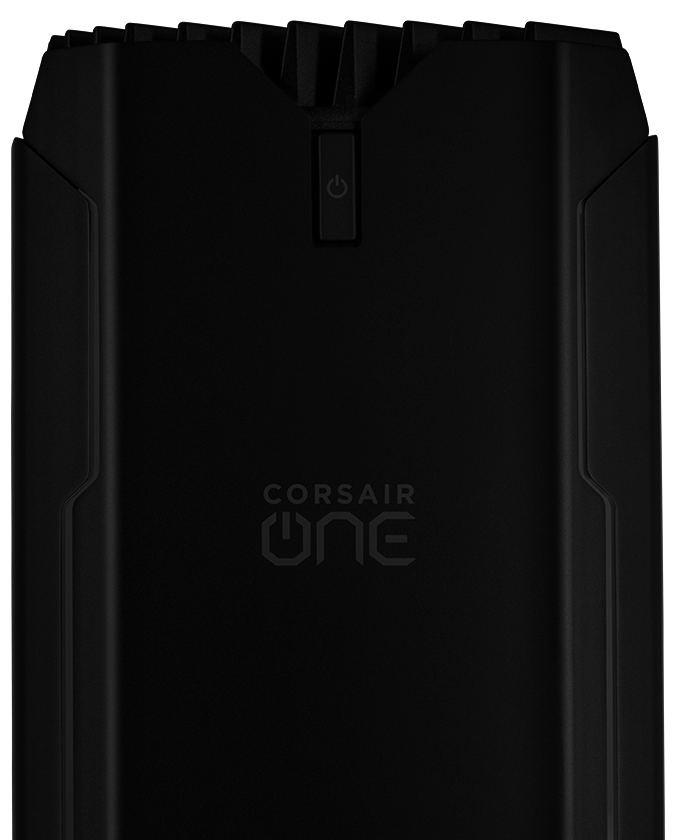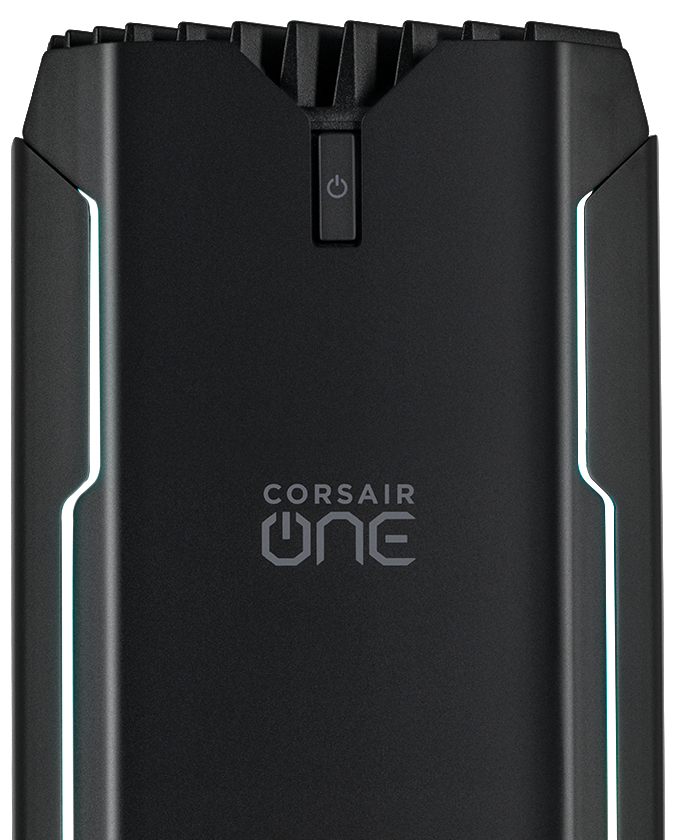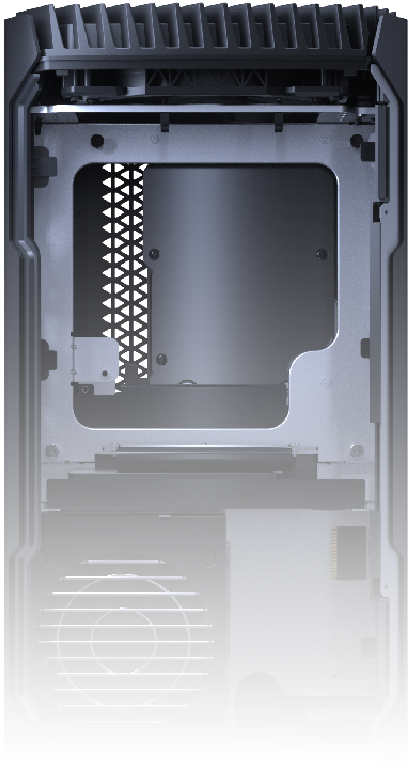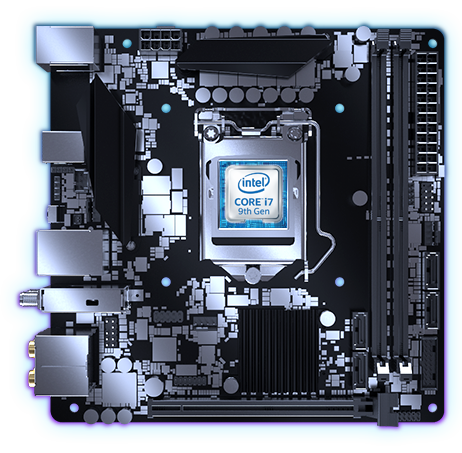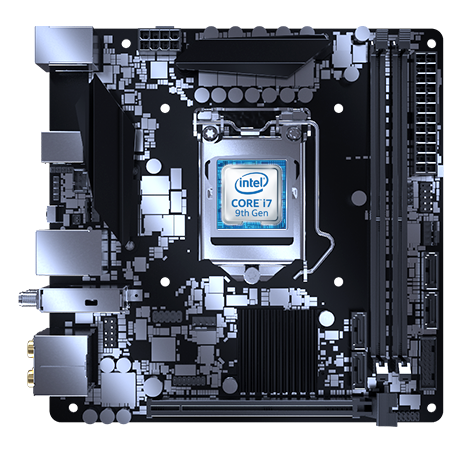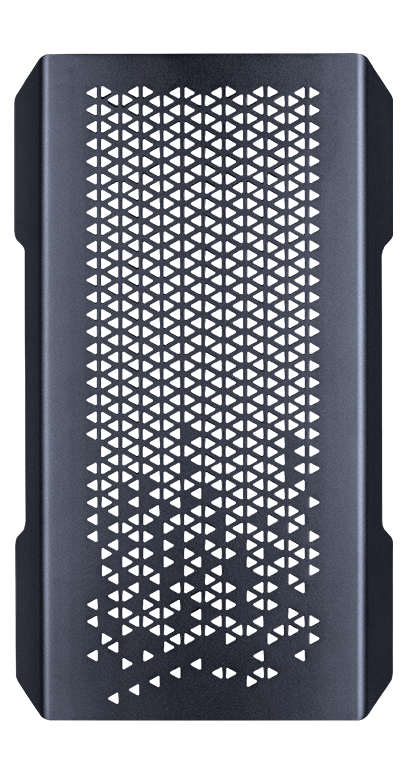 9TH GENERATION INTEL® i7 CORE™ PROCESSOR
Processor
PROCESSING POWER
EIGHT CORES IN ONE
Powered by the latest 9th generation Intel® Core processor™ and a high performance Z370 Mini-ITX motherboard, CORSAIR ONE delivers lightning fast processing with headroom for overclocking.
The custom liquid cooling design is so efficient that the GPU and CPU can run in BOOST or TURBO modes easily, increasing clock speeds automatically for more performance.
9TH GENERATION INTEL® i7 CORE™ PROCESSOR
Processor
Z370 MINI-ITX MOTHERBOARD
Motherboard
Z370 MINI-ITX MOTHERBOARD
Motherboard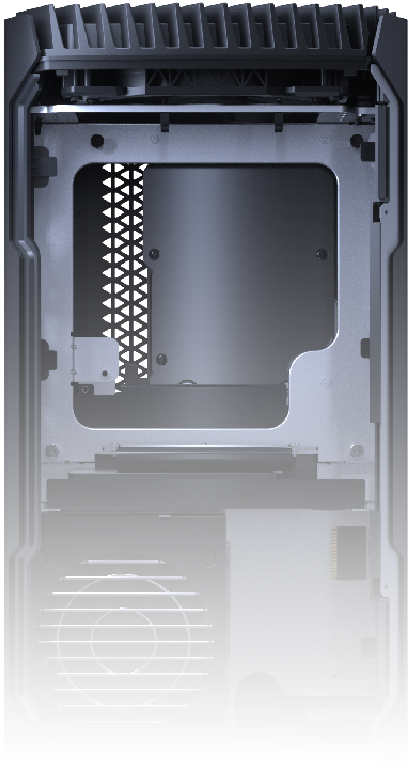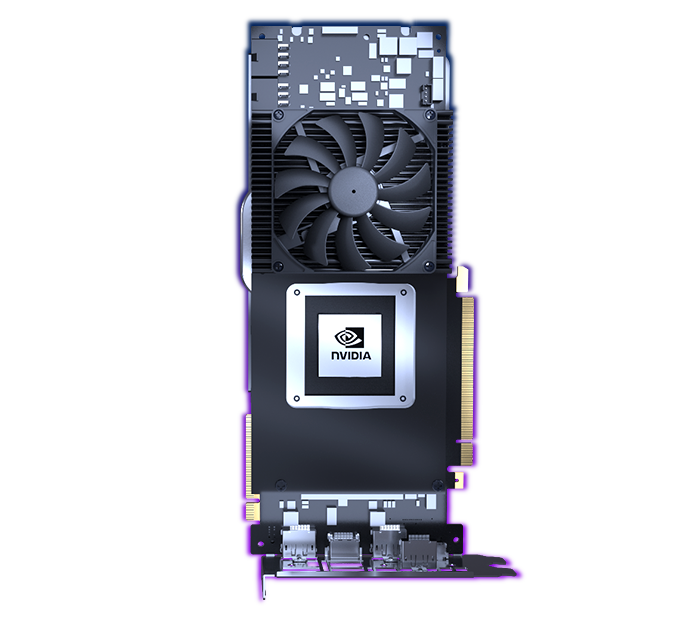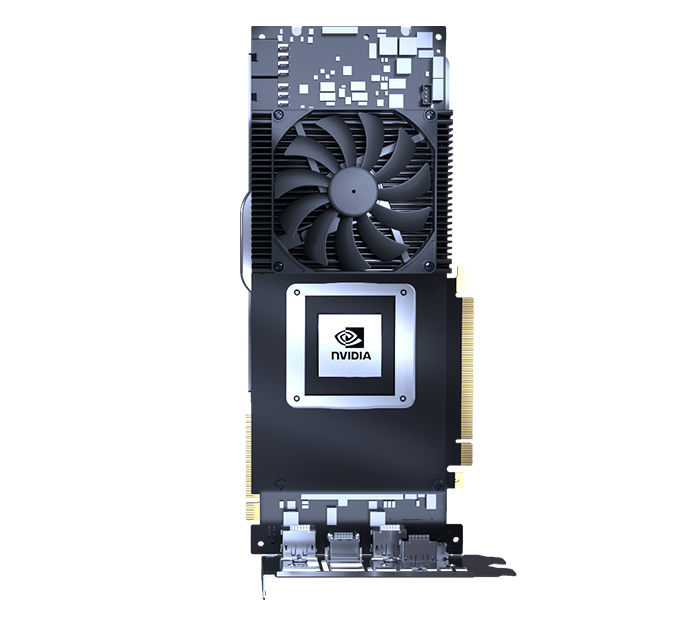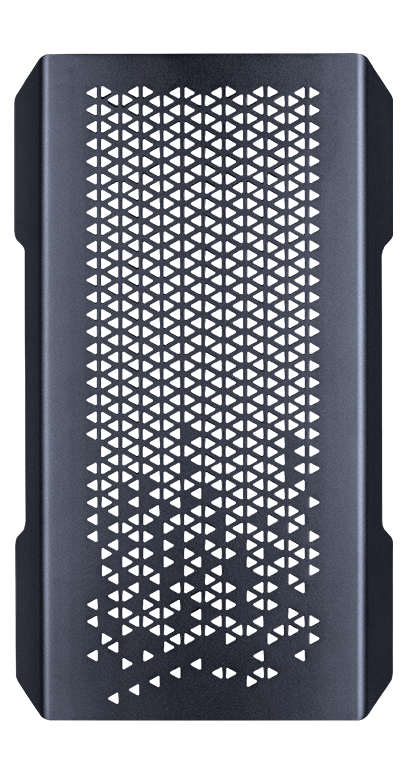 GRAPHICS
FULL-SIZED DESKTOP GPU
Experience the power of a liquid cooled NVIDIA® GeForce® RTX 20-Series graphics card.
All new Turing GPU architecture delivers up to 6x the performance of previous generations, rendering 4K and VR without breaking a sweat.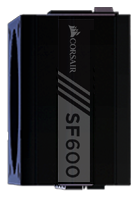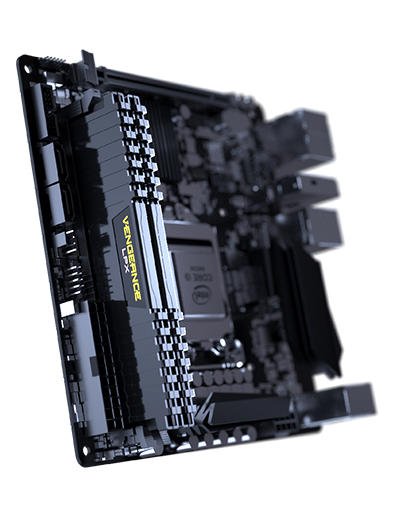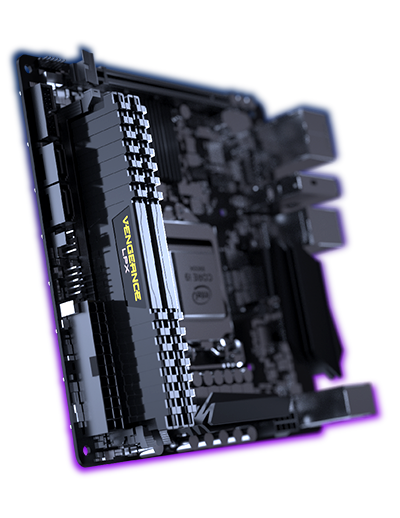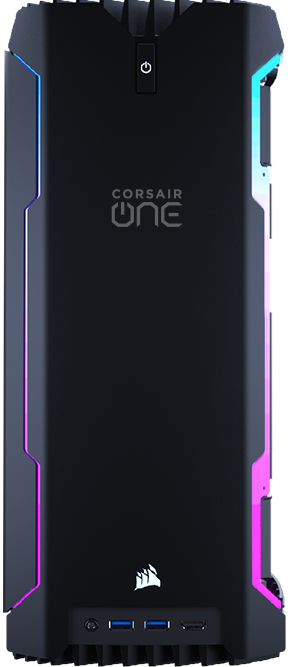 SUPPORT UP TO 32GB OF MEMORY
CORSAIR VENGEANCE LPX DDR4
We make the most award-winning memory on the market, and have loaded CORSAIR ONE with 32GB of our enthusiast grade VENGEANCE LPX DDR4 for unparalleled responsiveness. Designed with pure aluminum heatspreaders for faster heat dispersion and an 8-layer PCB for superior overclocking headroom,
VENGEANCE is engineered to outperform and outlast.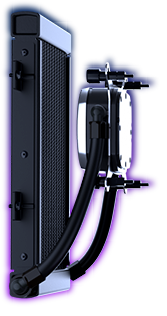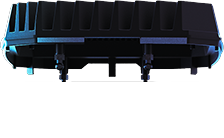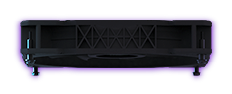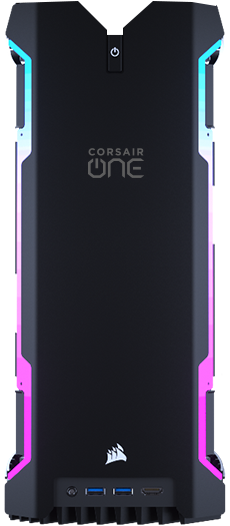 CONVECTION COOLED SYSTEM
EVERYTHING ABOUT IT IS COOL
The sleek vertical design of the CORSAIR ONE is also a hyper-efficient cooling system. This quiet convection cooled design is a proprietary closed loop CPU/GPU liquid cooling system, supported by our virtually frictionless magnetic levitation ML SERIES fan.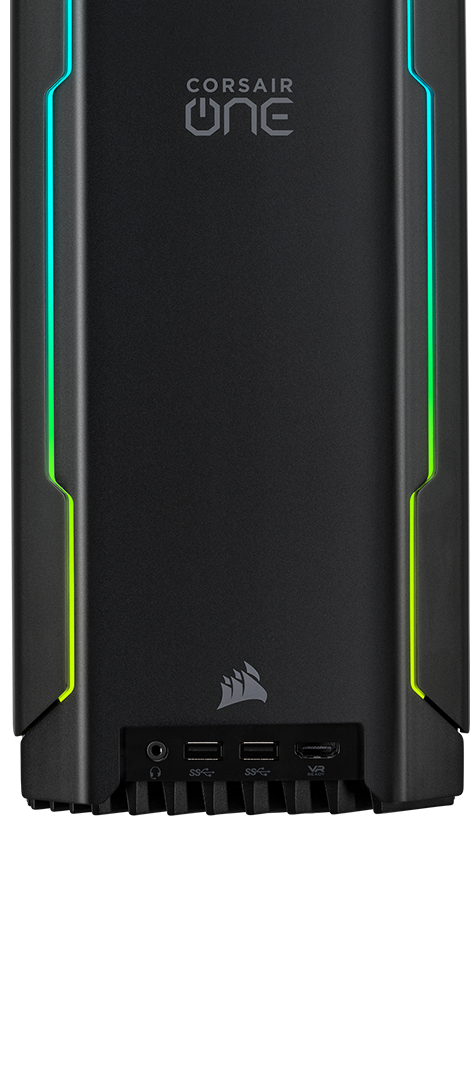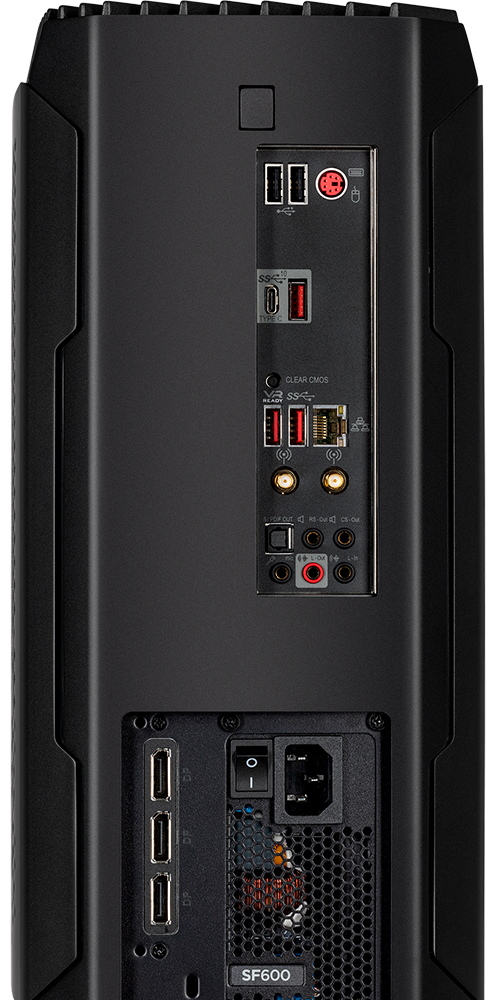 I/O PANELS
AMPLE CONNECTION
Rear I/O Panel:


6 USB Ports (1x USB 3.1 Gen 2 Type-C, 1x USB 3.1 Gen 2 Type-A, 2x USB 3.1 Gen 1 Type-A, 2x USB 2.0, 3x DisplayPort, 802.11ac WiFi, Bluetooth 4.2, Gigabit Ethernet, Audio Connectors (5+S/PDIF)


Front Panel:


Put connections for your most used devices within easy reach with a 3.5mm audio jack, two USB 3.0 ports, and a VR-ready HDMI port.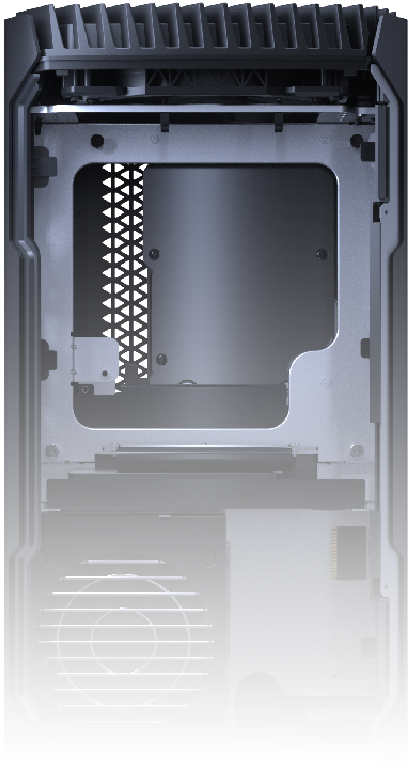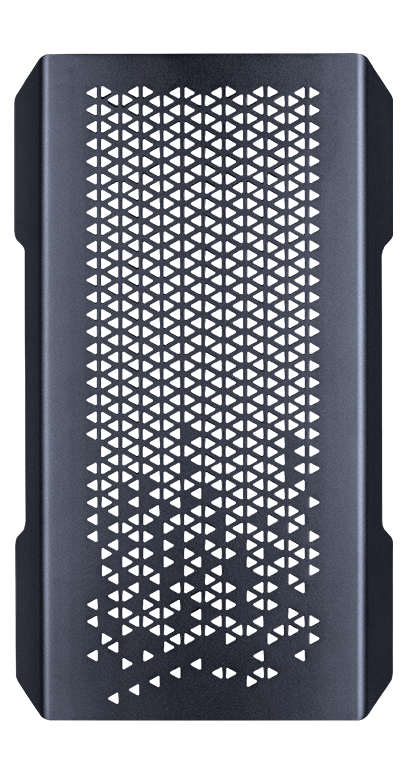 Certification
POWER SUPPLY
INCREDIBLY QUIET, UNBELIEVABLY RELIABLE
600 watt 80 PLUS® GOLD certified efficiency with tight voltage regulation delivers superior class performance in a small form factor. The 105°C Japanese capacitors provide unwavering reliability and Zero RPM Mode keeps the noise level in check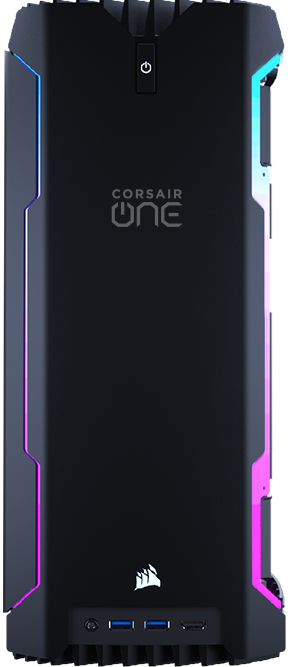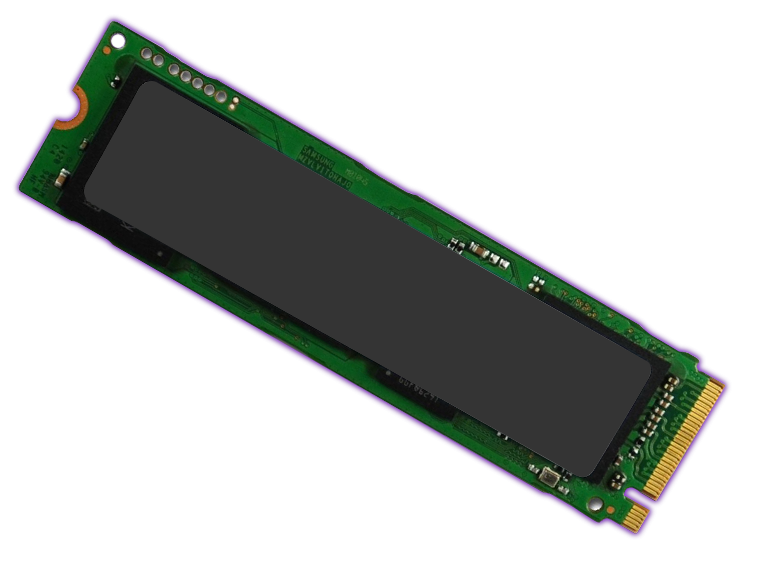 UP TO 960GB
M.2 NVMe
SOLID STATE DRIVE
STORAGE
HIGH PERFORMANCE STORAGE
A lightning-fast M.2 NVMe SSD and a high-capacity HDD give you the most effective combination of speed and storage on the market.
UP TO 960GB
NVMe M.2 drive
2.5" DRIVE
Hard disk drive
WORLD-CLASS SUPPORT. 24/7.
Get help with your CORSAIR ONE when you need it, with CORSAIR's comprehensive two-year warranty and lifetime world-class customer support, available to you 24-7 by phone or online.
GET IN TOUCH
THE RULES HAVE CHANGED
BUY GEFORCE RTX™, GET Call of Duty®: Modern Warfare®
The stakes have never been higher. Become a lethal Tier One operator with the power of NVIDIA GeForce RTX. The revolutionary RTX platform maximizes your performance and visual fidelity on PC with real-time ray tracing and super-powerful AI processing. As you delve into clandestine covert operations that affect the global balance of power or showcase your skills against the toughest enemies in fierce multiplayer battles, GeForce RTX delivers the ultimate PC gaming experience.
For a limited time, get Call of Duty: Modern Warfare with a purchase of a qualifying GeForce RTX 20 Series graphics card, gaming desktop, or gaming laptop.
*Terms and Conditions apply
Dimensions
200mm x 172.5mm x 380mm
GPU
NVIDIA GeForce RTX 2080 Super
Liquid Cooling
Liquid CPU/GPU
Storage
960GB M.2 NVMe SSD | 2TB 5400RPM 2.5" HDD
Motherboard
Z370 Mini-ITX
Operating System
Windows 10 Home
Networking
Gigabit Ethernet, 802.11ac, Bluetooth 4.2
Power Supply
CORSAIR SF600, 80 Plus Gold
External Connections
FRONT: 2x USB 3.1 Gen 1, Combo Headphone/Mic, HDMI 2.0a; REAR: 2x USB 3.1 Gen 2 (Type-A and Type-C), 2x USB 3.1 Gen 1, 2x USB 2.0, 7.1 Audio, Ethernet, PS/2, 3x DisplayPort
Warranty FAQ
How do I make a warranty claim?
Prior to submitting your warranty claim, we recommend checking the Corsair knowledge base at https://support.corsair.com/ first, where you can find answers to commonly-asked questions. You can also receive troubleshooting assistance by clicking Ask a Question or proceed with product replacement by clicking Request an RMA.
Valid warranty claims should be processed through the retailer where the item was purchased during the first thirty (30) days after purchase. This period may vary depending on where you purchased your product; please verify the return policy with the retailer where you purchased your product. Any warranty claims that cannot be processed through your original point our purchased should be submitted to Corsair at https://support.corsair.com/
What are Corsairs replacement options?
Corsair offers the following Warranty fulfillment options:
Standard Replacement:
Through Corsairs Standard Replacement process, Corsair will issue an approved RMA number for the return and replacement of your defective product(s). Our Standard Replacement processing time from receipt of your product(s) to the replacement product(s) shipment is 1-3 business days plus transit time.
Express Replacement:
At Corsair, we understand the need to be up and running at all times! To minimize down time, we offer an Express Replacement RMA process. Through this process Corsair will ship your replacement product(s) prior to receiving your defective product(s). This process requires a valid Credit Card where a holding fee will be applied for the cost of the product until the returning product(s) are received by Corsair. To avoid being fully charged for the Express Replacement product(s), the defective product(s) must be received by Corsair within 10 business days from the date your Express Replacement order is shipped.
Accessory Product Request:
Experiencing a problem with a Corsair Component Product? Many of Corsair products have easy to install replacement accessories which will resolve the issue and prevent the need to return the entire product for replacement.
Where do I ship my items?
Corsair operates multiple RMA receiving locations worldwide. Your RMA confirmation will specify the specific return address you must use when sending your RMA package. This will be your standard return location and should not be changed without prior approval from Corsair. Any packages received at an unauthorized location may be refused and returned to the sender at the senders expense.
How to find your lot code
Lot codes for Corsair products can generally be found in the follow locations. For more specific information, please view the Corsair knowledge base Lot Code article for a particular product series.
Headsets: The code is located on the earcup's arm.
Speakers: The code is located on the back of the subwoofer.
Case: The code is located on the back panel.
Cooling: The code is located on the radiator.
Flash: The code is located on the unit's packaging, near UPC barcode.
SSD: The code is located on the label on top of the SSD.
Mice: The code is located on the label taped next to the USB connector.
Keyboard: The code is located on the packaging near the UPC barcode.
Memory: The code is on the memory module's label.
PSU: The code is on the PSU label, next to the serial number.