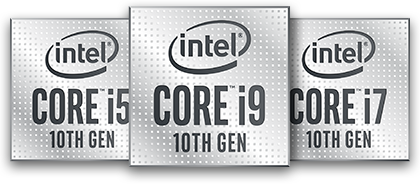 INTEL JUST UPPED THE ANTE
Intel® has released new 10th generation Core™ Series processors, raising the bar in clock speeds.
TURBOCHARGED COOLING PERFORMANCE
With up to ten incredibly fast cores, managing your core temps is key to maintaining boost clocks. Z490 motherboards features a new CPU socket – LGA1200 – but that doesn't affect compatibility. All CORSAIR coolers are guaranteed to be compatible with your new CPU.
For the most powerful cooling, look to the iCUE H150i RGB PRO XT liquid CPU cooler with a 360mm radiator. For something a little smaller, the H100i RGB PLATINUM liquid CPU cooler delivers great performance and great looks. If air cooling is more your style, the A500 dual fan CPU cooler will keep temperatures down with its magnetic levitation fans.
WATCH INSTALL VIDEO
WHEN MILLISECONDS MATTER
With more than 25 years of experience, CORSAIR is the most trusted name in performance memory. Complement Intel®'s powerful new processors with a broad range of compatible, stunning, high-performance DDR4 modules to take your system beyond base clocks.
COMPATIBLE DDR4 MEMORY
POWERED UP
With higher frequencies and more cores than ever on a mainstream Intel® desktop, the new 10th Generation Core™ Series requires reliable, stable power for optimal performance. CORSAIR power supplies are up to the task, with new features such as Modern Standby in the RM Series that enable your system to wake from sleep almost instantly.

THE BEST PCs DESERVE THE BEST COOLING
Take your new system's cooling to a whole new level of performance and aesthetics with a CORSAIR Hydro X Series custom cooling loop, achieving incredibly low temperatures in jaw-dropping style. Build your own loop now using the online custom cooling configurator.
DESIGN YOUR LOOP