SKU
CC-9011174-WW
iCUE 220T RGB Airflow Tempered Glass Mid-Tower Smart Case — White
The CORSAIR iCUE 220T RGB Airflow is a compact mid-tower ATX smart case with a high airflow layout and three included SP120 RGB PRO fans for spectacular RGB lighting controlled out-of-the-box via CORSAIR iCUE software.



Compatible with CORSAIR iCUE
CORSAIR MID-TOWER CASES
220T RGB AIRFLOW CASE
STRONG COOLING MEETS SMART LIGHTING
WATCH VIDEO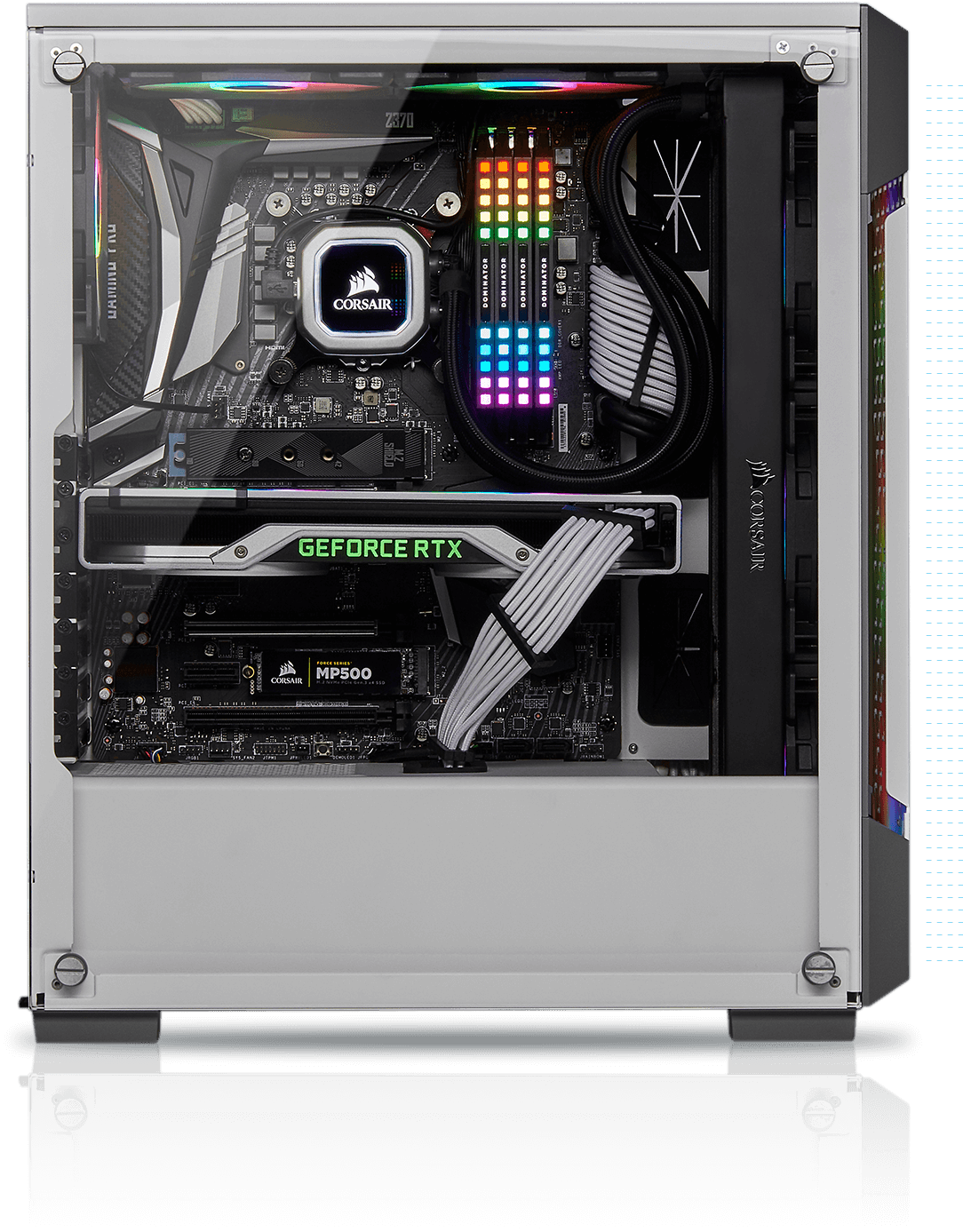 HIGH AIRFLOW LAYOUT
Structured to improve your system's cooling, complete with a steel grill front panel for optimal air intake.
THREE INCLUDED SP120 RGB PRO FANS
Includes three CORSAIR SP120 RGB PRO fans, each equipped with eight individually addressable LEDs around the hub (24 total).

SMART CASE, SMART LIGHTING
Plug up to 6 of the same CORSAIR RGB fans directly into the included iCUE Lighting Node CORE to control your RGB lighting without the need for a fan hub, making for brilliant lighting effects right out of the box with CORSAIR iCUE software.
Switch through various profiles.
Spiral Rainbow

Color Shift

Rain

Visor

Infinity

Rotary Stack
Solid Steel
The 220T RGB Airflow's steel construction and easy to remove front plate ensure sturdy and resilient durability along with a striking look.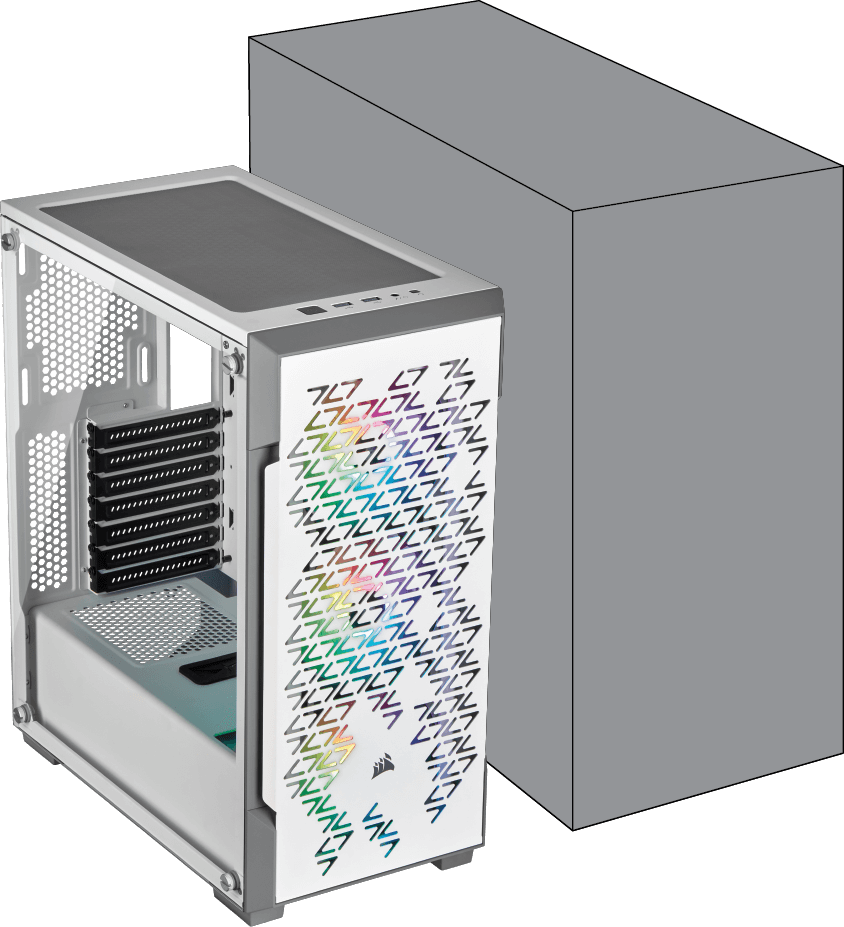 A COMPACT POWERHOUSE
Take up less desktop space and fit a full-sized ATX motherboard-based PC just about anywhere you want, because the 220T is 35% smaller (by volume) than a "standard" mid-tower, with a 30% smaller footprint.
Powerful Airflow
Keep your components cool with room for up to 6x 120mm fans, 4x 140mm fans, or up to a 360mm* radiator in the front.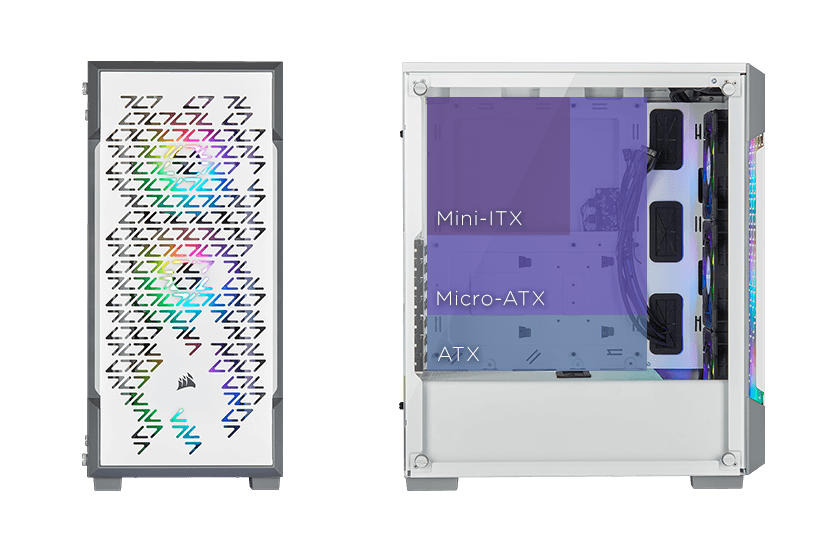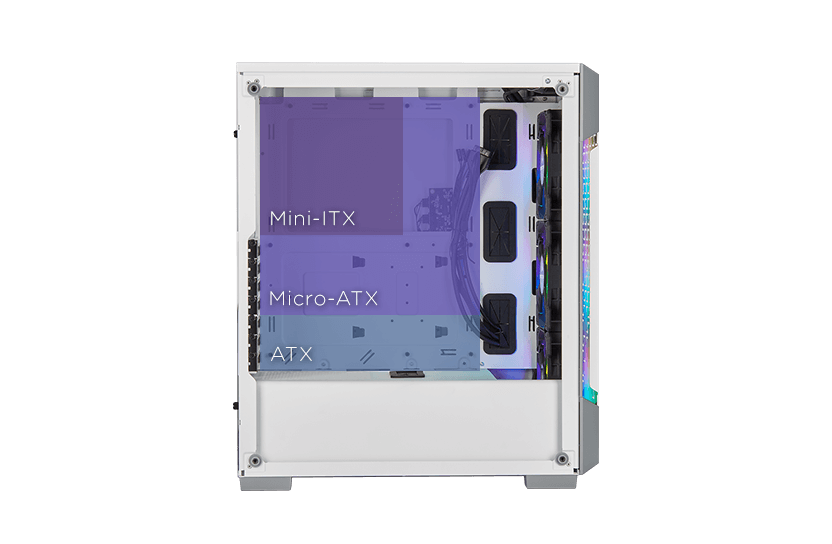 3x SP RGB PRO 120mm INCLUDED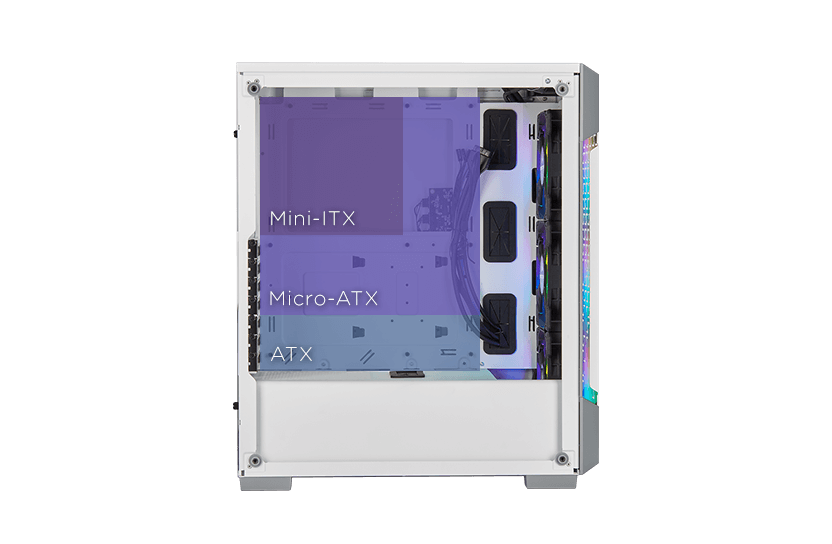 *Need to remove HDD cage
Fits up to Four Drives
Flexible storage options include two 2.5in trays and two more trays in a removable cage that fit additional 3.5in or 2.5in drives.
SSD HDD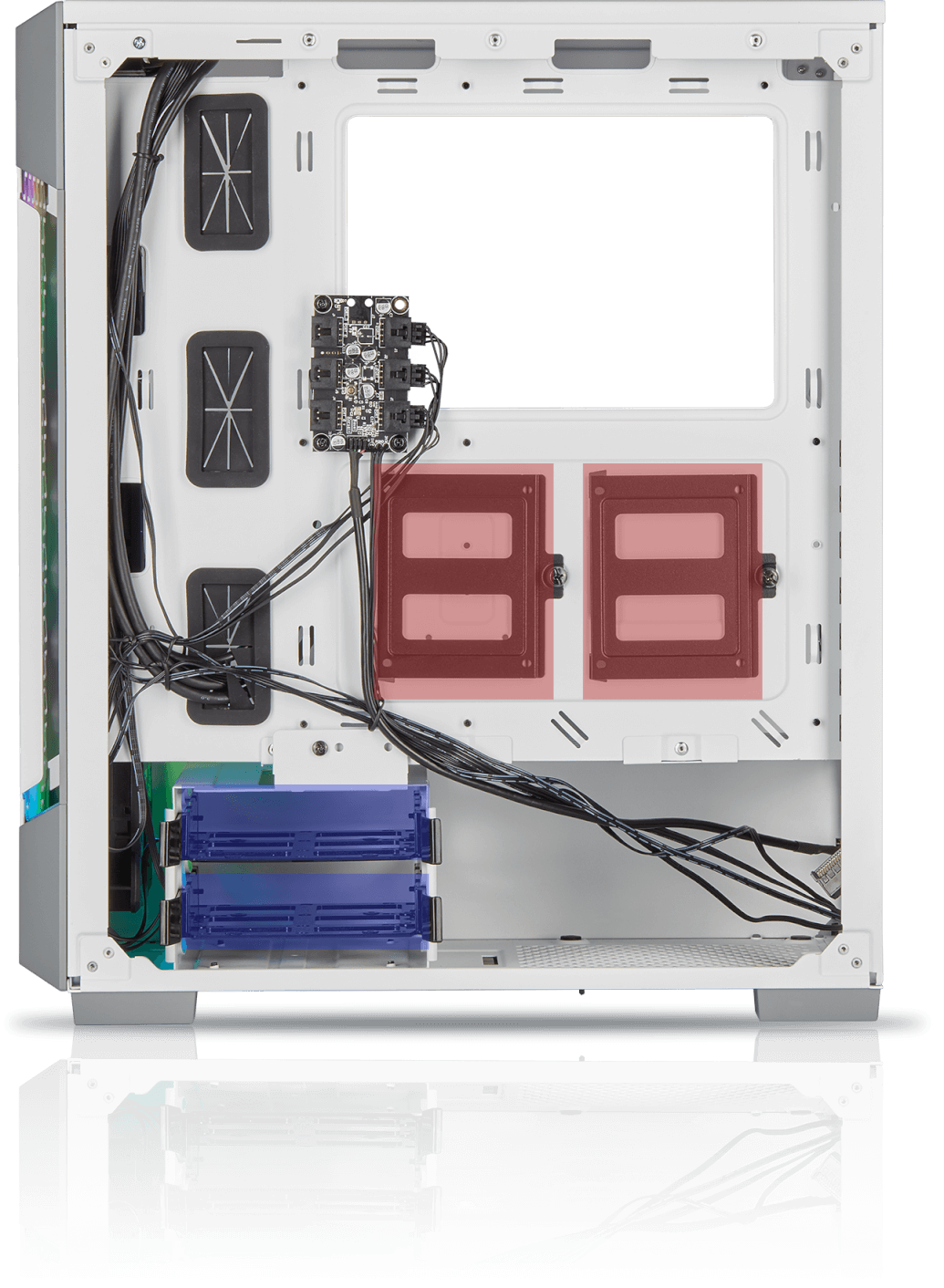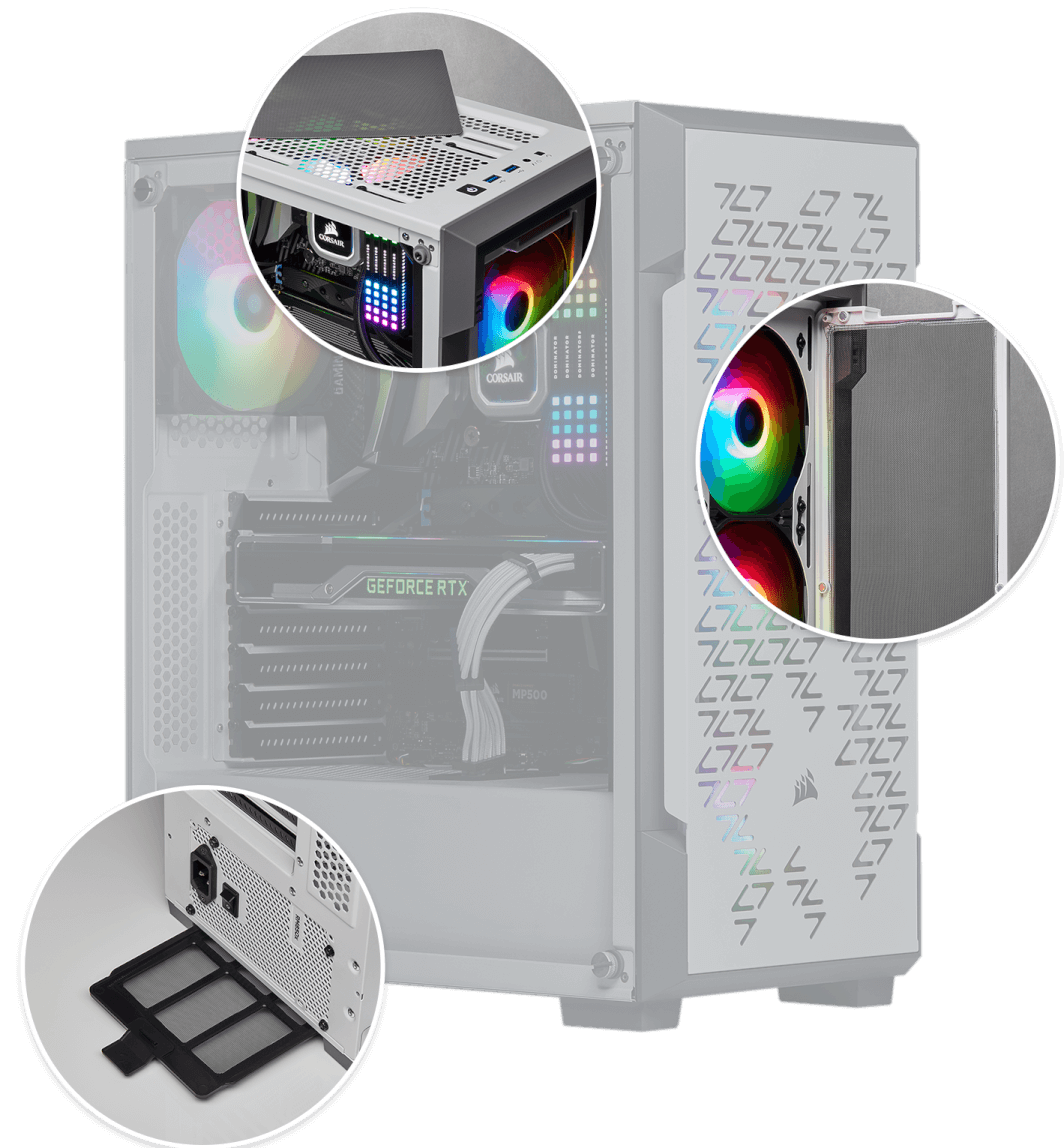 Keep it Clean
Removable dust filters in the floor, roof and front keep your system clean for years after the build is finished.
Intelligent Control. Unlimited Possibilities.
Powerful CORSAIR iCUE software brings your system to life with dynamic RGB lighting synchronized across all your iCUE compatible products, including fans, RGB LED light strips, DDR4 memory, keyboards, mice and more.
Case Dimensions
395mm x 210mm x 450mm
Maximum CPU Cooler Height
160mm
Case Drive Bays
(x2) 3.5in (x2) 2.5in
Case Form Factor
Mid-Tower
Case Windowed
Tempered Glass
Case Material
Steel, Tempered Glass
Radiator Compatibility
120mm, 140mm, 240mm, 280mm, 360mm
Compatible Corsair Liquid Coolers
H55, H60, H75, H80i, H90, H100i, H105, H110i, H115i, H150i
Case Power Supply
ATX (not included)
How to find your lot code
Lot codes for Corsair products can generally be found in the follow locations. For more specific information, please view the Corsair knowledge base Lot Code article for a particular product series.
Headsets: The code is located on the earcup's arm.
Speakers: The code is located on the back of the subwoofer.
Case: The code is located on the back panel.
Cooling: The code is located on the radiator.
Flash: The code is located on the unit's packaging, near UPC barcode.
SSD: The code is located on the label on top of the SSD.
Mice: The code is located on the label taped next to the USB connector.
Keyboard: The code is located on the packaging near the UPC barcode.
Memory: The code is on the memory module's label.
PSU: The code is on the PSU label, next to the serial number.
Warranty FAQ
How do I make a warranty claim?
Prior to submitting your warranty claim, we recommend checking the Corsair knowledge base at https://support.corsair.com/ first, where you can find answers to commonly-asked questions. You can also receive troubleshooting assistance by clicking Ask a Question or proceed with product replacement by clicking Request an RMA.
Valid warranty claims should be processed through the retailer where the item was purchased during the first thirty (30) days after purchase. This period may vary depending on where you purchased your product; please verify the return policy with the retailer where you purchased your product. Any warranty claims that cannot be processed through your original point our purchased should be submitted to Corsair at https://support.corsair.com/
What are Corsairs replacement options?
Corsair offers the following Warranty fulfillment options:
Standard Replacement:
Through Corsairs Standard Replacement process, Corsair will issue an approved RMA number for the return and replacement of your defective product(s). Our Standard Replacement processing time from receipt of your product(s) to the replacement product(s) shipment is 1-3 business days plus transit time.
Express Replacement:
At Corsair, we understand the need to be up and running at all times! To minimize down time, we offer an Express Replacement RMA process. Through this process Corsair will ship your replacement product(s) prior to receiving your defective product(s). This process requires a valid Credit Card where a holding fee will be applied for the cost of the product until the returning product(s) are received by Corsair. To avoid being fully charged for the Express Replacement product(s), the defective product(s) must be received by Corsair within 10 business days from the date your Express Replacement order is shipped.
Accessory Product Request:
Experiencing a problem with a Corsair Component Product? Many of Corsair products have easy to install replacement accessories which will resolve the issue and prevent the need to return the entire product for replacement.
Where do I ship my items?
Corsair operates multiple RMA receiving locations worldwide. Your RMA confirmation will specify the specific return address you must use when sending your RMA package. This will be your standard return location and should not be changed without prior approval from Corsair. Any packages received at an unauthorized location may be refused and returned to the sender at the senders expense.
CORSAIR iCUE 220T RGB Airflow Tempered Glass Mid-Tower Smart Case, White