i

CUE NEXUS
WELCOME TO YOUR COMMAND CENTER
To begin, please download the latest version of iCUE below. With iCUE installed, you can begin to harness the power of iCUE NEXUS with personalized screens, custom commands, live system monitoring, iCUE device control, and more.
QUICK SETUP
To begin click on the iCUE NEXUS
product tile
Adding a Screen

Press the "+ Add New" button to create a new screen and start customizing.

Adding a button or widget

Move your mouse cursor over any area of the screen and click "+ Add New".

CONFIGURING a Button

After adding a button or widget, select "Button" type then customize the size, action, text, background and icon.

CONFIGURING a Widget

After adding a button or widget, select "Widget" type then click the "Add" button to select a widget.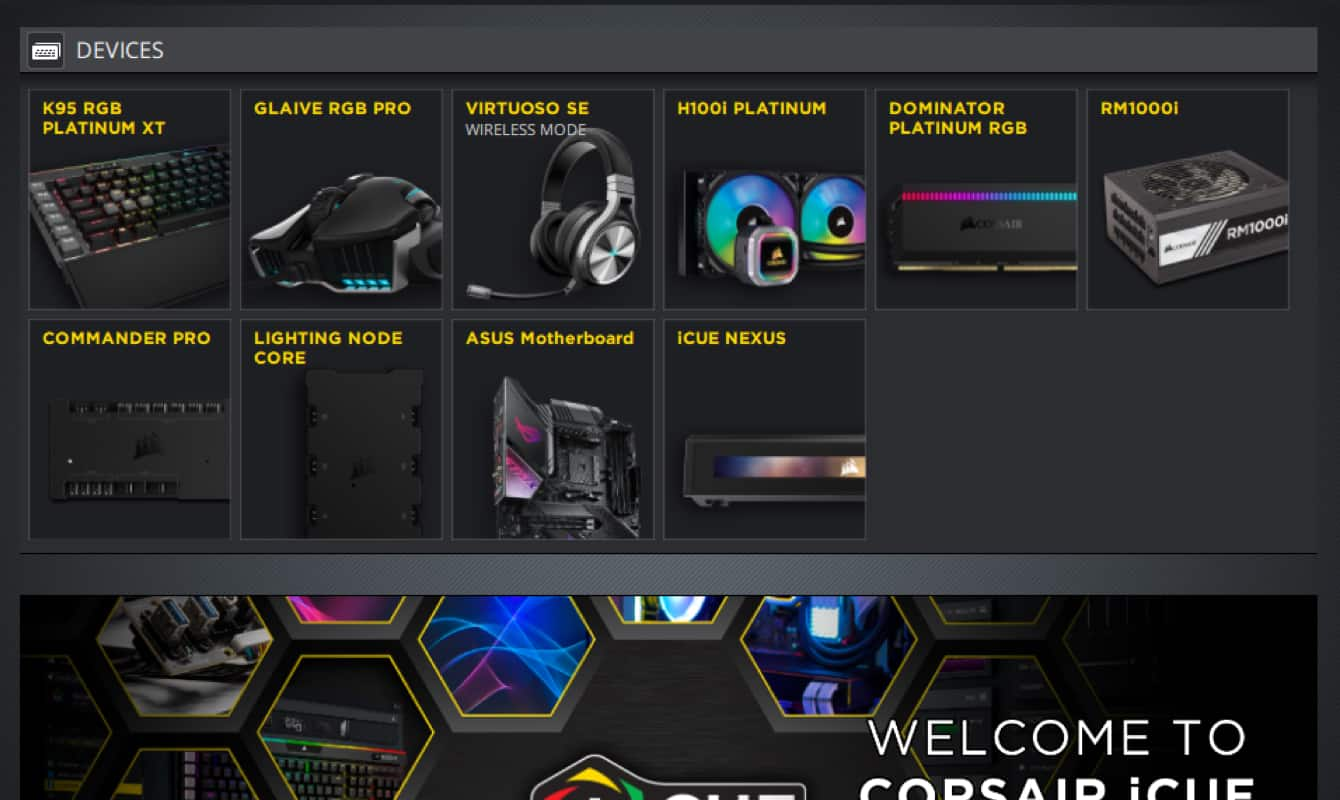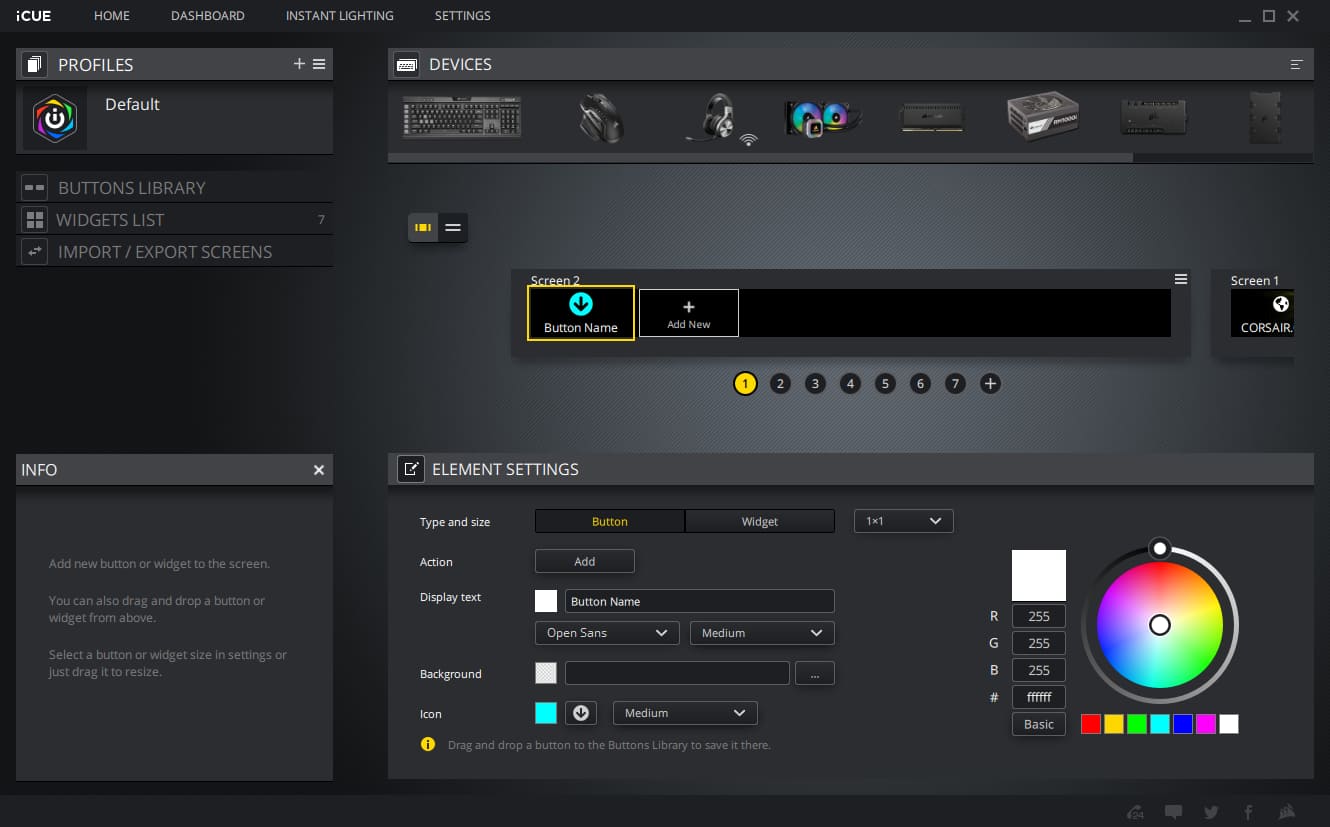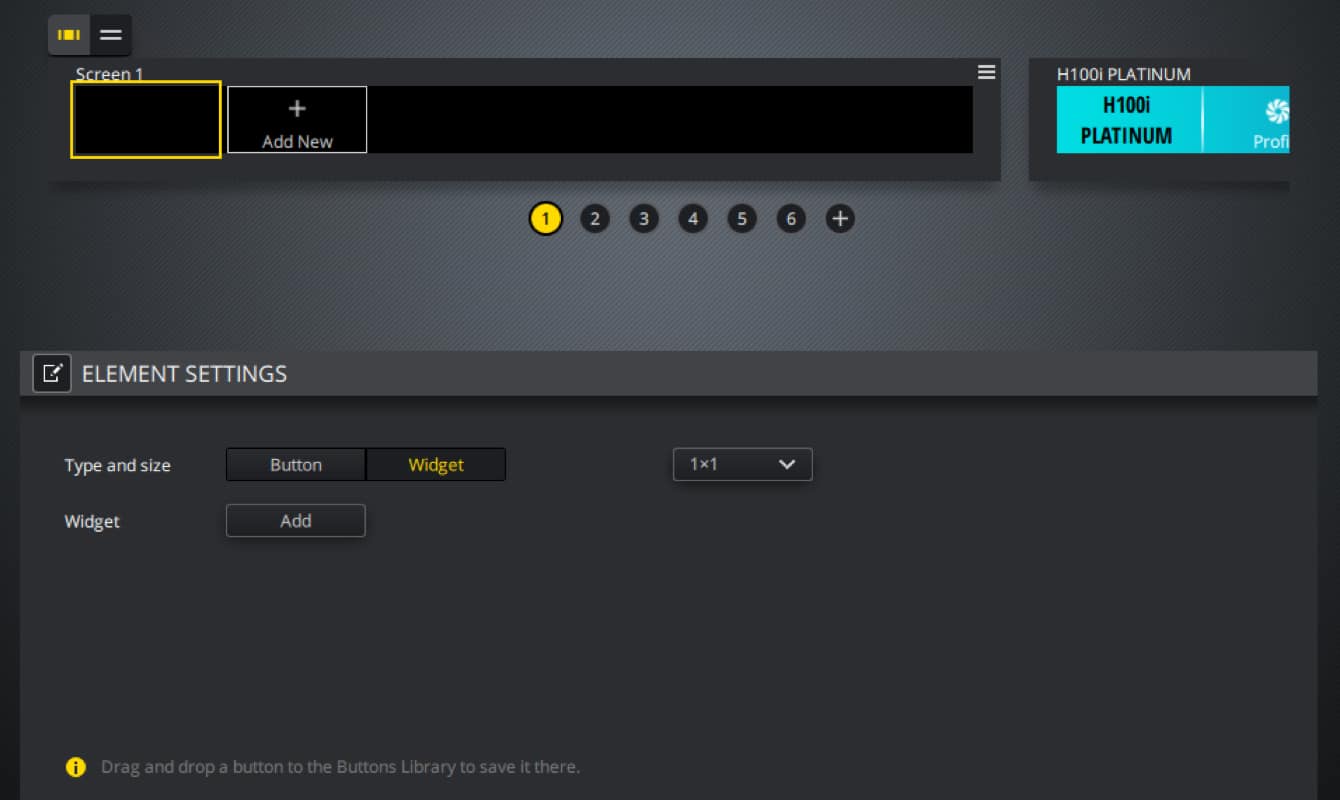 To begin click on the iCUE NEXUS
product tile
Enabling or Disabling Screens

Click the stack view icon and then click the toggle to enabling or disabling of the adjacent screen. This is saved per-profile so you can have selected screens show up with specific profiles.

Using the Button Library

The Button Library tab is used to create and store buttons for future use in one of two ways:
• Click + to create a new button
• Drag an existing button to the Button LIbrary

Importing and Exporting Custom Screens

To import screens click the … button to select a screen file then click import. To export screens click the EXPORT option, click the Add button to select screens, then click export.

Device Settings and Firmware Update

Click on SETTINGS in the top menu bar, then select the iCUE NEXUS device.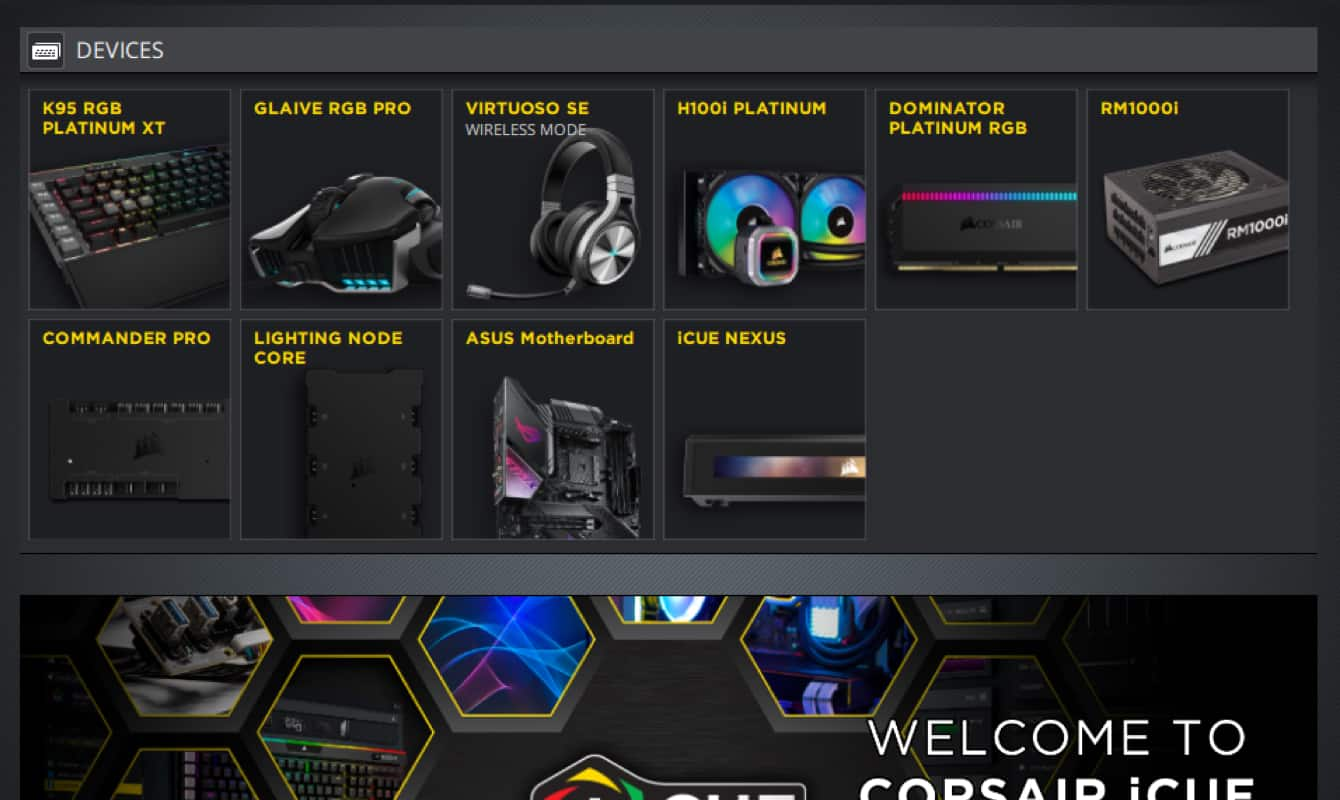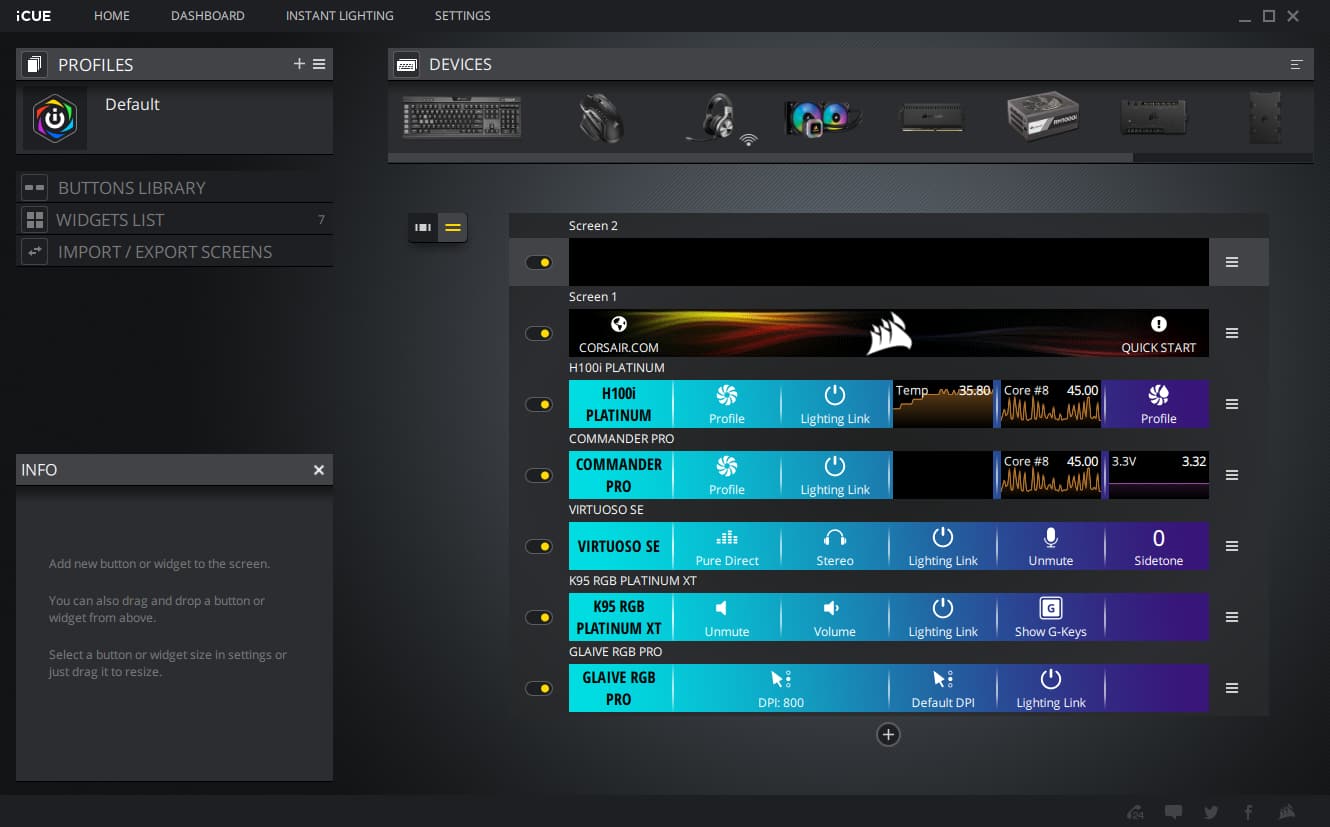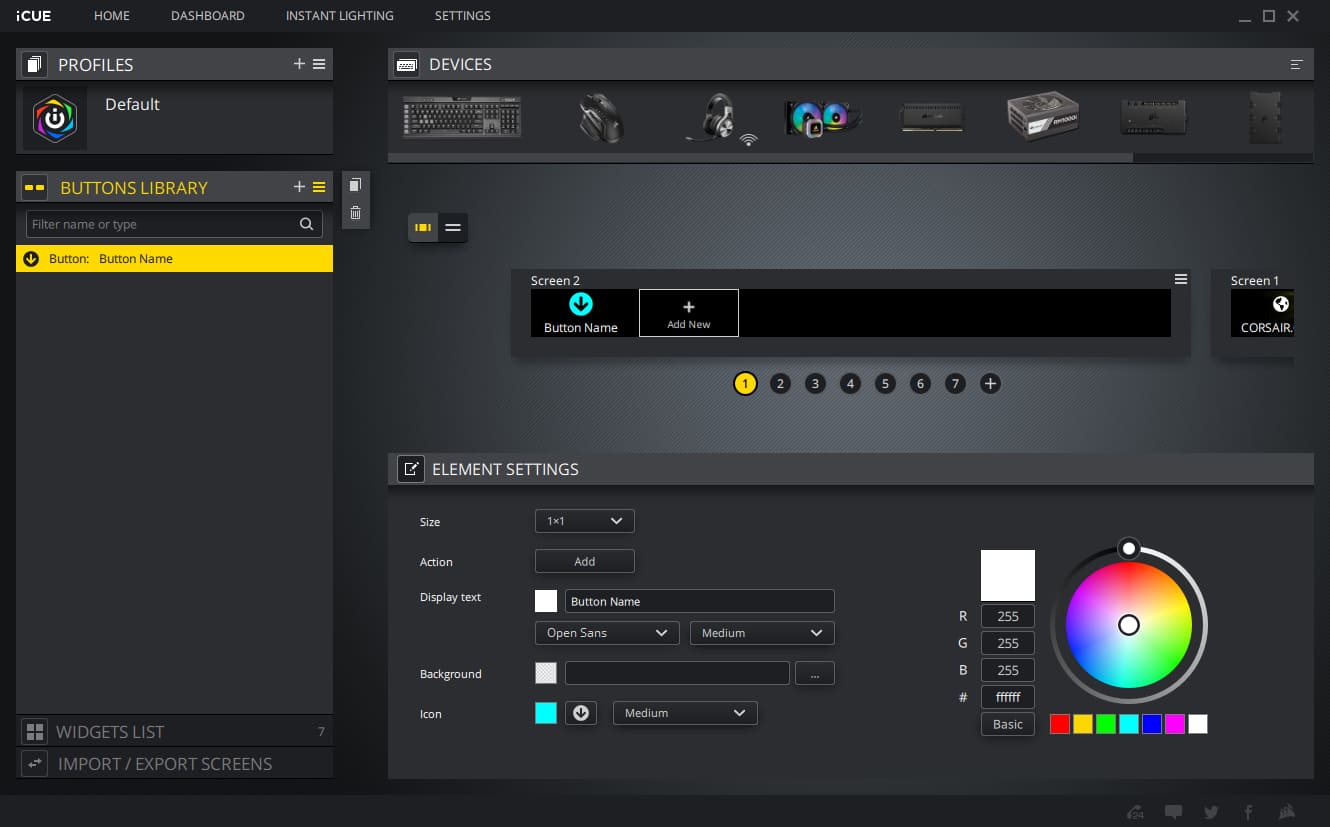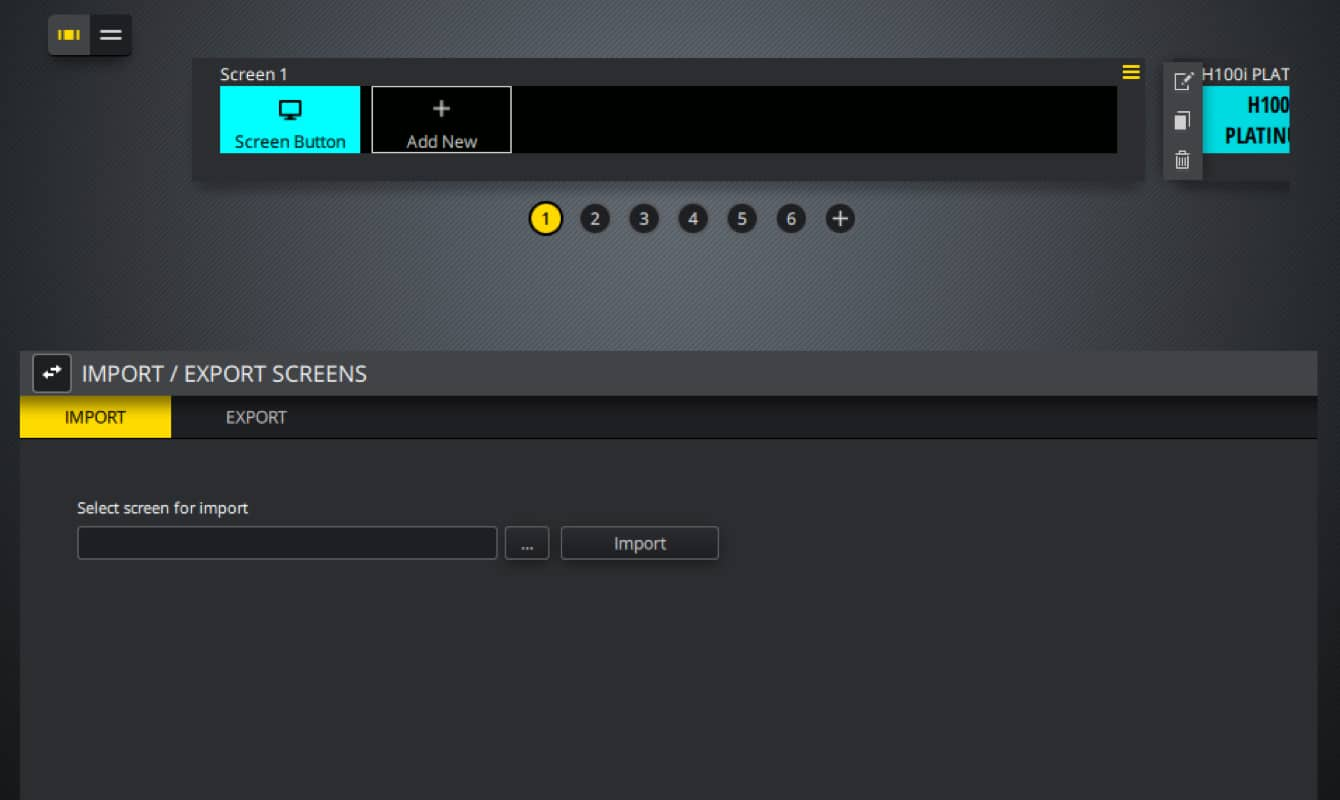 DOWNLOAD SCREENS
Get started with iCUE NEXUS by downloading these starter screens and custom gifs
How to upload screens to iCUE?





FAQ
WHAT ARE THE SIZE REQUIREMENTS FOR iCUE NEXUS SCREENS?

5" diagonal wide display screen with a display resolution of 640 x 48 pixels.

WHAT IS THE MAX FRAMERATE FOR GIFS ON iCUE NEXUS?

There is no current limit to gif size.

HOW MANY SCREENS CAN I CREATE FOR MY iCUE NEXUS?

The maximum amount of screens you can create for iCUE NEXUS is over 9,000.

WHICH CORSAIR KEYBOARD CAN I USE iCUE NEXUS WITH?

You can use iCUE NEXUS with any CORSAIR keyboard.

DO I NEED THE iCUE SOFTWARE RUNNING?

Yes, the iCUE software drives the display.

CAN IT PLAY ANIMATED GIFS AND WHAT IS THE FRAME RATE?

Yes and it plays them at 24 frames per second.

WHICH CORSAIR KEYBOARDS CAN I ATTACH TO?

The K70 RGB MK.2 series (including Low Profile and SE) and the K95 RGB PLATINUM series (including XT).


WHAT IF I DON'T HAVE A COMPATIBLE CORSAIR KEYBOARD, CAN I STILL USE IT?

Yes, it comes with a standalone base with a 6 ft USB extension cable built-in.

HOW BIG AND WHAT KIND OF DISPLAY DOES THE TOUCH SCREEN FEATURE?

It is a 5" wide diagonal (126.2 x 9.4 mm) TFT LCD.

WHAT IS THE DISPLAYS RESOLUTION AND NUMBER OF COLORS?

It is 640 x 48 pixels with 262K colors.

WHAT SWIPING GESTURES DOES THE iCUE NEXUS SCREEN ALLOW?

One finger pressing or swiping left-and-right.