CORSAIR Supports Xbox One with Gaming Keyboards and Mice
CORSAIR is proud to be Microsoft's newest Xbox licensed hardware partner and is excited that the Xbox One team has opened up support for keyboards and mice. Xbox One players now have at their disposal the same precision and reliability that PC gamers have enjoyed from CORSAIR peripherals for years. Play titles such as Fortnite, Warframe, and Minecraft with CORSAIR wired and wireless keyboards and mice, with many more compatible games on the way.
Enjoy CORSAIR gaming peripherals with your Xbox One no matter how you play.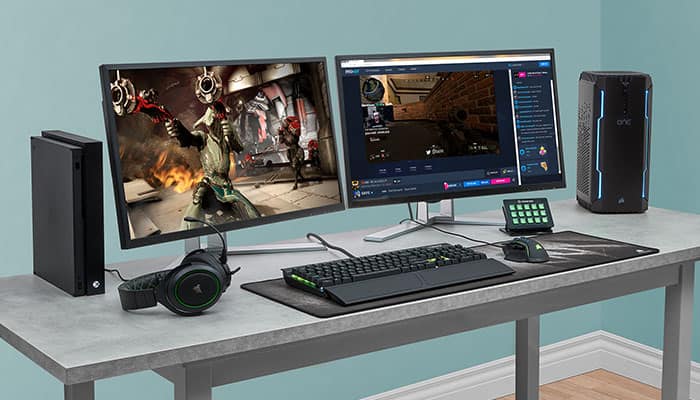 The following CORSAIR products have been tested to support Xbox One
Mice
DARK CORE RGB PRO SE
DARK CORE RGB PRO
SCIMITAR RGB ELITE
M65 RGB ELITE
DARK CORE RGB SE
DARK CORE RGB
GLAIVE RGB
GLAIVE RGB PRO
SCIMITAR RGB PRO
SCIMITAR RGB
NIGHTSWORD RGB
M55 RGB PRO
M65 RGB PRO
M65 RGB
SABRE RGB Optical
SABRE RGB Laser
IRONCLOW RGB
IRONCLAW RGB Wireless
KATAR
HARPOON RGB Wireless
HARPOON RGB PRO
HARPOON RGB PRO
KATAR PRO
KATAR PRO Wireless
Keyboards
K95 RGB PLATINUM XT
K95 RGB PLATINUM
K95 RGB
K83 Wireless
K70 RGB MK.2 SE
K70 RGB MK.2 Low Profile
K70 RGB MK.2
K70 RGB LUX & RAPIDFIRE
K70 LUX & RAPIDFIRE
K70 RGB
STRAFE RGB MK.2
STRAFE RGB
STRAFE
K65 RGB LUX & RAPIDFIRE
K65 RGB
K68 RGB
K68
K66
K63 Wireless
K63
K57 RGB Wireless
K55 RGB
K100 RGB
K60 RGB PRO
K60 RGB PRO SE
K60 PRO
K60 RGB PRO Low Profile
HEADSETS
HS50 Stereo
VOID Stereo
VOID SURROUND*
VOID PRO SURROUND*
VOID ELITE SURROUND*
HS45 SURROUND*
HS60 SURROUND*
HS60 PRO SURROUND
HS50 PRO STEREO
HS35
HS75 XB Wireless
HS70 Wired Bluetooth
*When connected via 3.5mm plug
Some games may require special settings to ensure the best gaming experience. Visit https://www.corsair.com/blog/Setting-Up-Your-Peripherals-for-Xbox-One for tips to optimize your CORSAIR gaming products for Xbox One.