COMPETITIVE GAMER BUNDLE
$199.99

USD

Was

$269.97

USD
Add to cart
SKU
BL-50006-NA
COMPETITIVE GAMER BUNDLE
$199.99

USD

Was

$269.97

USD
$69 OFF on Competitive Gamer Bundle
This bundle contains:
K60 RGB PRO Mechanical Gaming Keyboard — CHERRY VIOLA — Black
VOID RGB ELITE Wireless Premium Gaming Headset with 7.1 Surround Sound — Carbon
IRONCLAW RGB WIRELESS Gaming Mouse

Enjoy a $20 credit for personalized training in your favorite games when you purchase this bundle. Learn More
COMPETITIVE GAMER BUNDLE
LET'S GET SERIOUS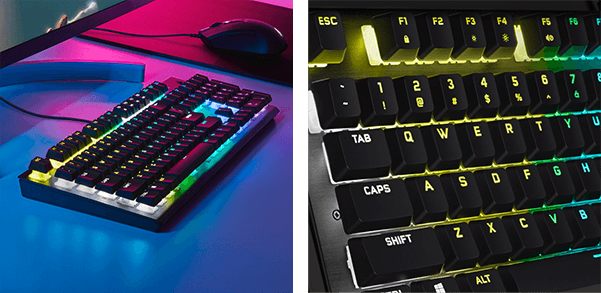 K60 RGB PRO KEYBOARD
The CORSAIR K60 RGB PRO Mechanical Gaming Keyboard is built for both style and substance with a durable brushed aluminum frame and CHERRY VIOLA mechanical keyswitches that let your vivid per-key RGB backlighting shine through.
VOID RGB ELITE WIRELESS – CARBON
Immerse yourself in the action with the CORSAIR VOID RGB ELITE Wireless, boasting custom tuned 50mm neodymium audio drivers, comfortable microfiber mesh fabric with memory foam earpads, and a 2.4GHz wireless connection.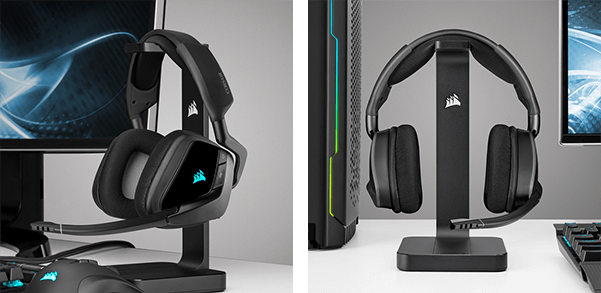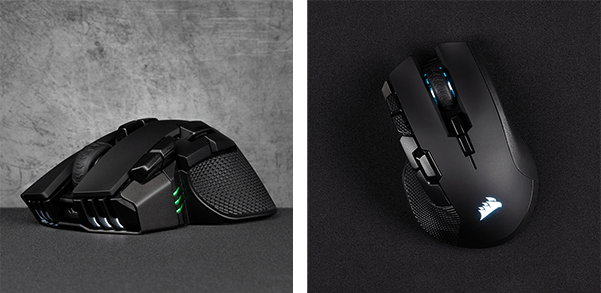 IRONCLAW RGB WIRELESS MOUSE
The CORSAIR IRONCLAW RGB WIRELESS Gaming Mouse combines a native 18,000 DPI optical sensor with a comfortable palm grip, connecting to your PC via hyper-fast, sub-1ms SLIPSTREAM CORSAIR WIRELESS TECHNOLOGY, Bluetooth or USB wired connection.

GET A $20 CREDIT WITH THIS BUNDLE TO USE ON YOUR FIRST SESSION
Learn from the pros with 1-on-1 personalized instruction to boost your skills in Fortnite, League of Legends, Overwatch, DOTA 2, Valorant, and more top games.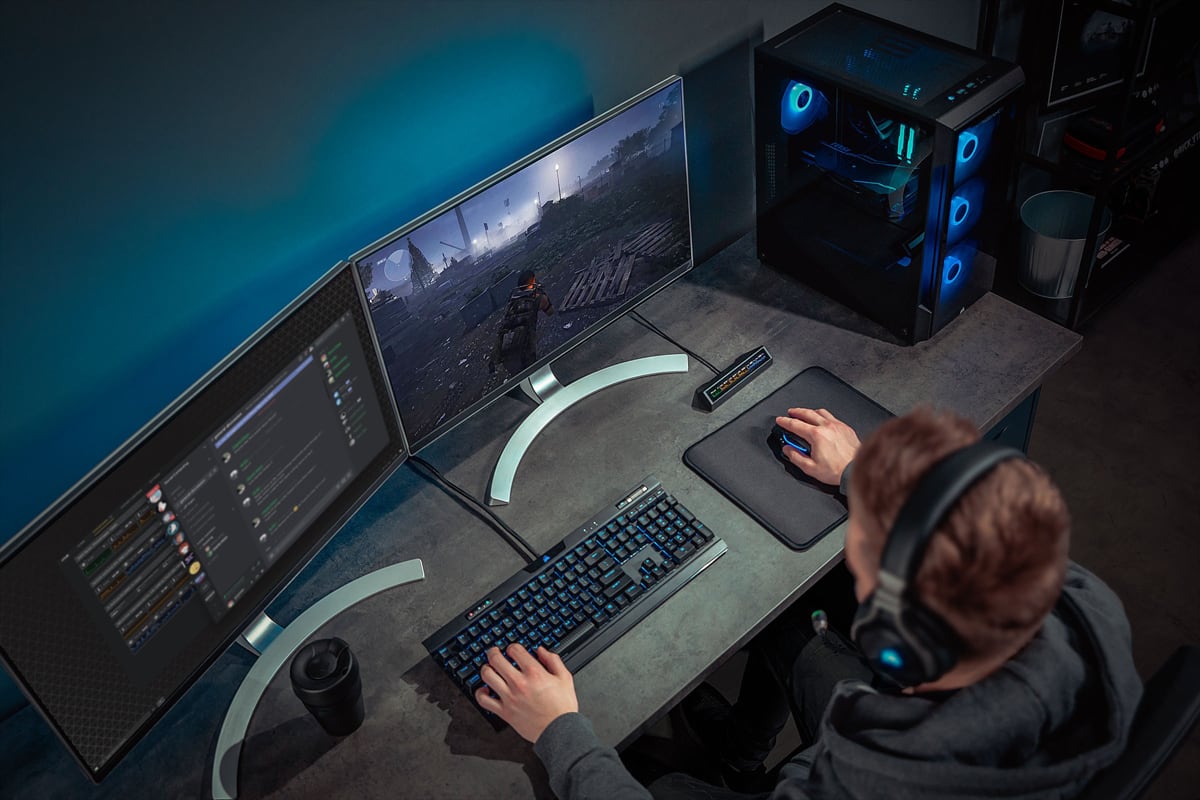 PICK YOUR GAME.
Whether you want to improve your FPS game, MOBA skills, or card battle results, there's a sensei for your skill level. FIND YOUR SENSEI.
Choose from a list of highly qualified, experienced teachers and pair up for live instruction in the game you want to play. GET GOOD.
Receive analysis, tips, tricks, and strategies from experts who work with you in-game and teach you how to dominate.
*Limit one code per purchase.
Intelligent Control. Unlimited Possibilities.
Powerful CORSAIR iCUE software enables RGB lighting control, custom macro programming, and fine-tuning of your peripherals' settings.
K60 RGB PRO Mechanical Gaming Keyboard — CHERRY VIOLA — Black
Keyboard Backlighting
RGB
HID Keyboard Report Rate
1000Hz
Key Switches
CHERRY® VIOLA
Keyboard Connectivity
USB 3.0 or 3.1 Type-A
Keyboard Product Family
K60
Keyboard Rollover
Full Key (NKRO) with 100% Anti-Ghosting
Keyboard CUE Software
Supported in iCUE
Keyboard Cable Type
Tangle-free rubber
Intergated Touchpad
Wired
VOID RGB ELITE Wireless Premium Gaming Headset with 7.1 Surround Sound — Carbon
Headphone Frequency Response
20Hz - 30 kHz
Headphone Battery Life
Up to 16 hours
Headphone Sensitivity
116dB (+/-3dB)
Headphone Wireless Range
Up to 40 feet (12m)
Impedance
32k Ohms @ 1 kHz
Headphone Connector
USB Wireless Receiver
Model
VOID ELITE Wireless
Platform
PC, PlayStation 4/5
Microphone Impedance
2.0k Ohms
Microphone Type
Omnidirectional
Microphone Frequency Response
100Hz to 10kHz
Microphone Sensitivity
-42dB (+/-3dB)
IRONCLAW RGB WIRELESS Gaming Mouse
Mouse Backlighting
3 Zone RGB
On-board Memory Profiles
3
Mouse Button Durability
50M L/R Click
Connectivity
Wireless, Wired
CUE Software
Supported in iCUE
Report Rate
Selectable 1000Hz/500Hz/250Hz/125Hz
Battery Life
2.4GHz SLIPSTREAM: Up to 16hrs with standard lighting or 24hrs with lighting off | BLUETOOTH: Up to 30hrs with standard lighting or 50hrs with lighting off
Battery Type
Rechargeable Lithium-Polymer
K60 RGB PRO Mechanical Gaming Keyboard — CHERRY VIOLA — Black
VOID RGB ELITE Wireless Premium Gaming Headset with 7.1 Surround Sound — Carbon
DOCUMENTATION
IRONCLAW RGB WIRELESS Gaming Mouse
K60 RGB PRO Mechanical Gaming Keyboard — CHERRY VIOLA — Black
Warranty FAQ
How to find your lot code
IRONCLAW RGB WIRELESS Gaming Mouse
How to find your lot code
Warranty FAQ
K60 RGB PRO Mechanical Gaming Keyboard — CHERRY VIOLA — Black
CORSAIR K60 RGB PRO Mechanical Gaming Keyboard
VOID RGB ELITE Wireless Premium Gaming Headset with 7.1 Surround Sound — Carbon
VOID ELITE RGB Wireless Gaming Headset
USB Charging Cable (1.5m)
IRONCLAW RGB WIRELESS Gaming Mouse
IRONCLAW RGB WIRELESS Gaming Mouse
USB Charging and Data Cable
Wireless USB Transceiver (dongle)
K60 RGB PRO Mechanical Gaming Keyboard — CHERRY VIOLA — Black
CORSAIR K60 RGB PRO Mechanical Gaming Keyboard
VOID RGB ELITE Wireless Premium Gaming Headset with 7.1 Surround Sound — Carbon
VOID ELITE RGB Wireless Gaming Headset
USB Charging Cable (1.5m)
IRONCLAW RGB WIRELESS Gaming Mouse
IRONCLAW RGB WIRELESS Gaming Mouse
USB Charging and Data Cable
Wireless USB Transceiver (dongle)
K60 RGB PRO Mechanical Gaming Keyboard — CHERRY VIOLA — Black
CORSAIR K60 RGB PRO Mechanical Gaming Keyboard
VOID RGB ELITE Wireless Premium Gaming Headset with 7.1 Surround Sound — Carbon
VOID ELITE RGB Wireless Gaming Headset
USB Charging Cable (1.5m)
IRONCLAW RGB WIRELESS Gaming Mouse
IRONCLAW RGB WIRELESS Gaming Mouse
USB Charging and Data Cable
Wireless USB Transceiver (dongle)