SKU
CX-9070002-NA
Hydro X Series iCUE XH300i RGB Custom Cooling Kit
Free Shipping with Orders Over $79
The CORSAIR Hydro X Series iCUE XH300i RGB Custom Cooling Kit contains all the essentials you need to build your very own custom cooling loop, turning your PC into a masterpiece while improving its performance.
HYDRO X SERIES
i

CUE XH300i RGB
Custom Cooling Kit

A Complete Custom Cooling Solution for Your PC
XC7 RGB CPU Water Block
The XC7 RGB CPU Water Block combines premium nickel-plated copper construction and extreme cooling performance, compatible with Intel® LGA 115X and AMD AM4 sockets.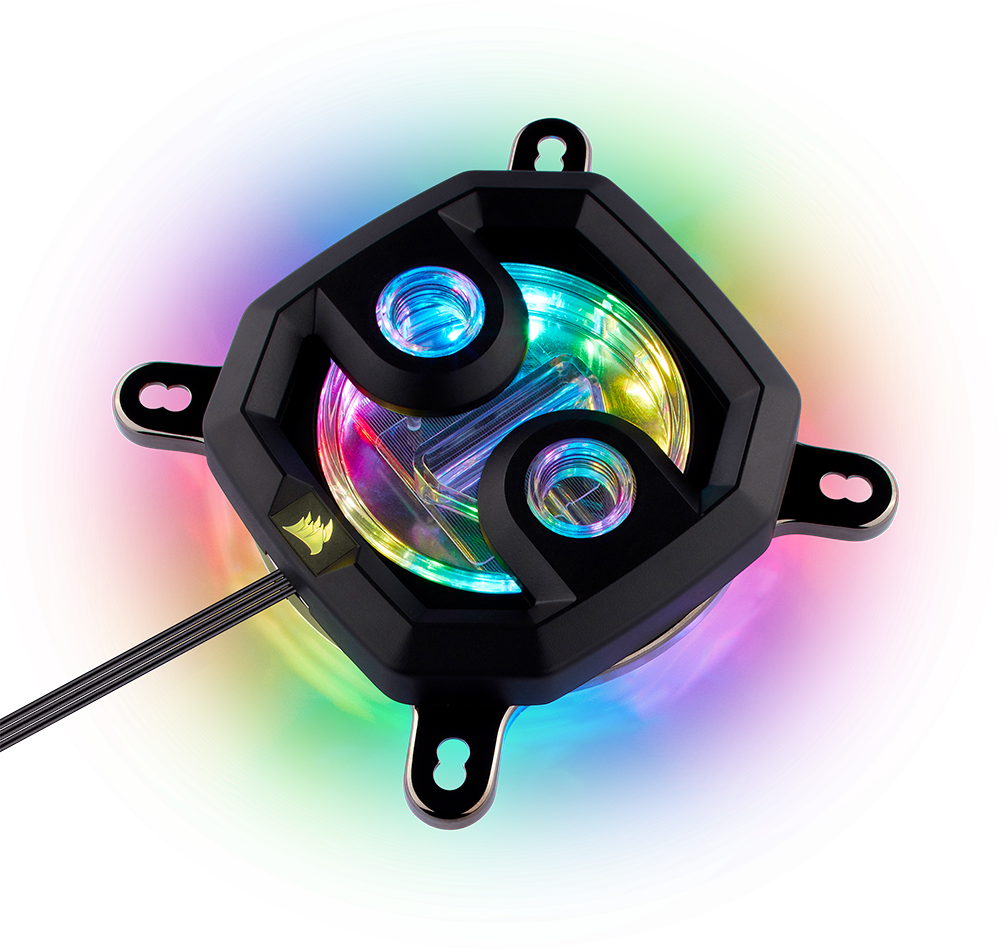 XD5 RGB Pump/Reservoir Combo
The XD5 RGB Pump/Reservoir Combo features a high-performance D5 PWM pump and in-loop temperature sensor to drive even the most demanding custom cooling systems.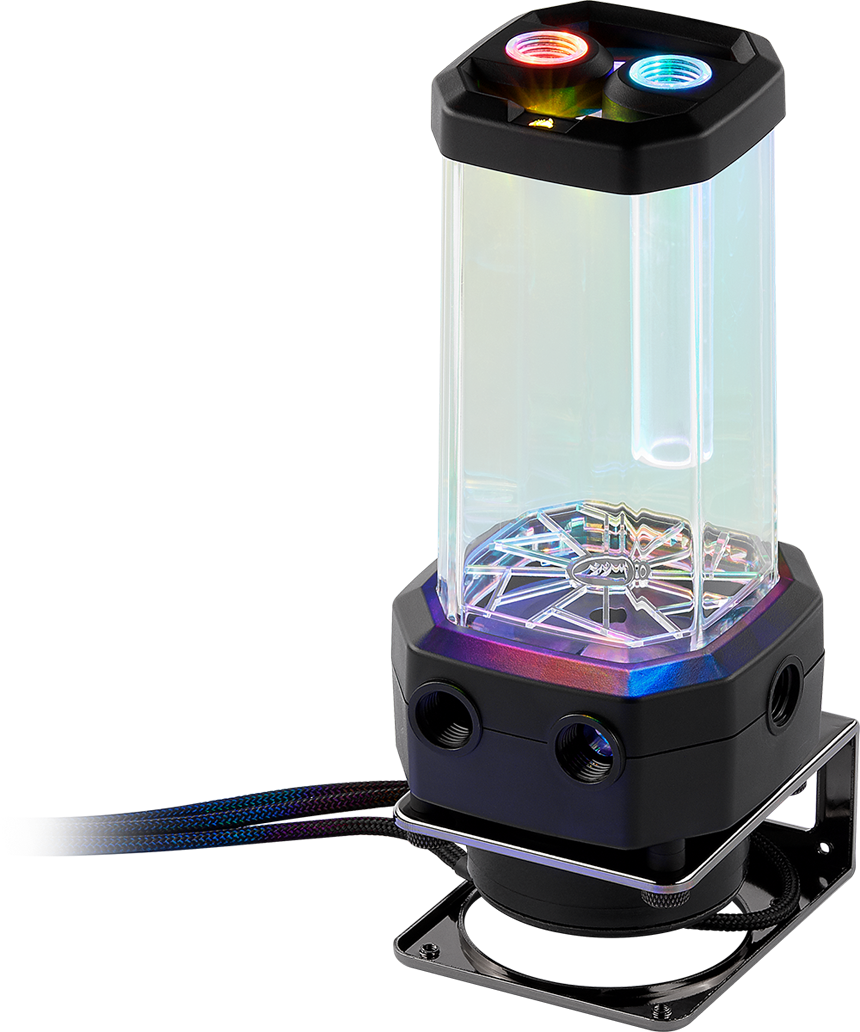 Three CORSAIR LL120 RGB PWM Fans
16 RGB LEDs per fan, across two separate light loops, create vibrant lighting and visual effects to go along with powerful cooling controlled via PWM.
Intelligently Controlled, Low-Noise Custom Cooling
Push your system further with superior cooling performance coupled with remarkably quiet operation, intelligently controlled with an included iCUE Commander PRO Smart RGB Lighting and Fan Speed Controller and in-loop temperature sensor.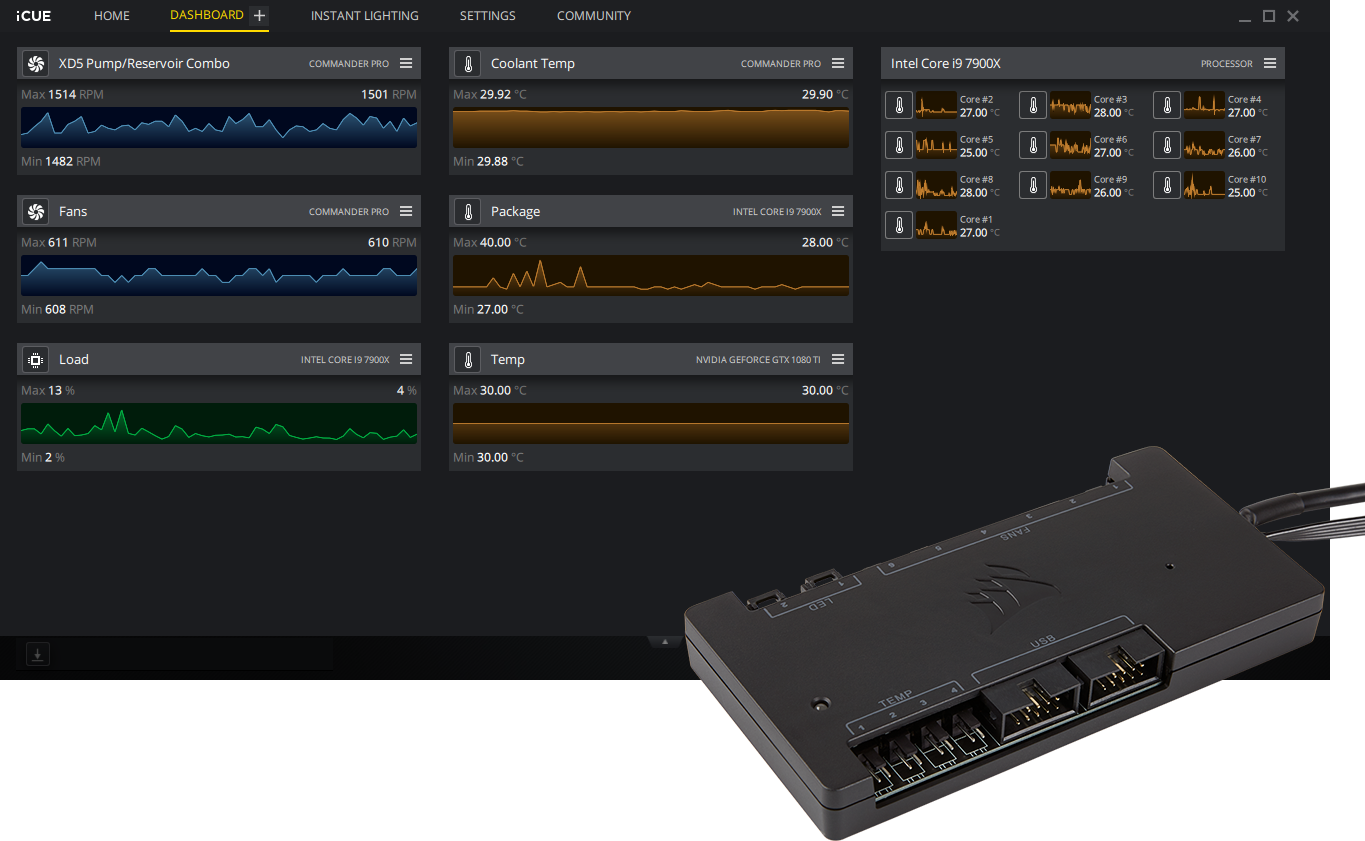 XR5 360mm Radiator
Delivers extreme custom cooling performance, with a 30mm radiator thickness and premium copper core.
The Tools You Need
An included hand saw, deburring tool, tube-bending insert, and coolant fill bottle make it easy to cut, bend, and finish the tubing for those clean perfect tubing runs.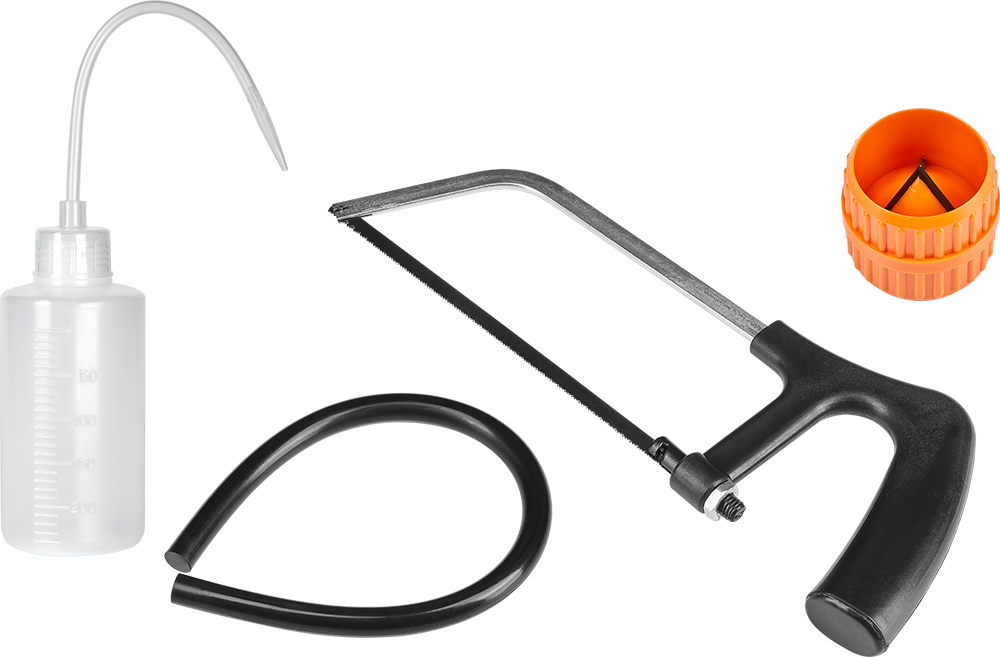 XT Hardline Tubing
Create stunning loops with crystal-clear PMMA tubing, easily cut and bent to your needs using the included saw and silicone insert and installed with the included black XF Hardline Fittings and Adapters.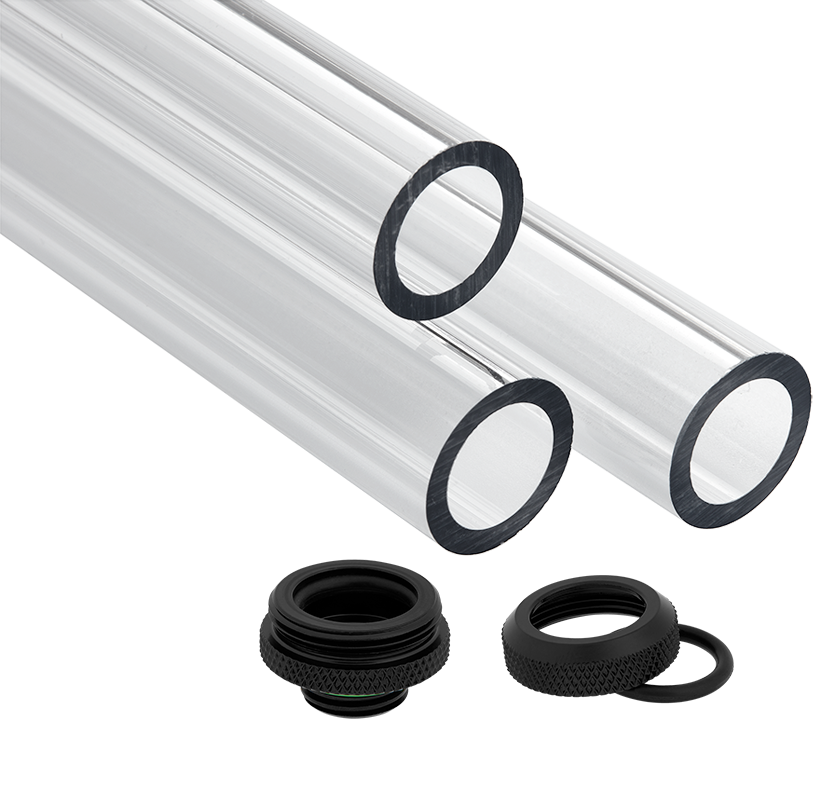 XL5 Performance Coolant
Includes one liter of clear XL5 Performance Coolant to keep your loop running clean and cool, pre-mixed with anti-corrosion and anti-bacterial inhibitors.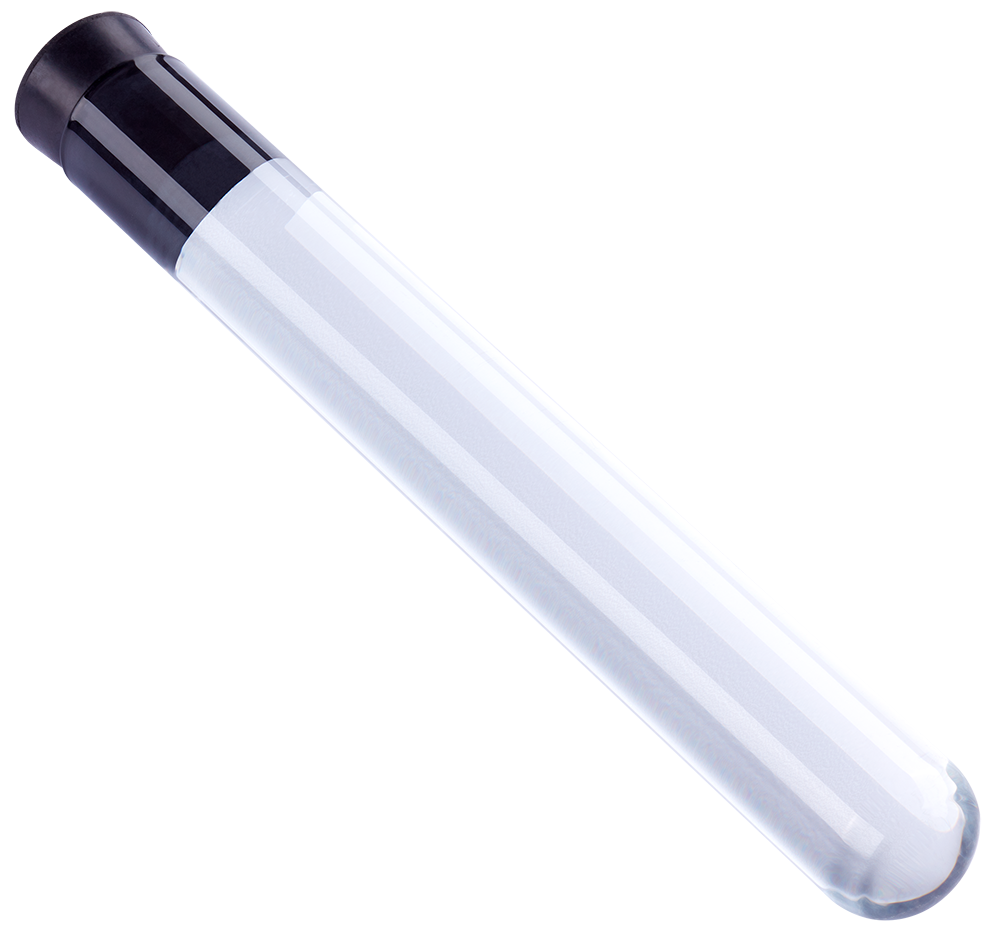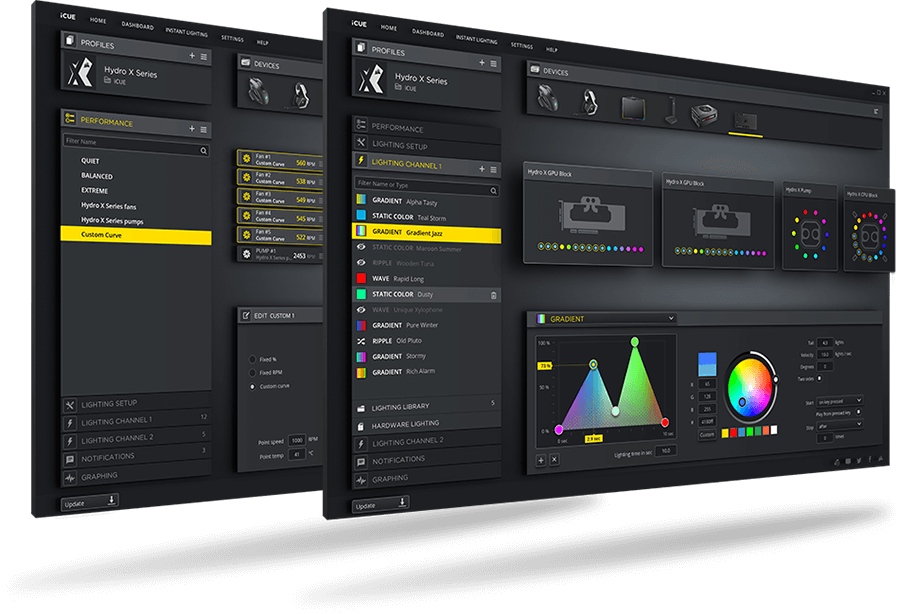 YOUR SETUP AT YOUR COMMAND
CORSAIR iCUE software enables complete control over your custom cooling loop. Create automated fan curves that adjust fan speeds based on your system's thermals, and customize dynamic RGB lighting effects for the XC7 RGB CPU Water Block, XD5 RGB Pump/Reservoir Combo, and LL120 RGB fans.
Product Type
Custom Cooling Kit
Thermal Paste
Pre-applied thermal paste
Cold Plate Material
Nickel-Plated Copper
Operating Temperature
60°C coolant temperature
Compatibility - Material
Only mix with other copper / brass products
iCUE Compatibility 
CORSAIR Commander PRO (included)
Radiator Dimensions
396mm x 120mm x 30mm
CPU Socket Compatibility
Intel 115x | AMD AM4
CORSAIR Hydro X Series products are compatible with the following coolants:
| | | |
| --- | --- | --- |
| Coolant Brand | Coolant Model | Recommendation |
| CORSAIR | XL5 Performance Coolant | Preferred |
| CORSAIR | XL8 Performance Coolant | Preferred |
| Aquacomputer | Double Protect Ultra | Compatible |
| Coolaboratory | Liquid Coolant Pro | Compatible |
| EK | Cryofuel | Compatible |
| Jingway | Iceland X | Compatible |
| Koolance | LIQ-702 | Compatible |
| Liquid.Cool | CFX Opaque | Compatible |
| Mayhems | IDC | Compatible |
| Mayhems | Pastel | Compatible |
| Mayhems | X1 | Compatible |
| Mayhems | XT-1 Nuke | Compatible |
| Mayhems | XT-1 | Compatible |
| Nanoxia | Cooling Fluid Pro | Compatible |
| Nanoxia | Cooling Fluid Pro Opaque | Compatible |
| Primochill | TRUE. | Compatible |
| Thermaltake | C1000 | Compatible |
| XSPC | EC6 | Compatible |
| XSPC | ECX | Compatible |
| Alphacool | Eiswasser | Not compatible |
| Alphacool | Eiswasser Pastel | Not compatible |
| Alphacool | Cape Kelvin Catcher (CKC) | Not compatible |
| Aquatuning | AT-Protect | Not compatible |
| EK | Cryofuel Solid | Not compatible |
| EK | Cryofuel Mystic Fog | Not compatible |
| Jingway | Galaxy | Not compatible |
| Mayhems | SFX Aurora | Not compatible |
| Phobya | ZuperZero Xtreme | Not compatible |
| Primochill | Liquid Utopia | Not compatible |
| Primochill | VUE | Not compatible |
| Swiftech | HydrX | Not compatible |
| Thermaltake | C1000 Opaque | Not compatible |
| Thermaltake | Coolant 1000 | Not compatible |
| XSPC | EC6 Pastel | Not compatible |
| UFO Technologies | Cryo-Chillz | Not compatible |
8 x Hardline 14mm fittings (BLACK)
2 x 90° Rotary Adapters (BLACK)
CORSAIR iCUE Commander PRO