CV Series™ CV650 — 650 Watt 80 Plus® Bronze Certified PSU
Add to cart
CORSAIR POWER SUPPLIES
CV SERIES™ CV650
POWER SUPPLY
QUIET AND DEPENDABLE 80 PLUS BRONZE EFFICIENCY
ULTRA EFFICIENT
CV series is 80 PLUS Bronze certified, providing up to 88% efficiency for less heat and lower energy costs.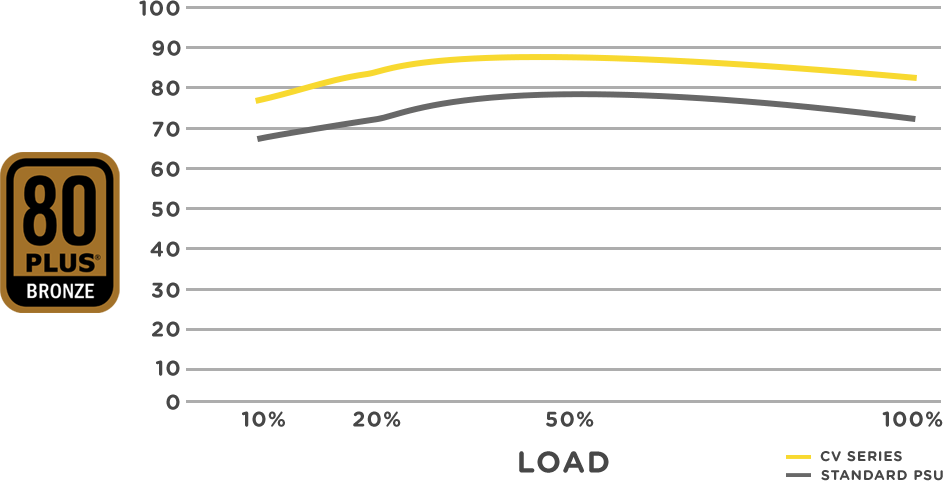 CONTINUOUS, RELIABLE OUTPUT
Like all CORSAIR power supplies, the CV Series does exactly what it says it does: deliver continuous power at full capacity, no matter which wattage variant you choose.
Low-Noise Operation
A 120mm thermally controlled low-noise cooling fan only spins at high speed when your power supply is under heavy stress, slowing down for quieter operation at lower loads.
Compact Design
CV series enclosures are only 125mm long, ensuring an easy fit in almost all modern PC cases.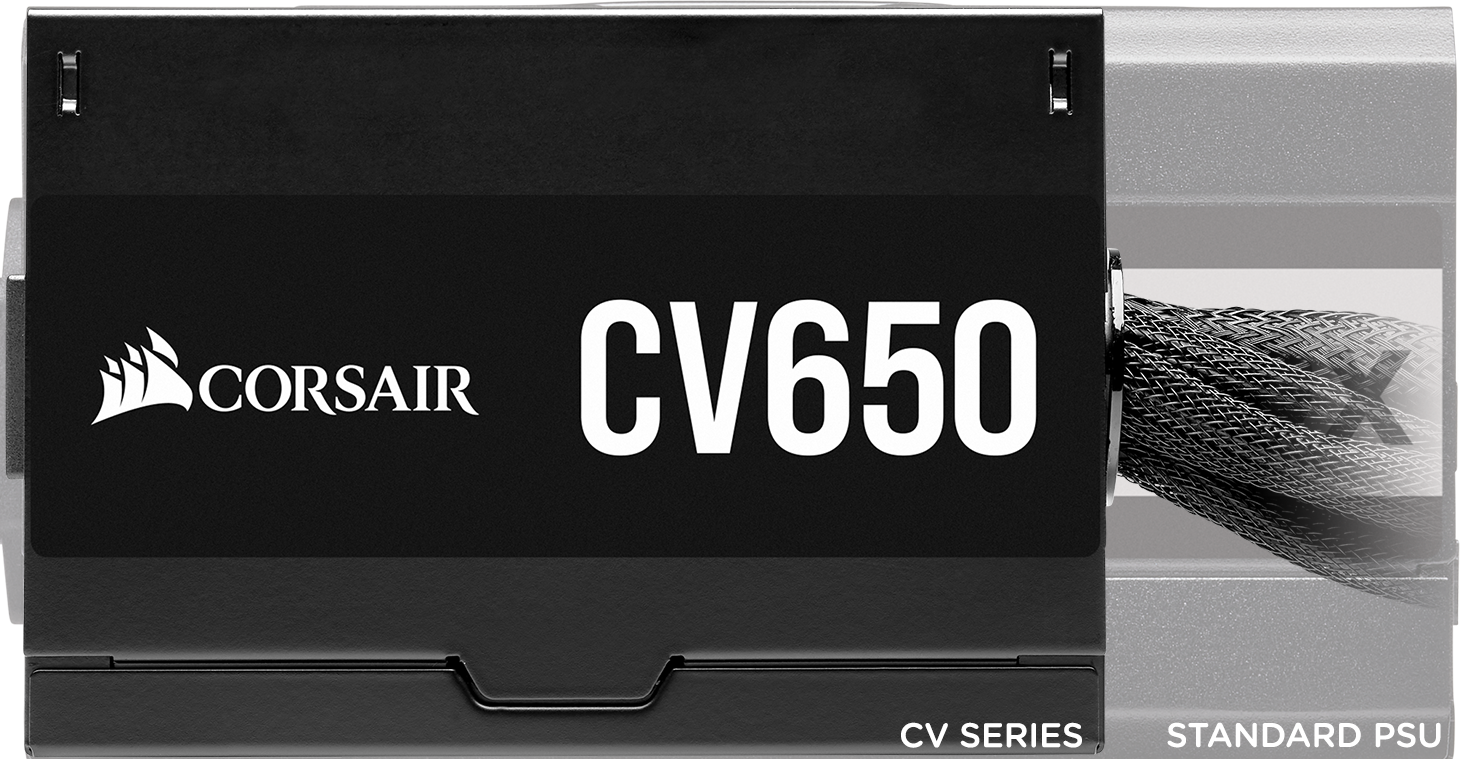 Stealth Mode
Black sleeved cables and a black powder-coated casing seamlessly fits your PC's style.
*CV550 shown in photo

Guaranteed Reliability
Three-year warranty backed by the CORSAIR global technical support team.
BUILDING A BUDGET PC WITH CORSAIR COMPONENTS
CV650 POWER TABLE
Model
RPS0128
Part No.
CP-9020211
AC Input Rating
AC Input
100-240V
Input Current
10A-5A
Frequency
47~63Hz
Max Load
Max Output
+5V
20A
130W
+3.3V
24A
+12V
52A
624W
-12V
0.3A
3.6W
+5Vsb
3A
15W
Total Power
650W
CV650 DC CABLE LISTING
QTY
Cable
Connectors
per cable
Total
connectors
Connector
Spacing
Total length
1

ATX Cable 24 pin

1
1
-
550mm
(± 10mm)
1

EPS/ATX12V 8 pin (4+4) cable

1
1
-
600mm
(± 10mm)
1

PCIe 8 pin (6+2) cable

2
2
550mm, 120mm
670mm
(± 10mm)
2

SATA Cable (3 SATA)

3
6
450mm, 120mm, 120mm
690mm
(± 10mm)
1

SATA-PATA-PATA-FDD

4
4
450mm, 120mm, 120mm, 120mm
810mm
(± 10mm)
Warranty FAQ
How do I make a warranty claim?
Prior to submitting your warranty claim, we recommend checking the Corsair knowledge base at https://support.corsair.com/ first, where you can find answers to commonly-asked questions. You can also receive troubleshooting assistance by clicking Ask a Question or proceed with product replacement by clicking Request an RMA.
Valid warranty claims should be processed through the retailer where the item was purchased during the first thirty (30) days after purchase. This period may vary depending on where you purchased your product; please verify the return policy with the retailer where you purchased your product. Any warranty claims that cannot be processed through your original point our purchased should be submitted to Corsair at https://support.corsair.com/
What are Corsairs replacement options?
Corsair offers the following Warranty fulfillment options:
Standard Replacement:
Through Corsairs Standard Replacement process, Corsair will issue an approved RMA number for the return and replacement of your defective product(s). Our Standard Replacement processing time from receipt of your product(s) to the replacement product(s) shipment is 1-3 business days plus transit time.
Express Replacement:
At Corsair, we understand the need to be up and running at all times! To minimize down time, we offer an Express Replacement RMA process. Through this process Corsair will ship your replacement product(s) prior to receiving your defective product(s). This process requires a valid Credit Card where a holding fee will be applied for the cost of the product until the returning product(s) are received by Corsair. To avoid being fully charged for the Express Replacement product(s), the defective product(s) must be received by Corsair within 10 business days from the date your Express Replacement order is shipped.
Accessory Product Request:
Experiencing a problem with a Corsair Component Product? Many of Corsair products have easy to install replacement accessories which will resolve the issue and prevent the need to return the entire product for replacement.
Where do I ship my items?
Corsair operates multiple RMA receiving locations worldwide. Your RMA confirmation will specify the specific return address you must use when sending your RMA package. This will be your standard return location and should not be changed without prior approval from Corsair. Any packages received at an unauthorized location may be refused and returned to the sender at the senders expense.
How to find your lot code
Lot codes for Corsair products can generally be found in the follow locations. For more specific information, please view the Corsair knowledge base Lot Code article for a particular product series.
Headsets: The code is located on the earcup's arm.
Speakers: The code is located on the back of the subwoofer.
Case: The code is located on the back panel.
Cooling: The code is located on the radiator.
Flash: The code is located on the unit's packaging, near UPC barcode.
SSD: The code is located on the label on top of the SSD.
Mice: The code is located on the label taped next to the USB connector.
Keyboard: The code is located on the packaging near the UPC barcode.
Memory: The code is on the memory module's label.
PSU: The code is on the PSU label, next to the serial number.