SKU
CO-9050093-WW
iCUE SP120 RGB PRO Performance 120mm Fan
The CORSAIR iCUE SP120 RGB PRO Performance Fan features eight individually addressable RGB LEDs lining the fan hub, for the cooling you need and the visuals to impress.



Compatible with CORSAIR iCUE
Chill Out in Style
Complete your CORSAIR SP RGB PRO-cooled system with an additional fan, equipped with eight LEDs around the hub. A translucent 120mm fan blade provides high airflow and static pressure while letting your RGB lighting shine through.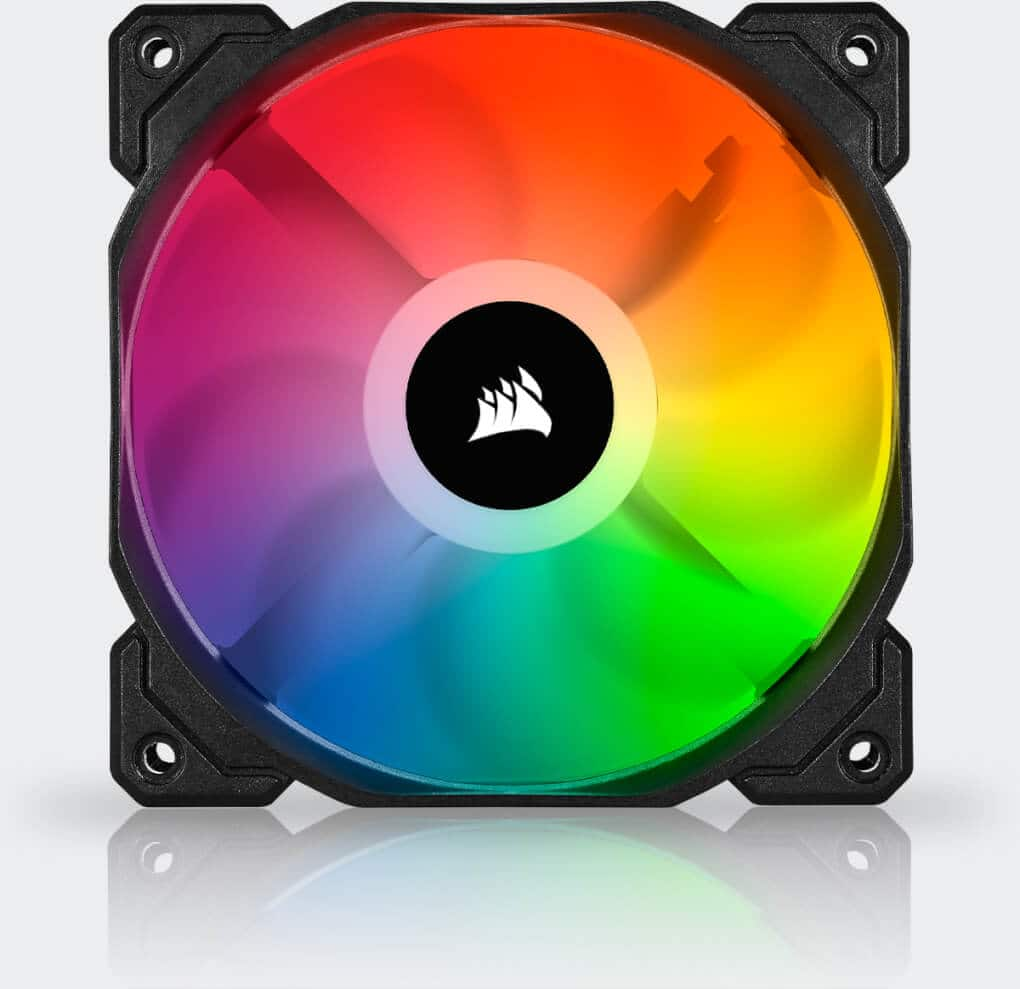 LIGHTING WITHOUT LIMITS
Create dazzling lighting patterns and effects with powerful CORSAIR iCUE software, bringing your system to life with dynamic RGB lighting synchronized across all your iCUE compatible products. Requires a CORSAIR iCUE RGB lighting controller, sold separately.
Preview some example lighting profiles
Spiral Rainbow

Color Shift

Rain

Visor

Infinity

Rotary Stack
Keep Your System Cool
SP RGB PRO fans offer more than just great looks – cool down your components with powerful fan speeds up to 1,400 RPM, pushing up to 52 CFM of air.
Intelligent Control. Unlimited Possibilities.
CORSAIR iCUE software brings your system to life with dynamic RGB lighting synchronized across all your iCUE compatible products, including fans, RGB LED light strips, keyboards, mice and more.
Flow Type
Static Pressure
Operating Voltage
7V - 13.2V
CORSAIR iCUE Compatibility
YES
Static Pressure
1.45 mm-H2O
How to find your lot code
Lot codes for Corsair products can generally be found in the follow locations. For more specific information, please view the Corsair knowledge base Lot Code article for a particular product series.
Headsets: The code is located on the earcup's arm.
Speakers: The code is located on the back of the subwoofer.
Case: The code is located on the back panel.
Cooling: The code is located on the radiator.
Flash: The code is located on the unit's packaging, near UPC barcode.
SSD: The code is located on the label on top of the SSD.
Mice: The code is located on the label taped next to the USB connector.
Keyboard: The code is located on the packaging near the UPC barcode.
Memory: The code is on the memory module's label.
PSU: The code is on the PSU label, next to the serial number.
Warranty FAQ
How do I make a warranty claim?
Prior to submitting your warranty claim, we recommend checking the Corsair knowledge base at https://support.corsair.com/ first, where you can find answers to commonly-asked questions. You can also receive troubleshooting assistance by clicking Ask a Question or proceed with product replacement by clicking Request an RMA.
Valid warranty claims should be processed through the retailer where the item was purchased during the first thirty (30) days after purchase. This period may vary depending on where you purchased your product; please verify the return policy with the retailer where you purchased your product. Any warranty claims that cannot be processed through your original point our purchased should be submitted to Corsair at https://support.corsair.com/
What are Corsairs replacement options?
Corsair offers the following Warranty fulfillment options:
Standard Replacement:
Through Corsairs Standard Replacement process, Corsair will issue an approved RMA number for the return and replacement of your defective product(s). Our Standard Replacement processing time from receipt of your product(s) to the replacement product(s) shipment is 1-3 business days plus transit time.
Express Replacement:
At Corsair, we understand the need to be up and running at all times! To minimize down time, we offer an Express Replacement RMA process. Through this process Corsair will ship your replacement product(s) prior to receiving your defective product(s). This process requires a valid Credit Card where a holding fee will be applied for the cost of the product until the returning product(s) are received by Corsair. To avoid being fully charged for the Express Replacement product(s), the defective product(s) must be received by Corsair within 10 business days from the date your Express Replacement order is shipped.
Accessory Product Request:
Experiencing a problem with a Corsair Component Product? Many of Corsair products have easy to install replacement accessories which will resolve the issue and prevent the need to return the entire product for replacement.
Where do I ship my items?
Corsair operates multiple RMA receiving locations worldwide. Your RMA confirmation will specify the specific return address you must use when sending your RMA package. This will be your standard return location and should not be changed without prior approval from Corsair. Any packages received at an unauthorized location may be refused and returned to the sender at the senders expense.
1x CORSAIR SP120 RGB PRO Fan