SKU
CH-9317011-EU
IRONCLAW RGB WIRELESS Gaming Mouse (EU)
The CORSAIR IRONCLAW RGB WIRELESS Gaming Mouse combines a native 18,000 DPI optical sensor with a comfortable palm grip, connecting to your PC via hyper-fast, sub-1ms SLIPSTREAM CORSAIR WIRELESS TECHNOLOGY, Bluetooth or USB wired connection.



Compatible with CORSAIR iCUE
IRONCLAW RGB WIRELESS GAMING MOUSE
VICTORY IS IN HAND
WATCH VIDEO
PLAY YOUR WAY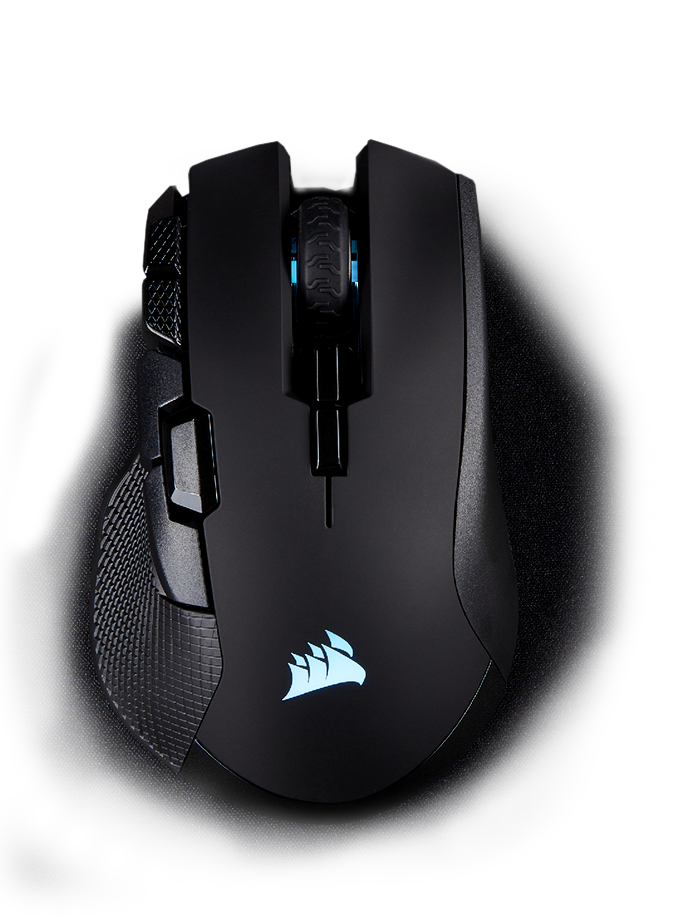 OMRON SWITCHES
Ultra-durable Omron switches rated for more than 50 million clicks.
OMRON SWITCHES
Ultra-durable Omron switches rated for more than 50 million clicks.
TEN FULLY PROGRAMMABLE BUTTONS
Customize the way you play with powerful macros and key remaps to give you an in-game advantage.
UP TO 50 HOURS OF BATTERY LIFE
Play uninterrupted with battery life that lasts for days.
DYNAMIC, THREE-ZONE RGB
Choose from dozens of customizable presets and effects to perfectly match your setup.
ONBOARD PROFILE STORAGE
Take your settings with you, with hardware macro playback and lighting control.
SURFACE CALIBRATION TUNING UTILITY
Automatically tailors responsiveness and precision based on your individual playing surface.

SLIPSTREAM WIRELESS TECHNOLOGY
Slip into the fast lane with SLIPSTREAM WIRELESS. Experience hyper-fast gaming grade wireless speed and simple out-of-the-box setup.
LEARN MORE
THREE MODES OF CONNECTION
01 SLIPSTREAM CORSAIR WIRELESS TECHNOLOGY
02 BLUETOOTH
03 USB WIRED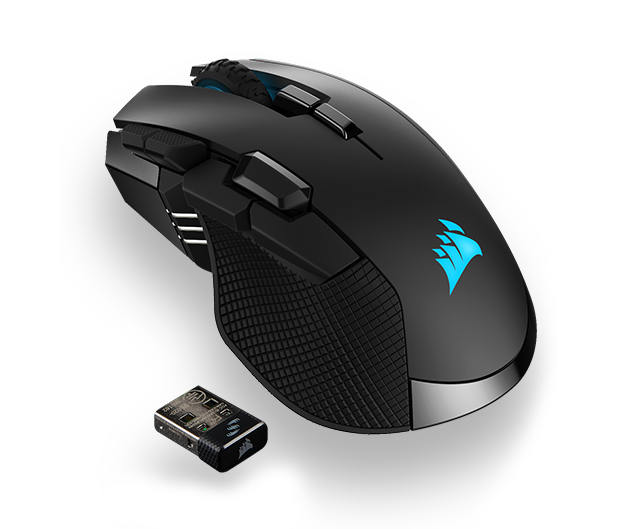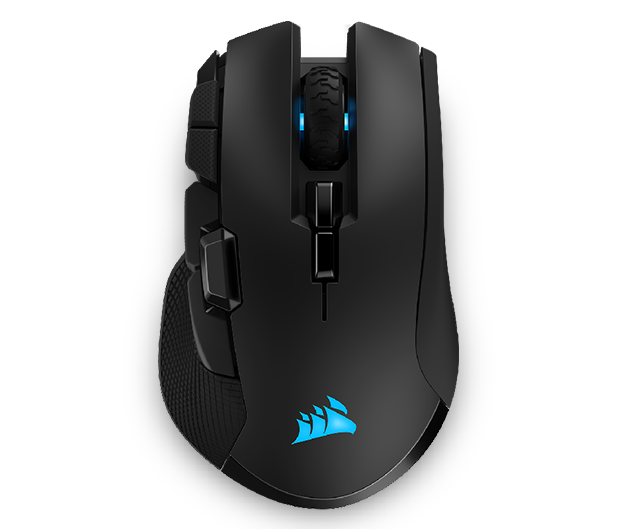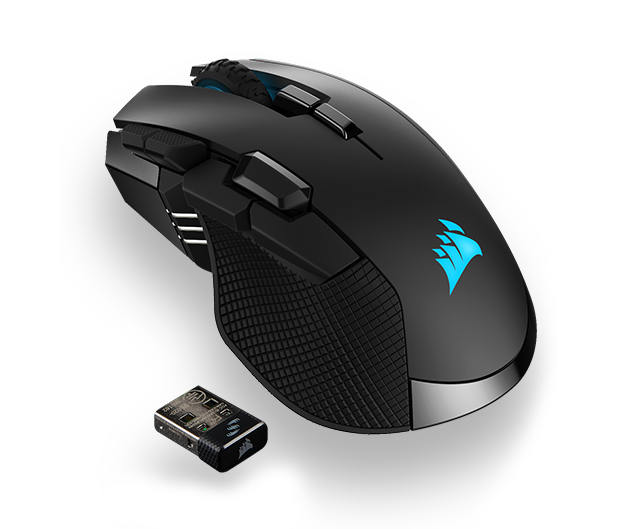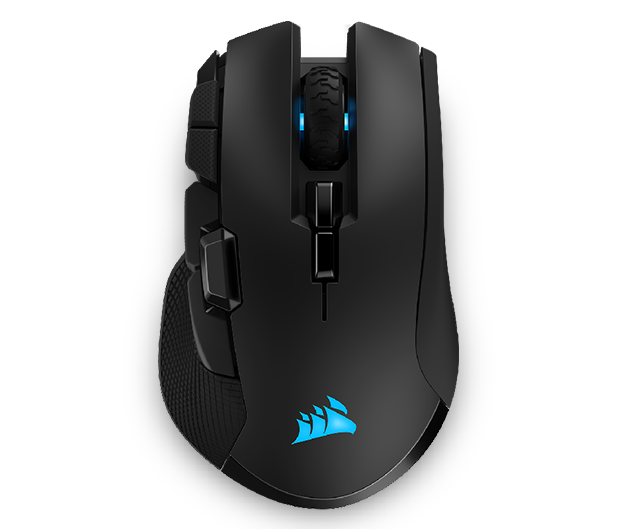 Hyper-fast, sub-1ms SLIPSTREAM CORSAIR WIRELESS TECHNOLOGY, with Intelligent Frequency Shift for interference-free connection.
Low-latency Bluetooth, Up to 50 hours of battery
USB wired - plug in for wired mode to keep playing while charging.
Contoured shape that's sculpted specifically for palm grips and larger hands, giving you comfort when it counts.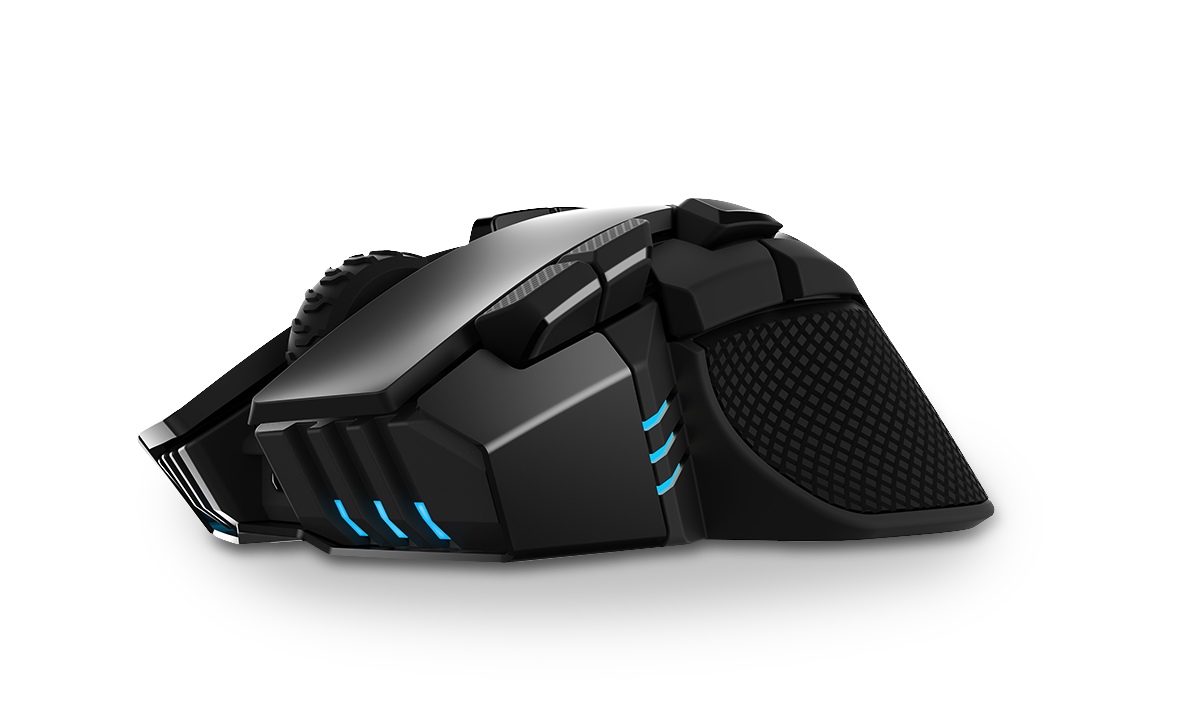 A custom Pixart PMW3391 native 18,000 DPI optical sensor offers ultra-accurate tracking, adjustable in 1 DPI resolution steps for total sensitivity customization.


The IRONCLAW RGB WIRELESS has the comfort and precision I need, without a wire holding back my movement and split-second reactions in the heat of battle.
-Luh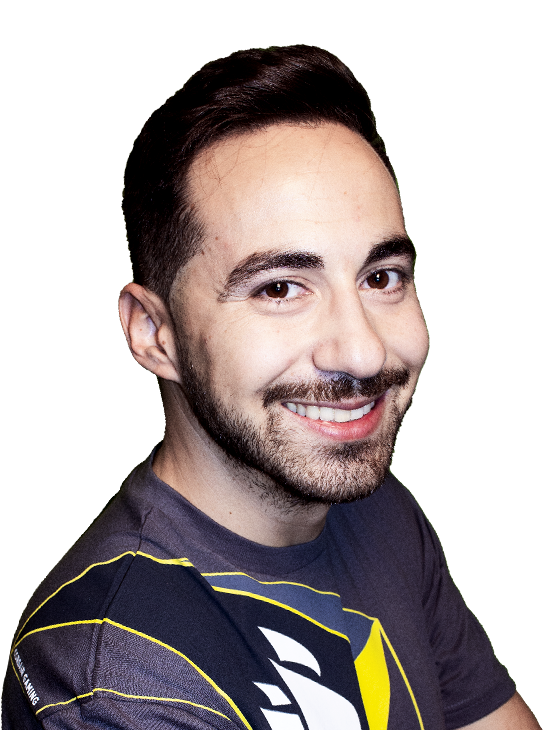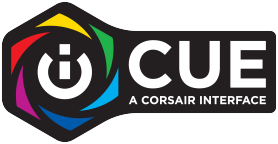 INTELLIGENT CONTROL.
UNLIMITED POSSIBILITIES
Vivid dynamic RGB lighting control, sophisticated macro programming and full-system lighting synchronization with compatible CORSAIR peripherals, coolers, fans and more.
LEARN MORE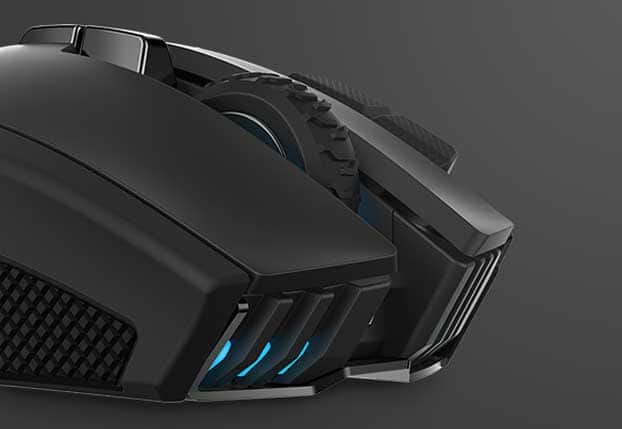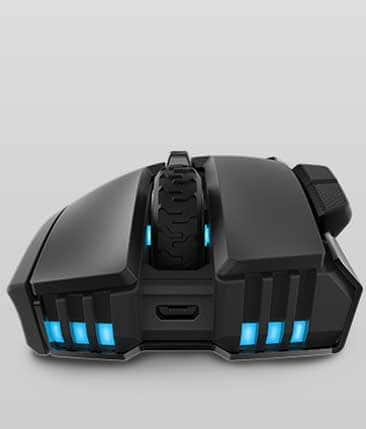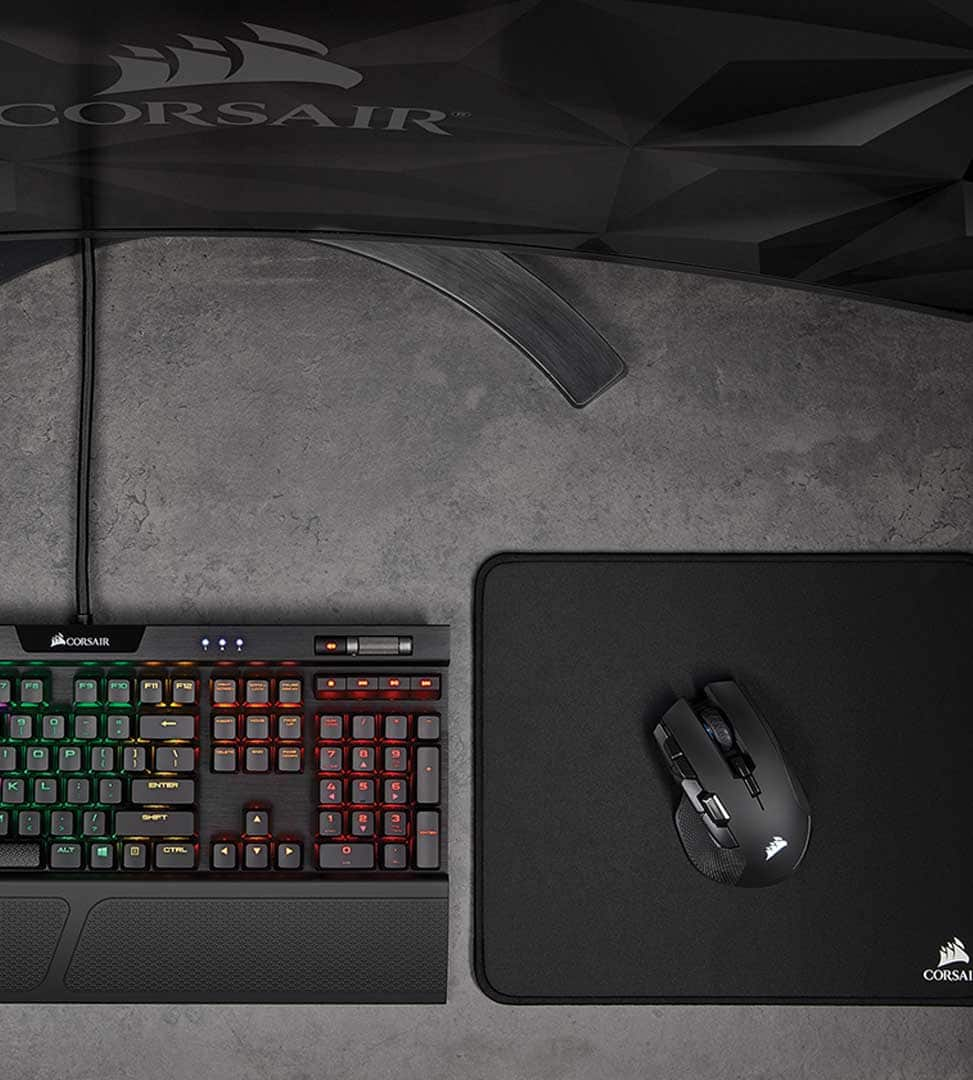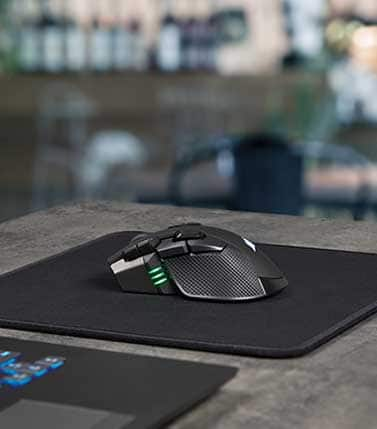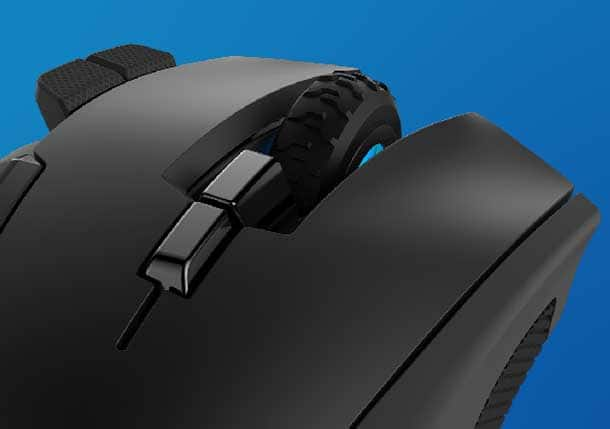 Mouse Backlighting
3 Zone RGB
On-board Memory Profiles
3
Mouse Button Durability
50M L/R Click
Connectivity
Wireless, Wired
CUE Software
Supported in iCUE
Report Rate
Selectable 1000Hz/500Hz/250Hz/125Hz
Battery Life
2.4GHz SLIPSTREAM: Up to 16hrs with standard lighting or 24hrs with lighting off | BLUETOOTH: Up to 30hrs with standard lighting or 50hrs with lighting off
Battery Type
Rechargeable Lithium-Polymer
How to find your lot code
Lot codes for Corsair products can generally be found in the follow locations. For more specific information, please view the Corsair knowledge base Lot Code article for a particular product series.
Headsets: The code is located on the earcup's arm.
Speakers: The code is located on the back of the subwoofer.
Case: The code is located on the back panel.
Cooling: The code is located on the radiator.
Flash: The code is located on the unit's packaging, near UPC barcode.
SSD: The code is located on the label on top of the SSD.
Mice: The code is located on the label taped next to the USB connector.
Keyboard: The code is located on the packaging near the UPC barcode.
Memory: The code is on the memory module's label.
PSU: The code is on the PSU label, next to the serial number.
Warranty FAQ
How do I make a warranty claim?
Prior to submitting your warranty claim, we recommend checking the Corsair knowledge base at https://support.corsair.com/ first, where you can find answers to commonly-asked questions. You can also receive troubleshooting assistance by clicking Ask a Question or proceed with product replacement by clicking Request an RMA.
Valid warranty claims should be processed through the retailer where the item was purchased during the first thirty (30) days after purchase. This period may vary depending on where you purchased your product; please verify the return policy with the retailer where you purchased your product. Any warranty claims that cannot be processed through your original point our purchased should be submitted to Corsair at https://support.corsair.com/
What are Corsairs replacement options?
Corsair offers the following Warranty fulfillment options:
Standard Replacement:
Through Corsairs Standard Replacement process, Corsair will issue an approved RMA number for the return and replacement of your defective product(s). Our Standard Replacement processing time from receipt of your product(s) to the replacement product(s) shipment is 1-3 business days plus transit time.
Express Replacement:
At Corsair, we understand the need to be up and running at all times! To minimize down time, we offer an Express Replacement RMA process. Through this process Corsair will ship your replacement product(s) prior to receiving your defective product(s). This process requires a valid Credit Card where a holding fee will be applied for the cost of the product until the returning product(s) are received by Corsair. To avoid being fully charged for the Express Replacement product(s), the defective product(s) must be received by Corsair within 10 business days from the date your Express Replacement order is shipped.
Accessory Product Request:
Experiencing a problem with a Corsair Component Product? Many of Corsair products have easy to install replacement accessories which will resolve the issue and prevent the need to return the entire product for replacement.
Where do I ship my items?
Corsair operates multiple RMA receiving locations worldwide. Your RMA confirmation will specify the specific return address you must use when sending your RMA package. This will be your standard return location and should not be changed without prior approval from Corsair. Any packages received at an unauthorized location may be refused and returned to the sender at the senders expense.
IRONCLAW RGB WIRELESS Gaming Mouse
USB Charging and Data Cable
Wireless USB Transceiver (dongle)