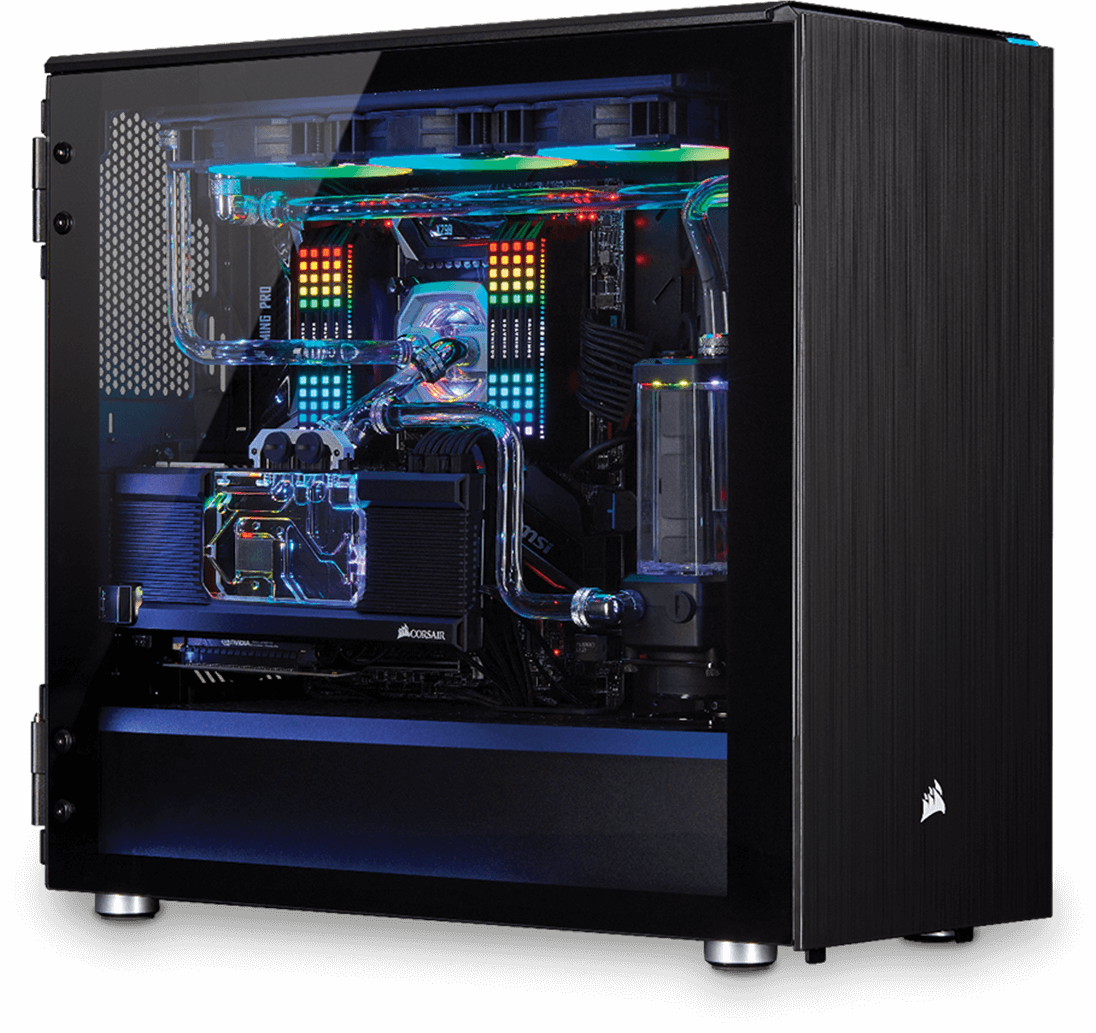 BUILD YOUR HYDRO X SERIES
The best PCs deserve the best cooling. CORSAIR has developed an entire family of products to bring the refined aesthetics and low temperatures of custom cooling to your PC - with all the measuring and testing done for you.
CONFIGURATOR
HOW-TO VIDEOS
VIEW FULL LINE UP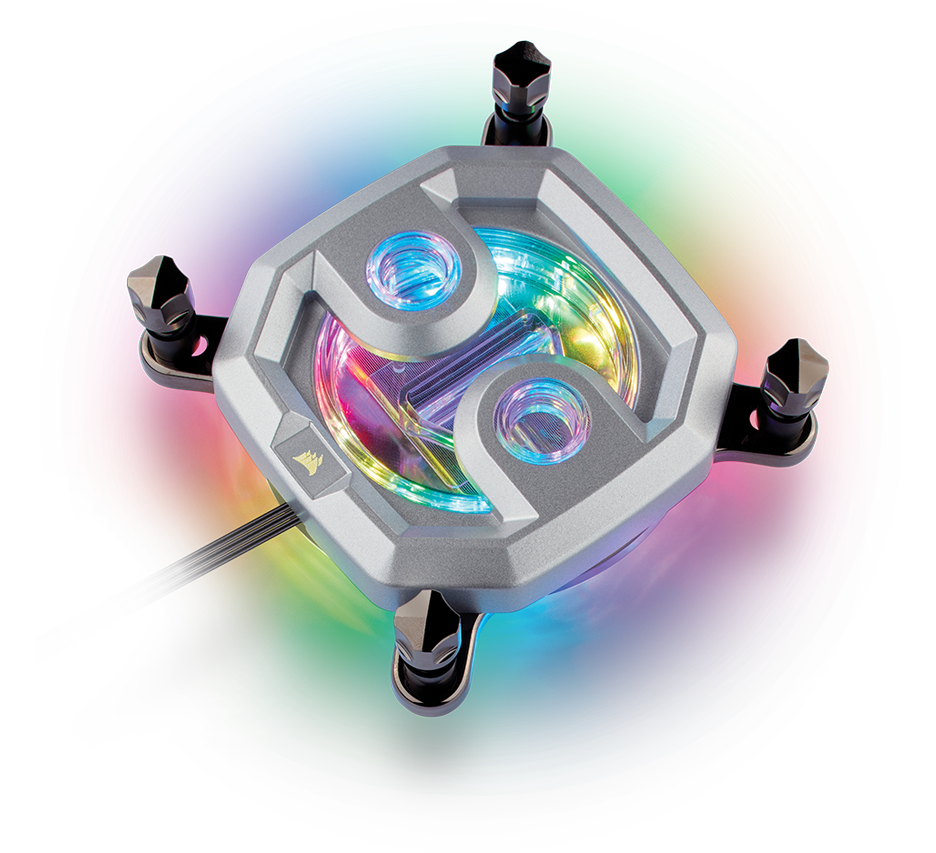 CPU WATER BLOCK
THE CENTERPIECE OF YOUR CUSTOM COOLING SYSTEM
The CORSAIR Hydro X Series XC7 RGB and XC9 RGB water blocks draw heat away from your processor, lowering temperatures and unlocking more ambitious overclocks. Ready to light up the most powerful PCs, the XC7 and XC9 are built around a nickel-plated copper cold plate with ultra-high cooling fin density, and a transparent flow chamber that shows off your coolant.
LEARN MORE
HOW-TO VIDEOS
VIEW FULL LINE UP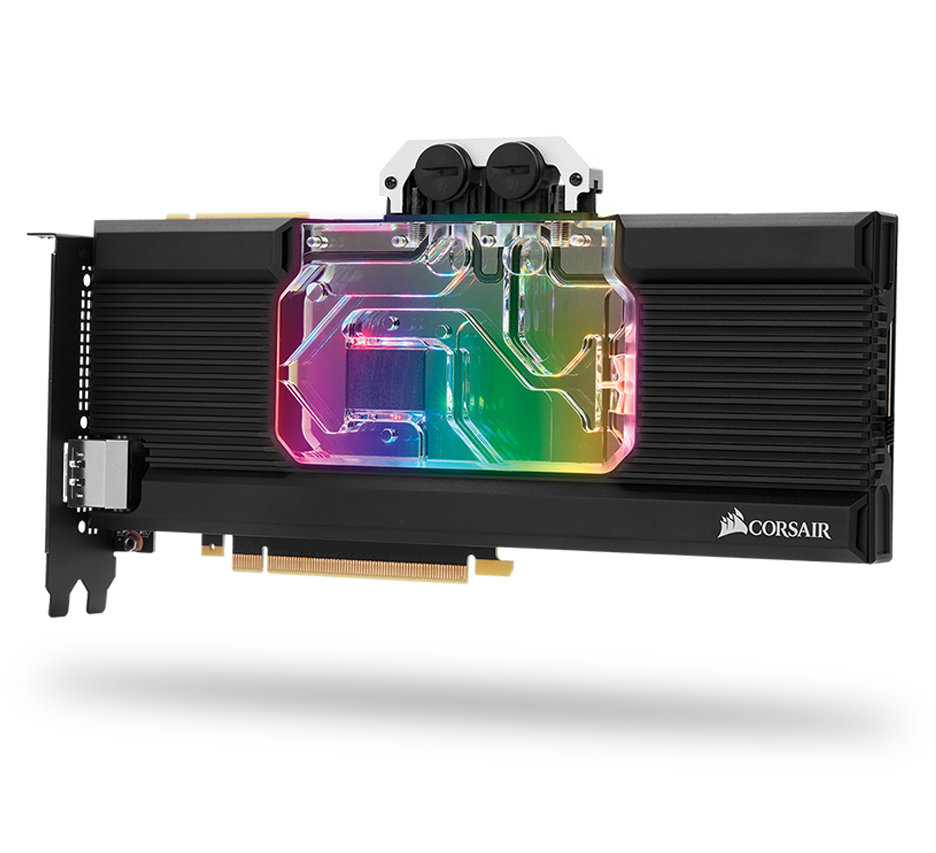 GPU WATER BLOCK
UNLOCK YOUR GPU'S TRUE POTENTIAL
Outputting up to double the heat of a CPU, the graphics card is likely the most thermally demanding device in your PC. The CORSAIR Hydro X Series XG7 RGB total conversion GPU water block will tame the noise and chill your graphics card, directly cooling the GPU core, memory and its power circuitry.
LEARN MORE
HOW-TO VIDEOS
VIEW FULL LINE UP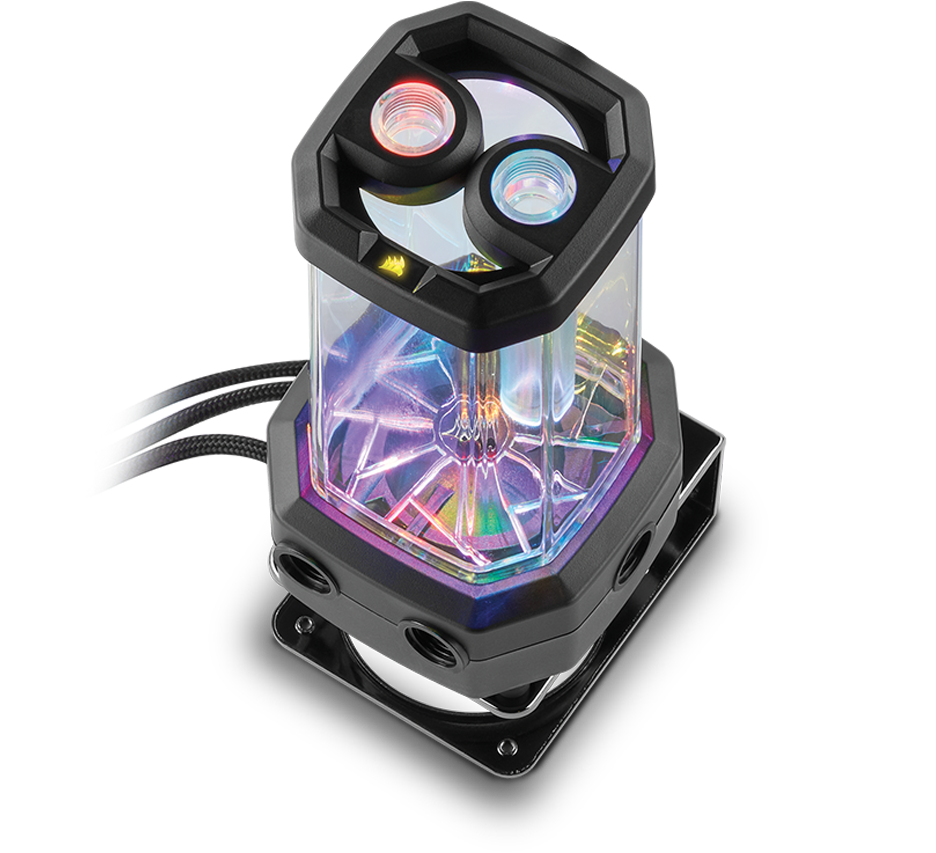 PUMP+ RESERVOIR
CUSTOM COOLING IN LIVING COLOR
The pump is the beating heart of a custom cooling system, ensuring steady, dependable coolant flow through water blocks, radiators and tubing. The Hydro X Series XD5 RGB Pump/Reservoir Combo is powered by a PWM controllable D5 pump, giving you full control over flow rate and noise levels, built into a 330ml reservoir.
LEARN MORE
HOW-TO VIDEOS
VIEW FULL LINE UP

RADIATORS
RAPID HEAT DISSIPATION
CORSAIR Hydro X Series XR radiators remove heat from your custom cooling loop, built from copper and brass to ensure wide loop compatibility and using ultra-thin 25 micron cooling fins to maximize surface area. Optimized for low-noise fans and available in a variety of thicknesses and sizes (up to 480mm) to fit most enthusiast cases, XR radiators have the cooling power to tame the most demanding systems.
LEARN MORE
HOW-TO VIDEOS
VIEW FULL LINE UP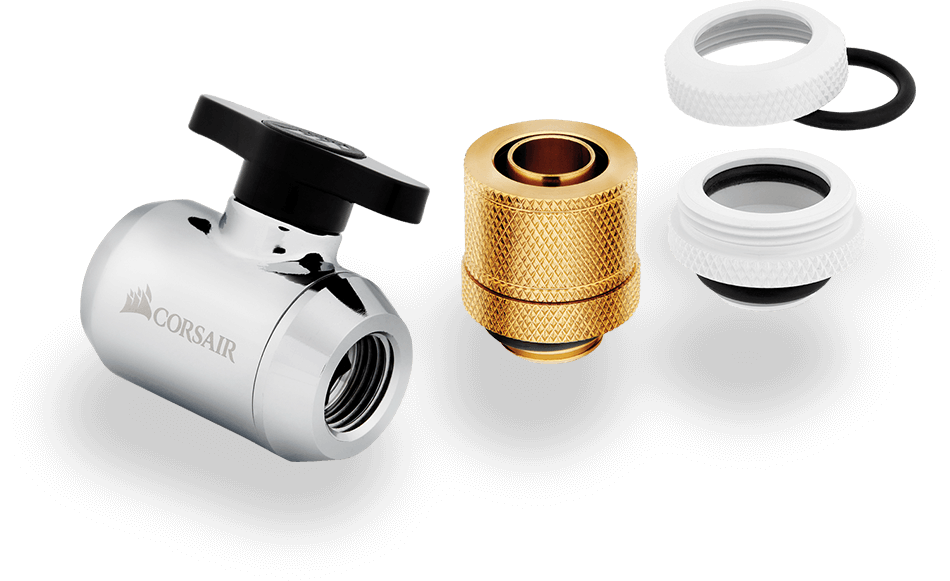 FITTINGS+ ADAPTERS
A PERFECT FIT
Whether you're building a custom cooling loop with easy-to-install soft tubing or showpiece ready hardline, the Hydro X Series has the perfect fittings for your system. Precision machined from solid brass with a high-quality polished finish and standard G1/4" threads, these fittings and adapters are built to the highest standards and made to last.
LEARN MORE
HOW-TO VIDEOS
VIEW FULL LINE UP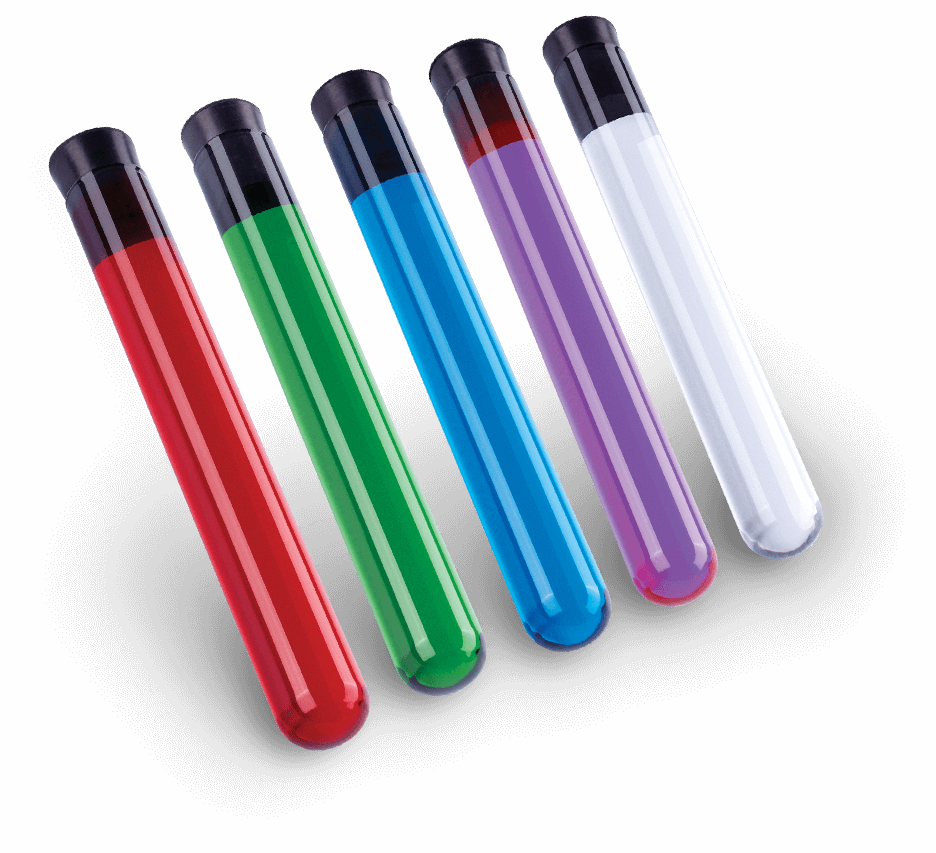 COOLANT
CORSAIR CERTIFIED PERFORMANCE COOLANT
Hydro X Series XL5 performance coolants have been extensively tested in hundreds of water blocks and thousands of configurations to ensure the highest reliability and long-term stability. Available in crystal-clear or a variety of vibrant colors, XL5 coolants come pre-mixed and ready to use, with non-toxic anti-corrosion inhibitors and anti-bacterial growth suppressors ensuring a long lifespan.
LEARN MORE
HOW-TO VIDEOS
VIEW FULL LINE UP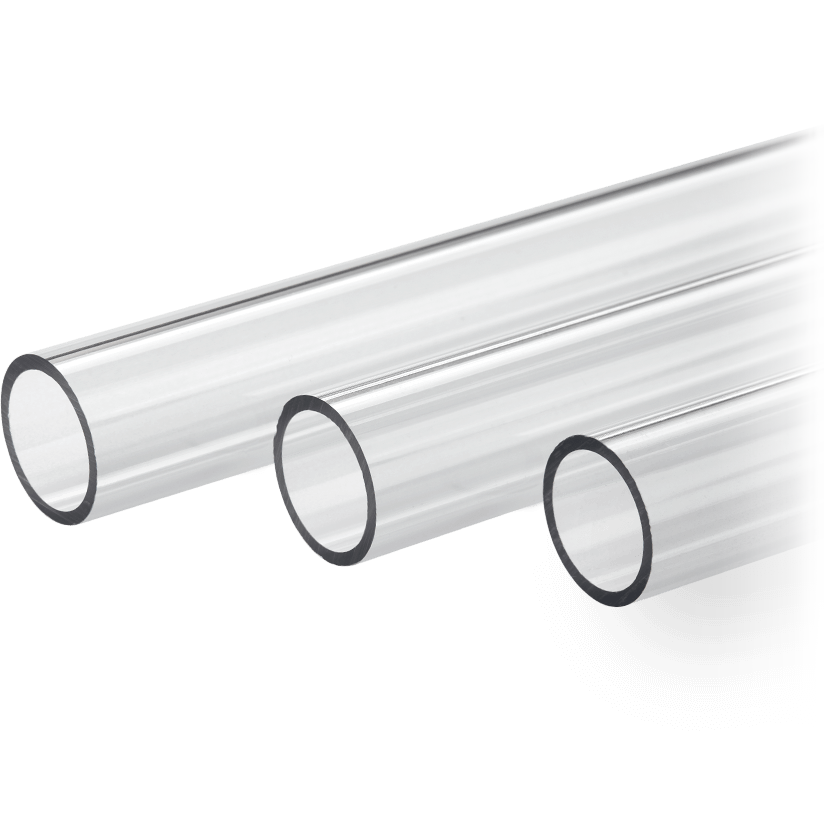 TUBING
CONNECT YOUR COOLING
Whether you choose easy-to-install softline or stunning hardline custom cooling, CORSAIR Hydro X Series XT tubing is ready to show off your next build. Easily cut to size and heat resistant, Hydro X Series XT tubing comes in softline and multiple hardline sizes.
LEARN MORE
HOW-TO VIDEOS
VIEW FULL LINE UP
COMMAND YOUR CONFIGURATION
The CORSAIR iCUE Commander PRO unlocks your custom cooling system's full potential: control fan speed and RGB lighting, monitor coolant temperature, and fully automate fan and pump speeds based on your system's performance.
Lighting channels - Control RGB lighting for core Hydro X Series products, or CORSAIR RGB LED fans and lighting strips.
Fan connectors - Adjust fan speeds directly or create automated fan curves based on CPU, GPU or coolant temperature.
Temperature sensors - Connect the XD5's included temperature sensor for live coolant temperature data.
USB ports - Easily connect additional internal USB 2.0 devices.
LEARN MORE
HOW-TO VIDEOS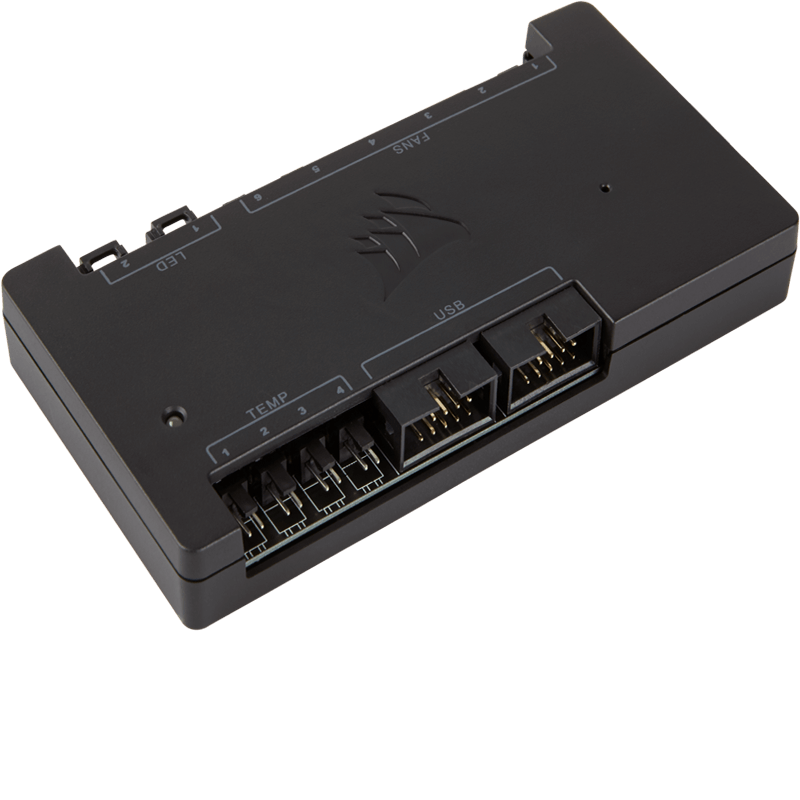 COMMANDER PRO
2X RGB LED
LIGHTING CHANNELS
6X
3-PIN (DC) OR
4-PIN (PWM) FANS
2X USB 2.0
INTERNAL HEADERS
PROVEN PERFORMANCE
Hydro X Series custom cooling helps push your system's performance further, all while lowering temperatures and dropping noise levels.
25%
lower GPU temperatures
13%
lower CPU temperatures
GPU TEMPERATURE
(DEGREES C)
CPU TEMPERATURE
(DEGREES C)
*Benchmarks measured on a system with MSI RTX 2080 Ti Ventus GPU & AMD Ryzen 7 2700X CPU using a Wraith Max CPU cooler, during Far Cry 5 gameplay.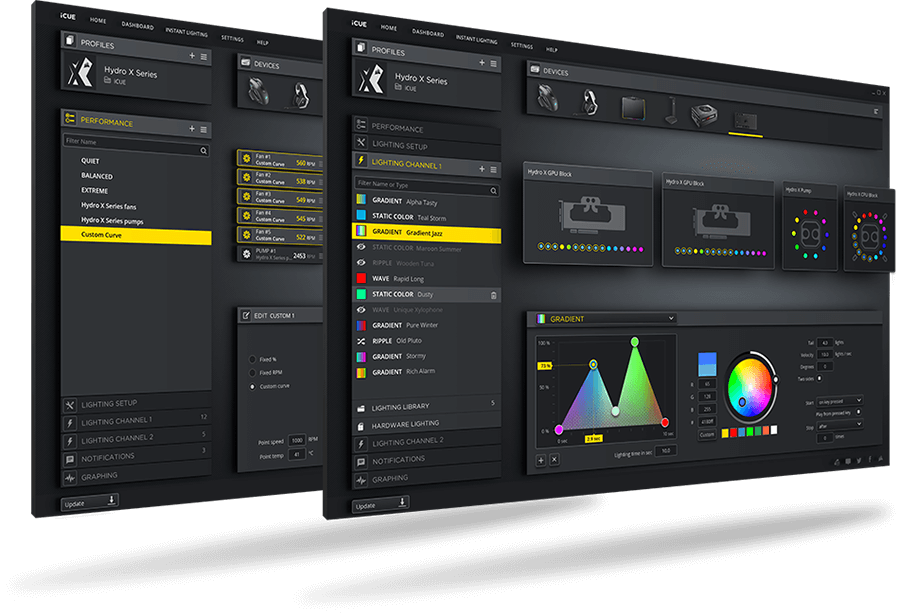 INTELLIGENT CONTROL, UNLIMITED POSSIBILITIES
CORSAIR iCUE software enables complete control over your custom cooling loop with a CORSAIR iCUE Commander PRO. Create automated fan curves that adjust fan speeds based on your system's thermals, and customize dynamic RGB lighting effects for the XC7 and XC9 RGB CPU Water Blocks, XG7 RGB GPU Water Block, and XD5 RGB Pump/Reservoir Combo. Synchronize these mesmerizing visuals with all of your iCUE-compatible CORSAIR products such as fans, keyboards, RGB light strips, and more, for incredible system-wide light shows.

LEARN MORE